Michael Pelamidis is a young, talented and restless jewelry designer. At a young age he has gained the recognition as a top Greek jewelry designer. Born and raised in Paris, Pelamidis moved to Greece to further explore his passion for jewelry design. He says that "art is one of the most resilient flowers" his artistic journey is a great example of how even during the most challenging times, art can thrive.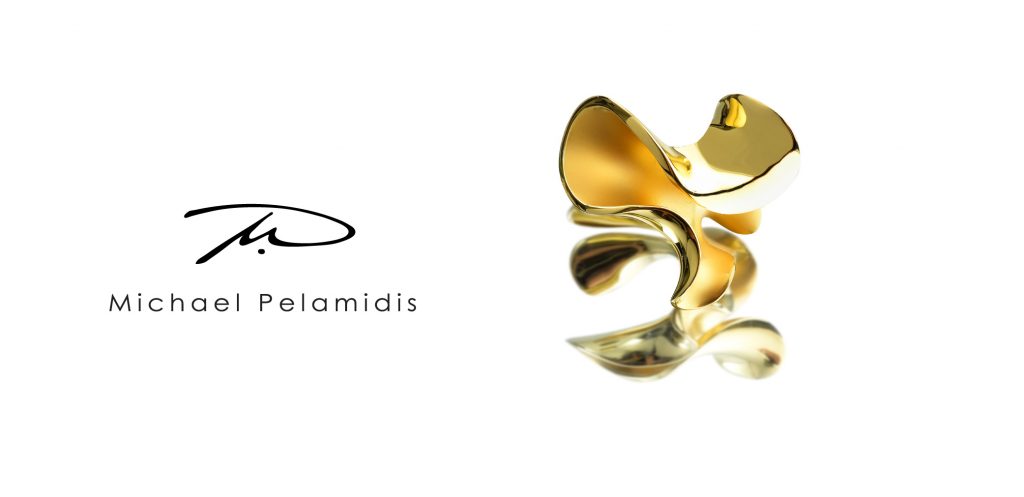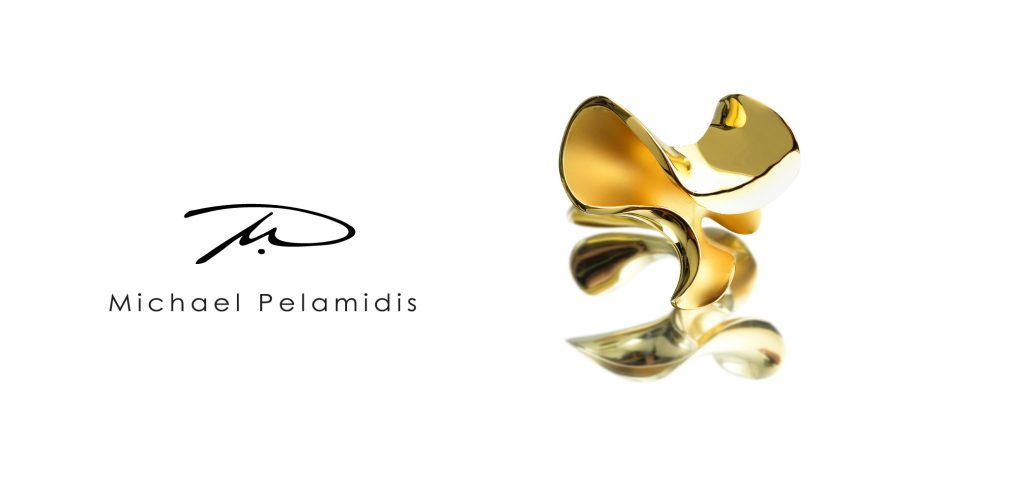 Who inspired you to become a jewelry designer? We would like to quote one of the sayings on your website  "…in the end, everything revolves around women!" This is the key concept that inspired the creation of MICHAEL PELAMIDIS JEWELLERY.
M.P: I would say that it was my grandmother who inspired me. She was a woman who was raised in the beginning of the 20th century and her love for accessories always impressed me. One day, she took me for a visit to the Jacquemart-Andre Museum in Paris for a Boucheron retrospective. I was twelve years old and since that day I knew exactly that I wanted to create jewelry. It was love at first sight!
You have graduated from Chambre Syndicale de la haute Joaillerie de Paris and in 1995 you were awarded with the "Prix National Georges et Jacques Lenfant" which is a great accomplishment. Congratulations! How has this shaped your career as a jewelry designer?
M.P: Actually, this was my first award and thankfully many more came after that! To be honest I was not waiting for an award to start my career. In the final years of my studies, I was already designing for some companies.
Normally, you start searching for jobs after you graduate from college.
Winning the Prix National Georges et Jacques Lenfant award made it a lot easier for me to receive business proposals rather than having me searching for work. This award jumpstarted my career with very interesting projects.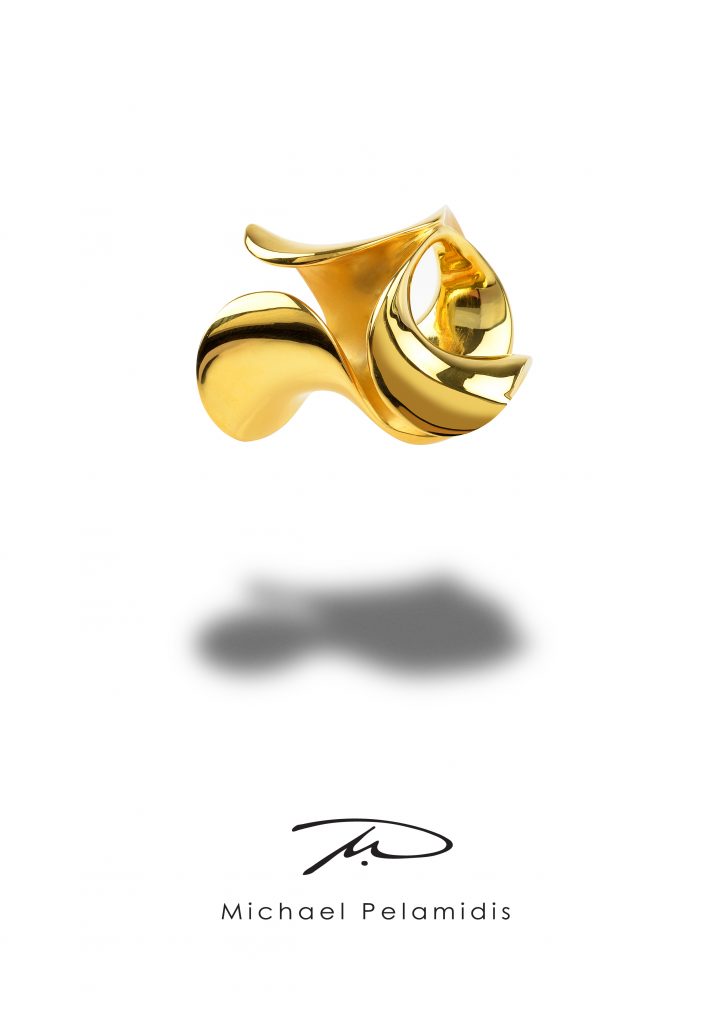 Over the years you have collaborated with international jewelry makers in Asia, Europe and the Middle East. Name one of the most memorable projects which you have worked on?
M.P: There are so many but one project that I will never forget was the creation of a magnificent black and white diamond necklace with a huge black diamond in the center. It was a private order made for a famous French actress to be worn for one night. But at the last minute, she decided to change her outfit and from black and white she changed to yellow and white. So, we had to start from the beginning and to find another large center diamond but this time in yellow. Overall, it was a panic! But everything went great.  I had the chance to get to know her, as to design a piece that would be the extension of her character. The journey towards this creation was truly unforgettable!
Your jewelry design has been greatly influenced by the techniques applied in ancient Greece. Tell us how has your French upbringing and haute couture inspired your work? What is the link between the two worlds that you have been exposed to?
M.P: I wouldn't say that those two worlds influenced design but rather they influenced my choice of materials. I believe that I am very classical in my selection of materials including precious and semi-precious stones, gold and silver. The same is in haute couture and the same was in ancient Greece.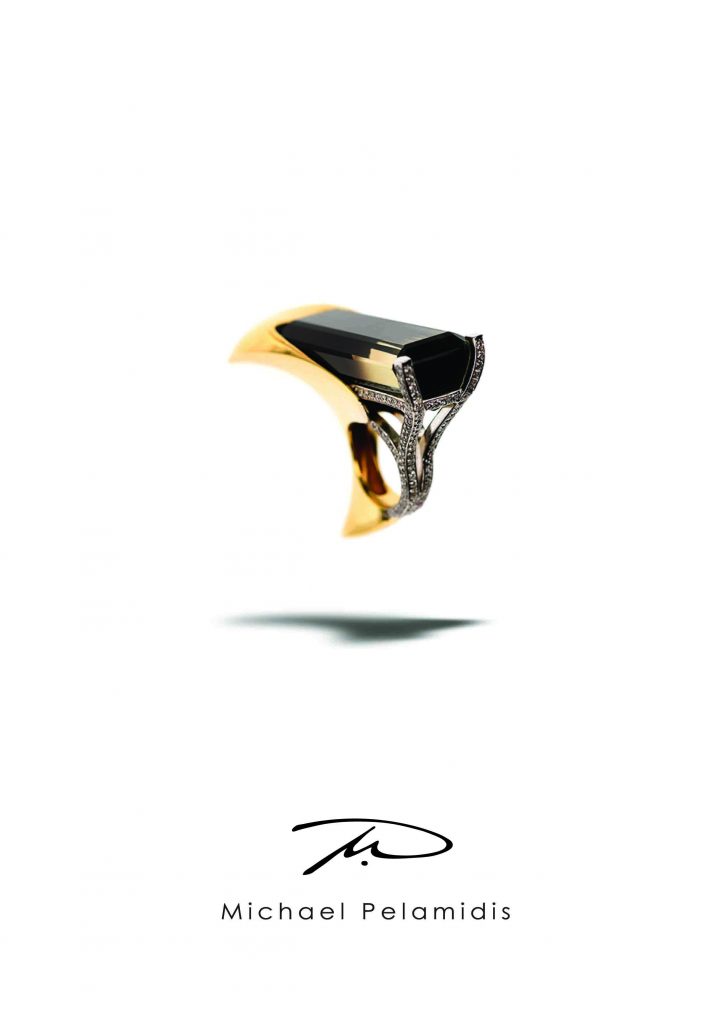 As a Greek/French jewelry designer, tell us how you would you describe your design style? What makes your collections unique in the industry?
M.P:  I believe someone else would answer this question better than me, because my designs are my thoughts, my feelings, my dreams, my fears, my love. They are me. I believe what made them unique in the industry, is my approach and my flirtation between jewelry and art, my references to nature and architecture, my idea of fluidity and life in the metals.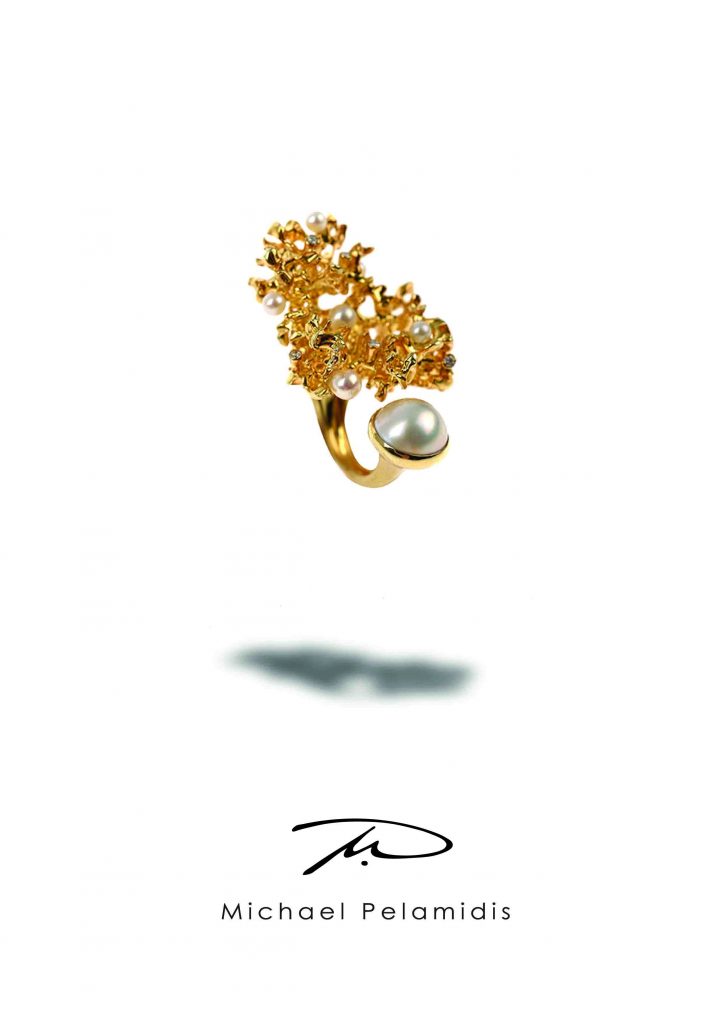 What would you say is the future of jewelry design?
M.P: Because we live in a fragile world and with a financial dark cloud surrounding us, the designers are being pushed to find new solutions and ideas, which in a certain way is not so bad. I believe that the future of jewelry will be the use of new materials. We can already observe the use of titanium in high-end jewelry. It's more affordable than gold but still precious and a much lighter material and it allows designers to create bigger jewelry. History shows us that during a period of crisis people want to wear larger jewelry to escape from their daily reality.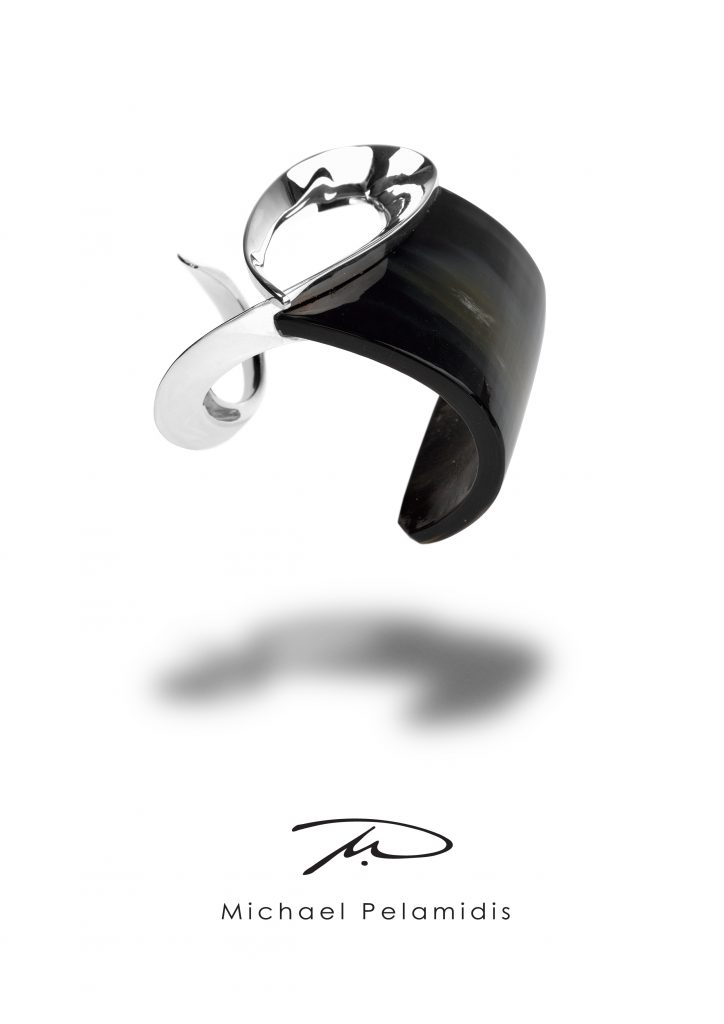 Where do you get your inspiration from?
M.P: Architecture, nature and science are a source for me but my inspiration is mostly related to my sentiments. I like to create a kind of fight between volumes, colors and materials. The forms are dynamic, organic but always extremely feminine. I enjoy creating the surprise.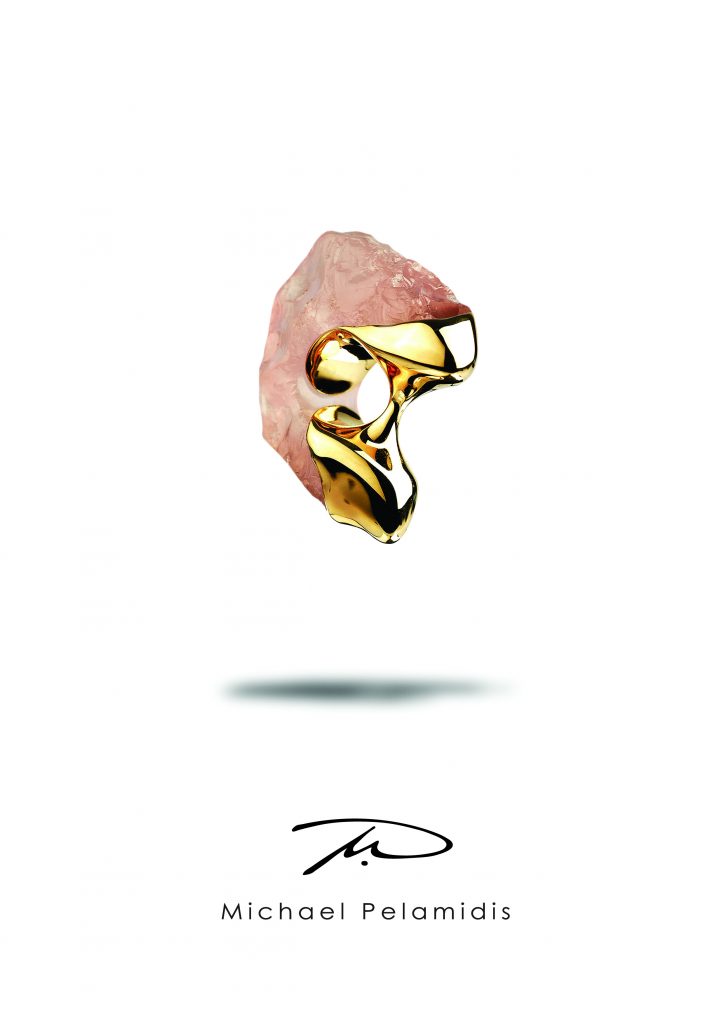 Name your favorite place in Greece and what is there to see/do?
M.P: One of my favorite places in Greece is Meteora, with its amazing and surreal rocks can be a breathtaking view. This place is serene, spiritual, magical, mystical, extraordinary, immense, inspiring and impressive. These are only some of the words to describe the Meteora phenomenon.
A place with rich history and natural beauty. I have witnessed some of the most gorgeous sunsets there. The cultural richness of the Byzantine history is fantastic. Also, the treasures of the monasteries with magnificent religious jewelry impress me with their details. The area around Meteora is also amazing, with local culinary delights and beautiful villages such as Pertouli and the Lake Plastira.
As you can see, Michael Pelamidis is in a constant search of new challenges and inspirations. He believes in moving forward and adapting to change, despite the challenges which face our society today. You can check his website at www.michaelpelamidis.com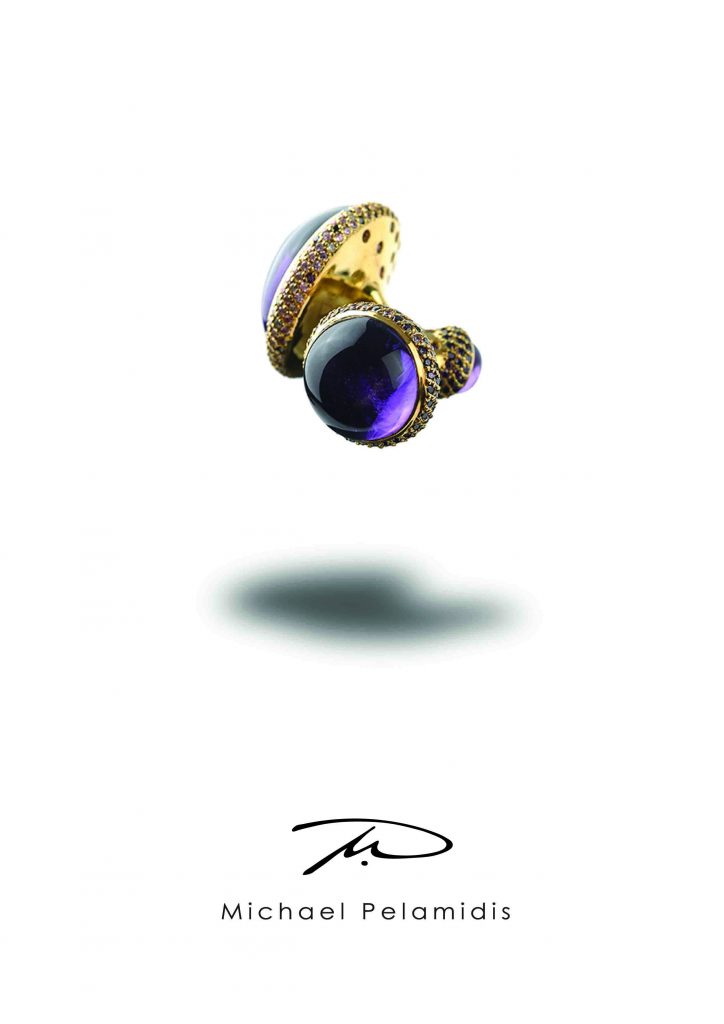 Do you have a favorite Greek jewelry designer?