Cretan cuisine could be well described as the "soul of the Mediterranean."

The Cretan Diet
The beauty of Cretan cuisine lies in the simplicity of its dishes. Take your Cretan experience to the next level and embark on a gastronomical journey during your visit to Greece's biggest island.
Cretan cuisine: The basics 
The philosophy of the Cretan cuisine is based on the simplicity of preparation and pure tastes. Creativity lies in preserving the tastes and identity of each ingredient. Despite the absence of mixing numerous spices, Cretan cuisine can never be described as boring. On the contrary, it is exhilarating yet nutritious.

The Famous Cretan Diet:  International recognition 
The Cretan diet is regarded as one of the healthiest diets in the world. In the 1950s, American dieticians came to Crete to explore the reasons of longevity among the local population. Olive oil was found to be the reason. Consumed on a daily basis, it is the foundation of the Cretan diet and it has been medically proven to be heart healthy as well as combat numerous diseases.
Vegetables are also widely consumed in Crete thanks to the fertile terrain. Greens are either boiled or consumed raw. Crete is home to hundreds of herbs, some of which have been used as medicine since ancient times. Grown on the steep sloped mountains, herbs are collected and naturally dried under the beaming sun.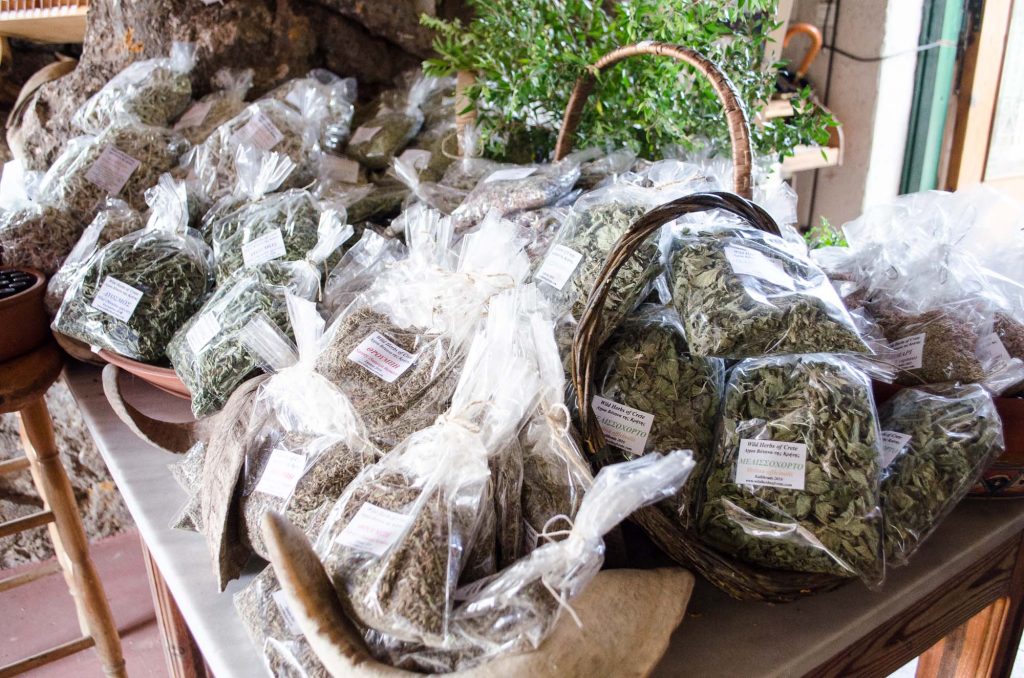 Honey is another Cretan staple. Since prehistoric times, the Cretans were extremely skilled in harvesting honey which over the centuries was known as the only sweetener. Proof of this can be found on display at the Archaeological Museum of Heraklion presented by a piece of jewelry representing two bees.
The highlight of the Cretan diet is the moderate consumption of spectacular Cretan wine and the famous local alcoholic drink raki which ranks among the best three traditional alcoholic beverages worldwide. Quite commonly you will hear the Cretans say that raki is the answer to everything.

Cretan Cuisine — The top Cretan foods to try 
From mountain herbs, greens, fresh fish, snails, cheese, Cretan olive oil and raki, Cretan cuisine is a feast for the senses. Here is the list of all the top Cretan foods to try.
Cretan Dakos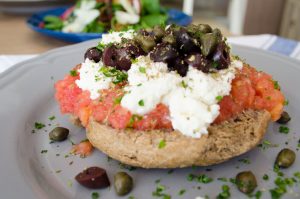 This refreshing dish dominates every menu and is also quite commonly called koukouvagia which means owl. It consists of a barley rusk that is softened with water or olive oil, topped with grated fresh tomato, myzithra cheese and drizzled with generous amount of olive oil. It is then sprinkled with oregano which is collected from Crete's highest mountain called Psiloritis.
Kaltsounia: Cretan cheese pies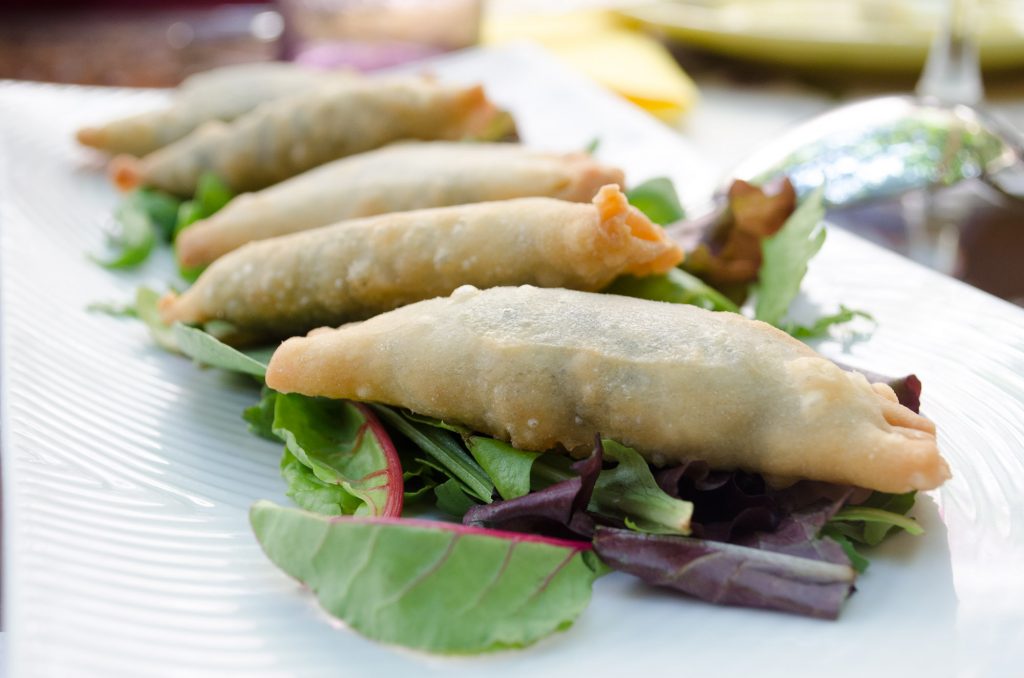 A blend of sweet and sour, these small cheese pies are a staple dish in Crete. Every region and household adds their own unique filling which is including cheeses like myzithra or malaka. They are often topped with honey.
Cretan Cheeses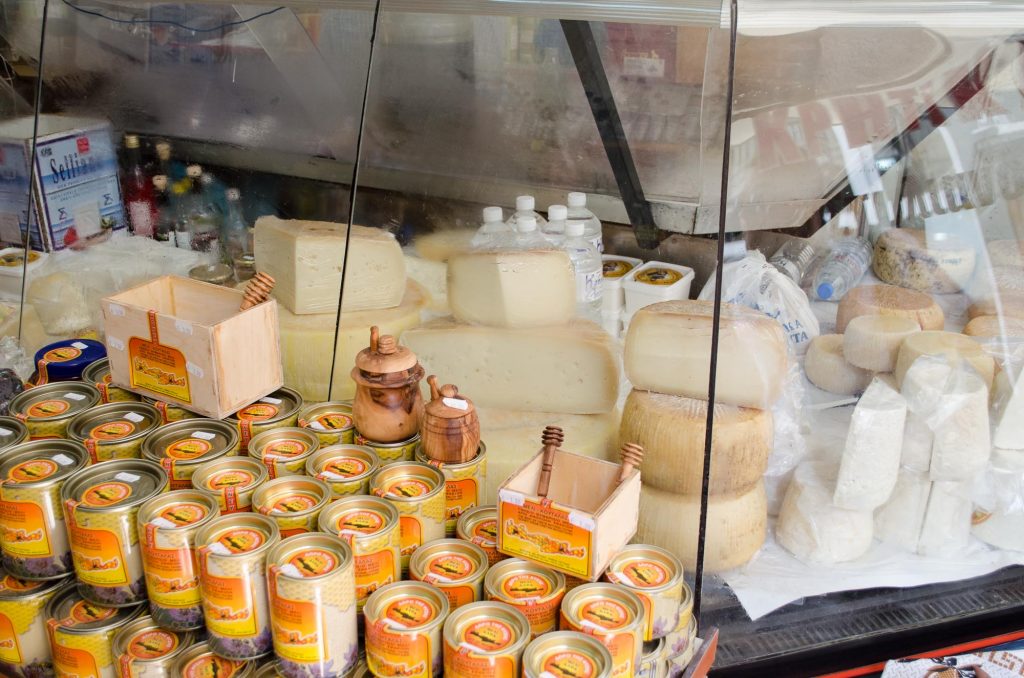 Almost every village and household in Crete produce their own special cheese. Cheese is made with sheep milk, goat milk or a combination of both. Cretan graviera is another popular cheese and is enjoyed with honey. This hard cheese is sweeter when new and as it ages takes on a nutty taste.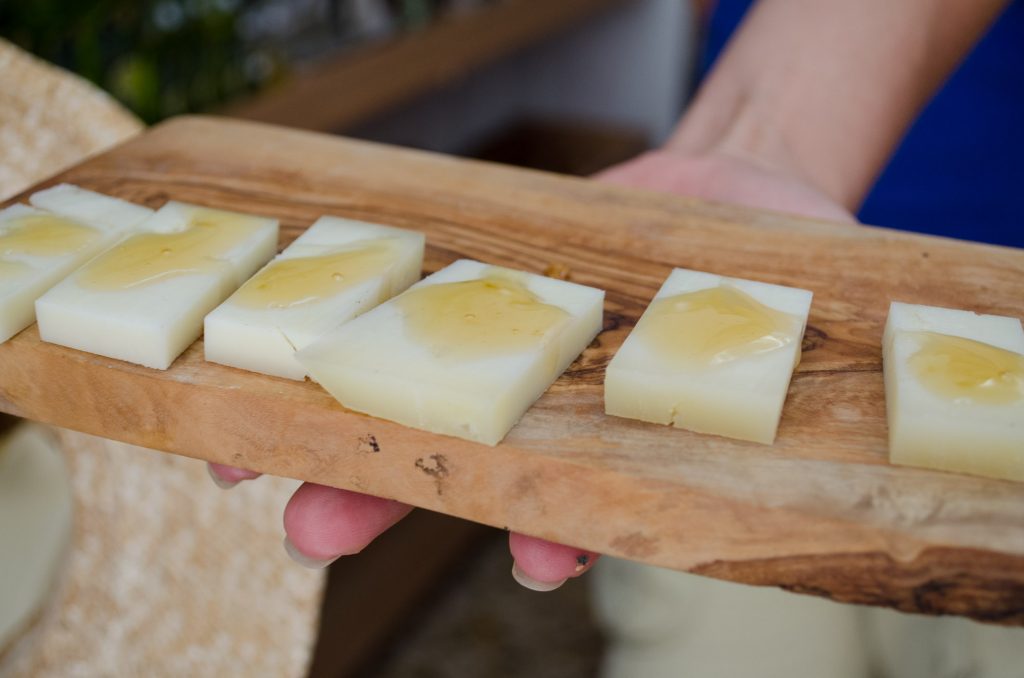 Other cheeses to try include pichtogalo, ksinomizithra and ksigalo. All of these aforementioned cheeses have been awarded PDO status.  A soft, creamy cheese which is very tasteful and popular in Cretan recipes is called myzithra. 
Chochlioi boubouristi (Fried snails)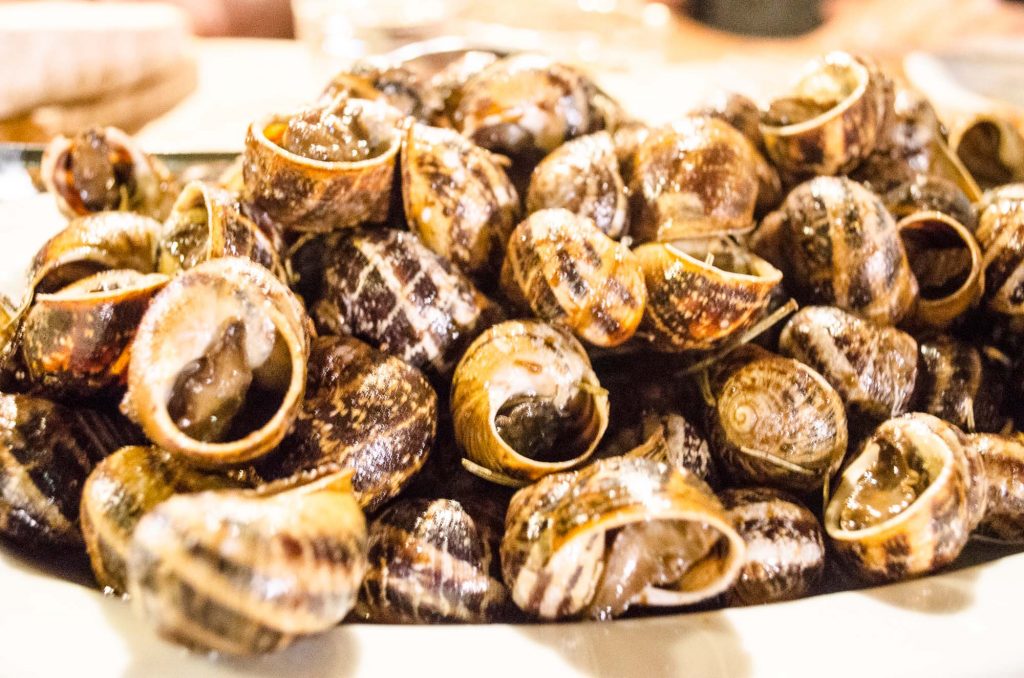 Chochlioi boubouristi are fried snalis, a tasty Cretan delicacy. Dusted with flour and fried in olive oil, they are then infused with wine or vinegar.
Gamopilafo 

The word gamos means wedding in Greek.  This traditional rice dish cooked in meat broth is served at Cretan weddings and baptisms. Its preparation takes hours and when it's hot and fresh, a dash of lemon adds that final touch of perfection to this Cretan delicacy.
Hirina apakia (smoked pork)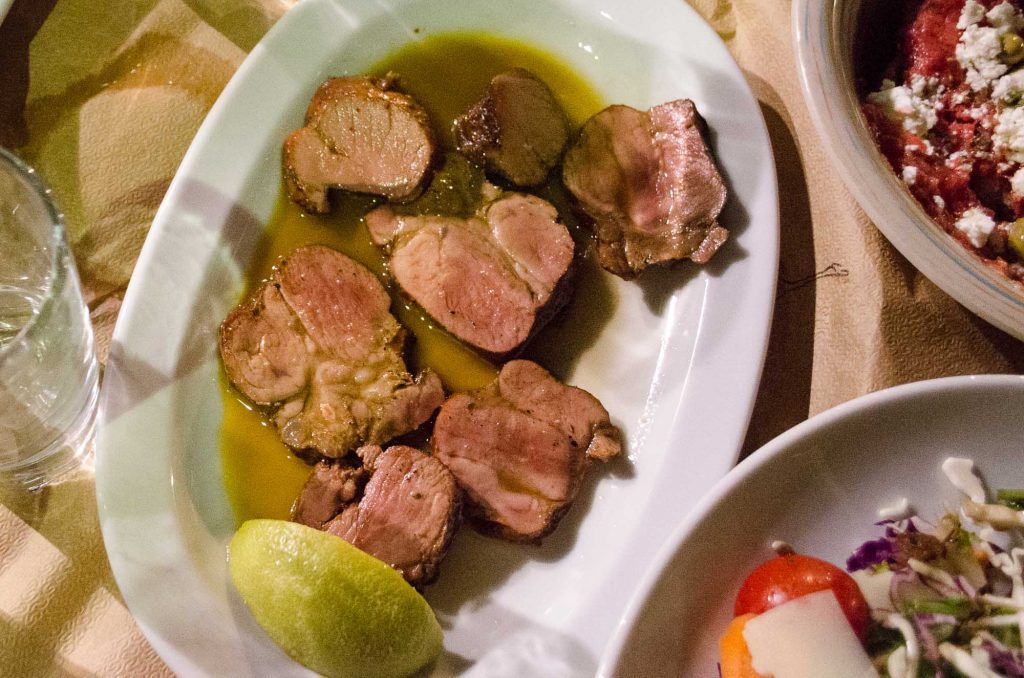 A much-loved Cretan appetizer, this dish is made of succulent smoked pork. The strips of pork are initially marinated in vinegar for a few days and then cooked over fire of local herbs such as sage, bay and rosemary. The fire infuses the meat with aromas of the herbs.
Kolokythoanthoi (Squash blossoms)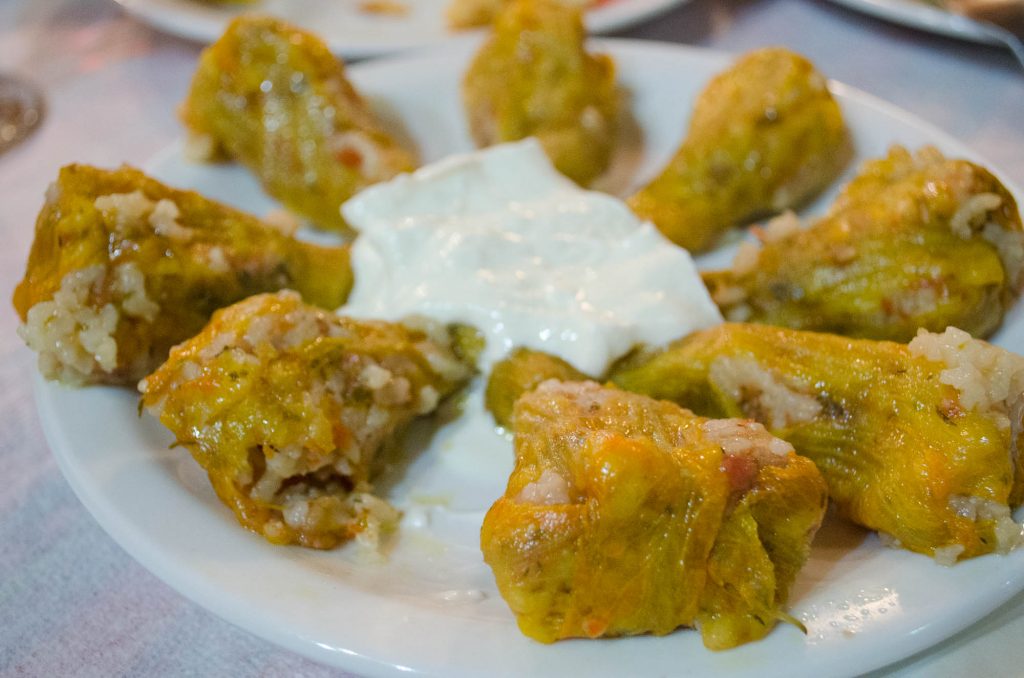 Kolokythoanthoi are stuffed zucchini flowers and one of the top dishes to try in Crete. They are filled with rice, cheese and herbs and are served with yogurt on the side.
Anticristo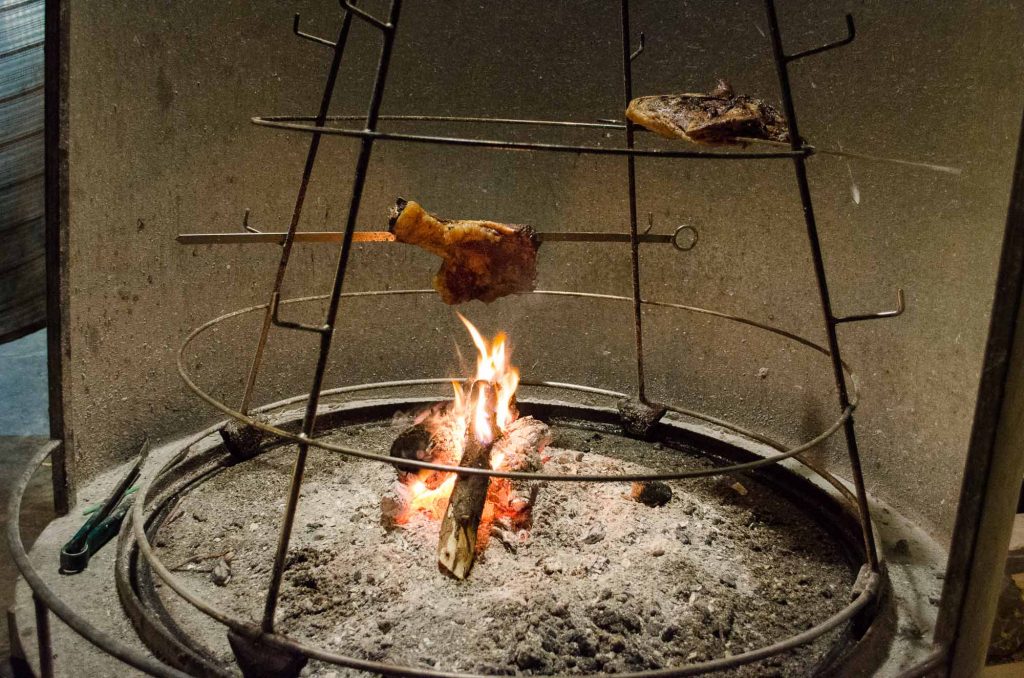 This is one of Crete's best kept secrets. This traditional method of cooking lamb incorporates roasting it on a spit opposite the fire rather than on top of it.
Raki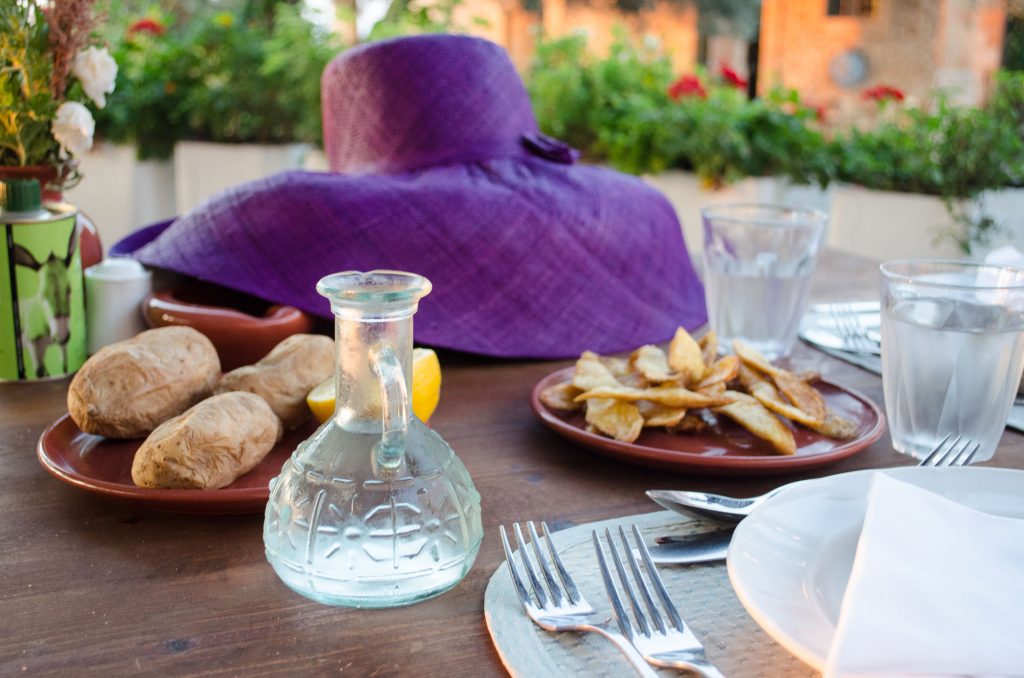 Raki is Crete's number one alcoholic drink. It is a pomace brandy distilled from grapes, often served in a shot glass. In some areas of Crete, raki is called tsikoudia. It is usually paired with meze, barley rusks and cheese. Be prepared to drink plenty of raki when in Crete. Remember that when a local offers you a shot of raki, you must accept it. Cretans don't like to take no for an answer!
Have you savored Cretan cuisine? If yes, which dish is your favorite?