Travel throughout Greece during the winter holidays and you'll see a mix of Greek and international traditions. It's a festive atmosphere that has evolved over time.

Greek Christmas Traditions
Greek Christmas traditions are a mix of old and new. Greece is no different than other countries that celebrate Christmas. Each country gave birth to its own special traditions.  There are also adopted customs that have taken on a life of their own outside of their origins.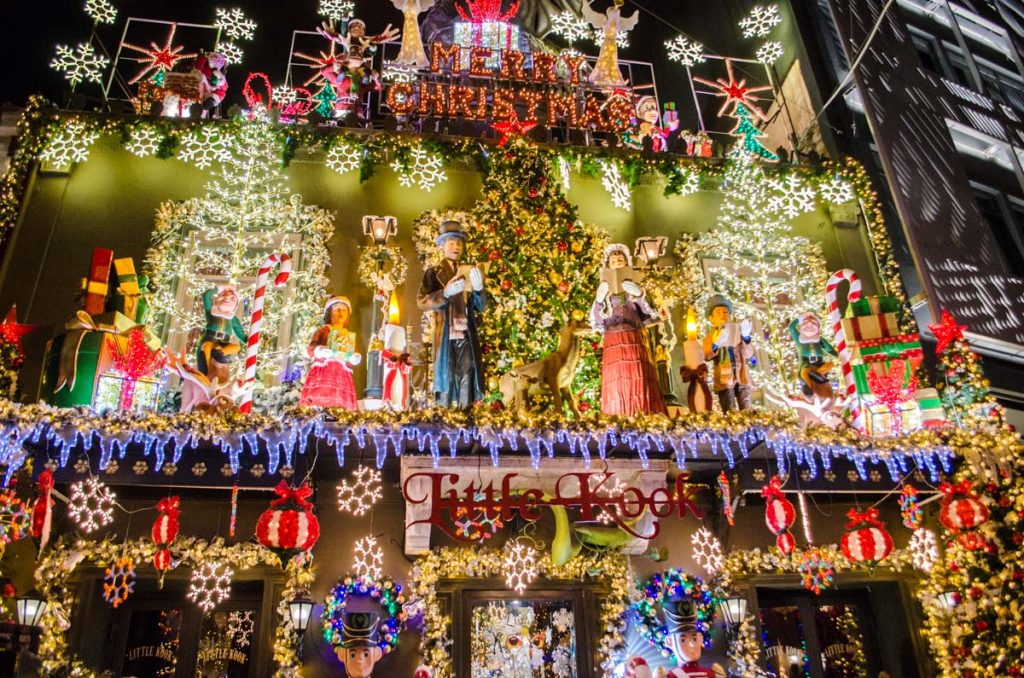 Then, there are a mix of customs that are simply different elsewhere.  Here's a look at those traditions that make up a Greek Christmas today.
The Greek Christmas Boat
One of Greece's most loved Christmas traditions that is wholly unique to this country is the Greek Christmas boat known as the karavaki.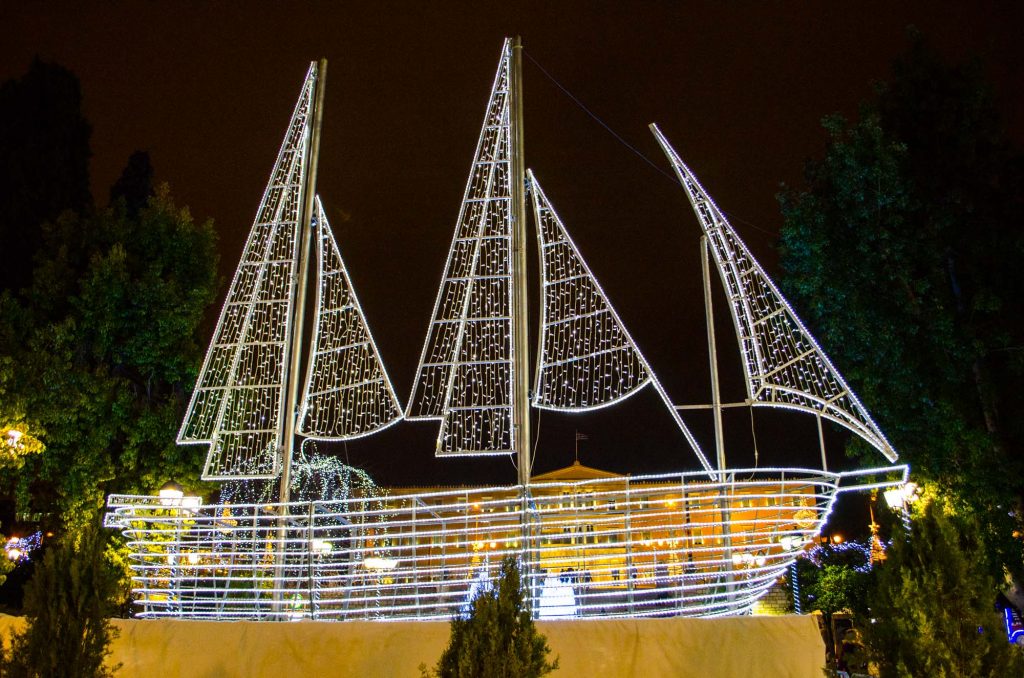 This is a tradition that has its roots on the Greek islands. Island people worked at sea for long periods at a time. When they'd return home, surviving dangers such as storms and pirates, Greek families would celebrate by decorating their homes with wooden boats. This  custom spread throughout the mainland too and today the karavaki is an official Greek Christmas decoration. You'll find big boats on display in squares, small boats in window displays or boats made into trinkets and jewelry.  Greeks get very creative, adorning their boats with lights and ornaments.
The Greek Christmas Tree
The Christmas tree is not a Greek invention, but it is well loved by the Greek people.  The tradition of decorating an evergreen conifer tree came to Greece during the 19th century.

At the time Greece's ruler was King Otto of Bavaria. Thanks to his royal influence, Bavaria's holiday traditions spread throughout the country.
Greek Santa Claus
Another Bavarian tradition that Greece has adopted is Santa Claus.  Many Greek children are used to seeing Santa depicted as a jolly and chubby man wearing a red suit and donning a long white beard. At childrens' Christmas fairs, there's bound to be a Santa Claus ready to have his picture taken with children who are eager to tell him what's on their Christmas wish list.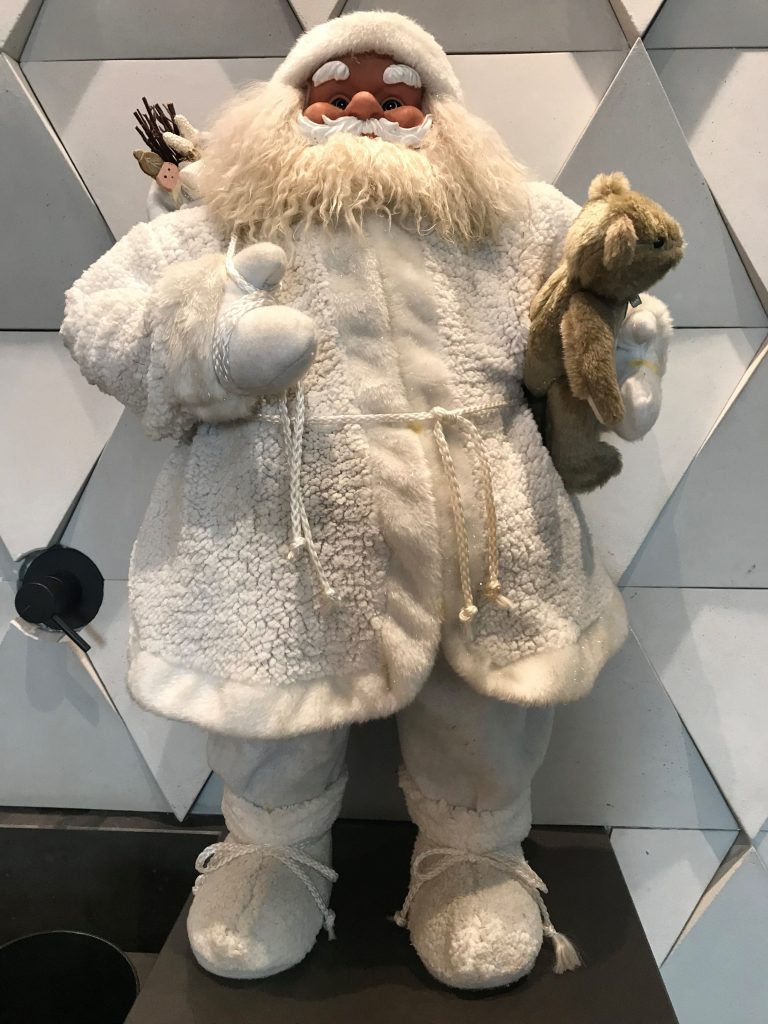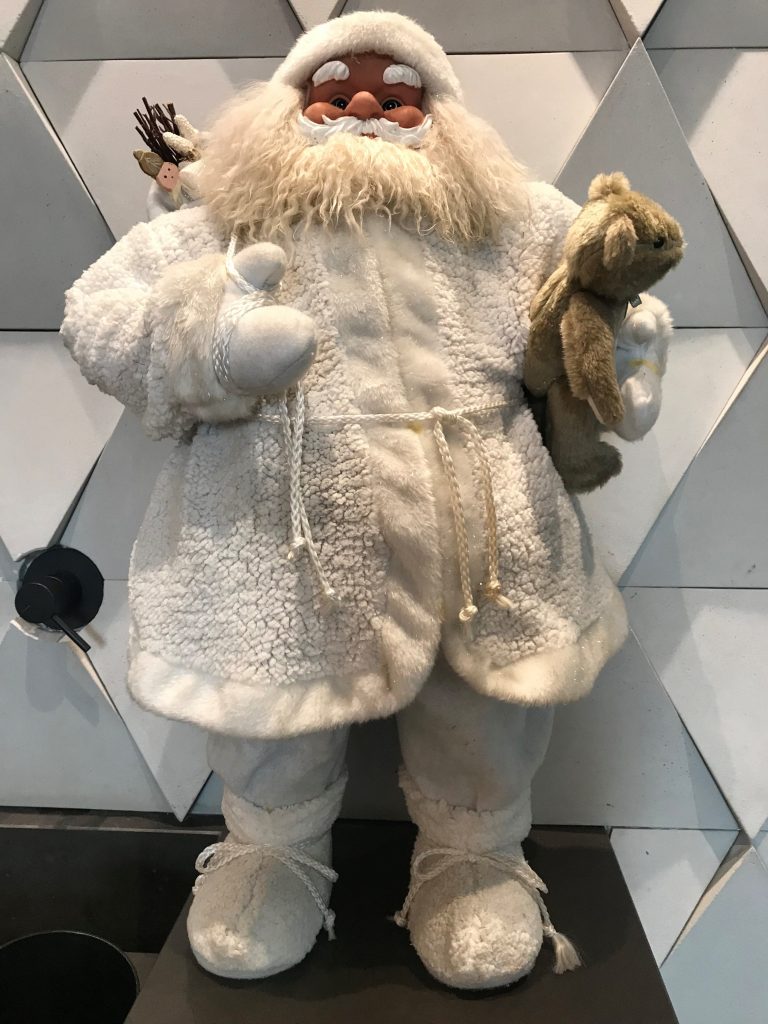 However, the Santa Claus tradition runs much deeper and it's truly Greek. Ayios Vassileios or Saint Basil is one of the main saints of the Greek Orthodox church. In Greece, Agios Vassileios visits homes with gifts on January 1st rather than December 25th.  New Year's Day is a saint day, a day of celebration for those with the name Vassilis or Vassiliki which are names that honor Agios Vassileios.
Greek Christmas Dinner
When Greek families sit down for a special home cooked Christmas dinner, the main course is typically roasted pork.  It is more common, however, for families to make a Christmas turkey which is a popular main dish in other Christmas feasting nations.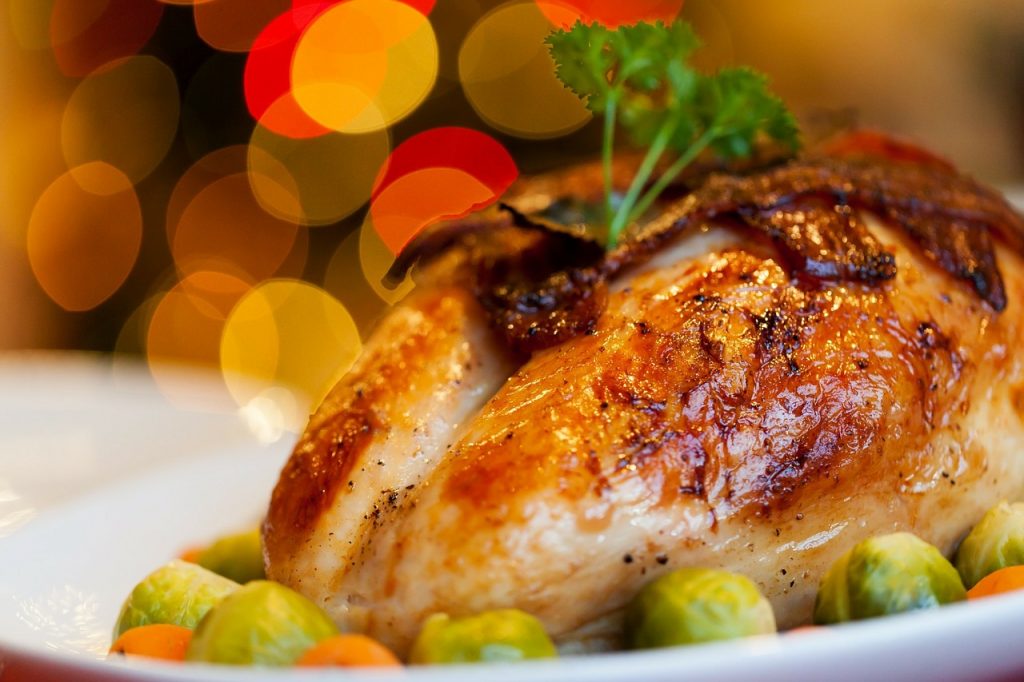 However, the real Greek tradition is pork. This choice of main dish is part of a rural tradition called hoirosphagia which translates to hog slaughter, a time during the winter season when farming families prepare a hog for feasting for the season.
Christmas Cookies
Christmas cookies around the world are typically decorated with colorful red and green icing or all types of décor like snowflake sprinkles and sugar crystals. However, Greek cookies are quite plain in comparison.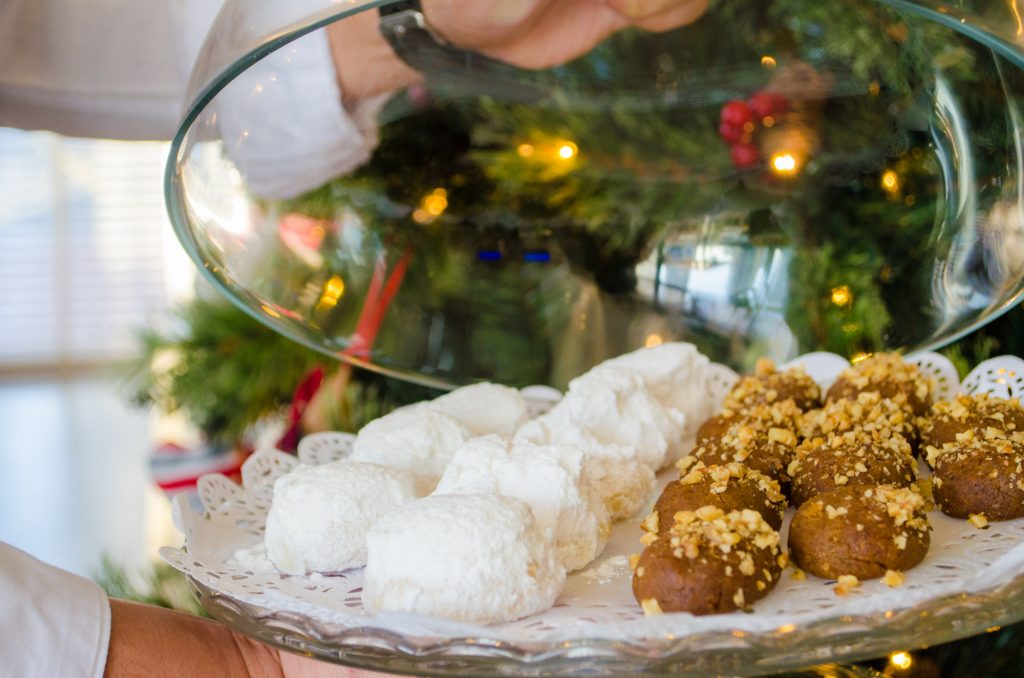 These delicious Christmas cookies are called melomakarona and kourabiedes.  Every Greek has a preference of one over the other.  Melomakarona are made with semolina, cinnamon, and are drenched in honey.  The powdered butter cookies called kourabiedes are made with rosewater.  Every home has at least a plate of each type of cookie sitting around the house during the holidays.
Christmas Bread
There's also a Greek Chrsitmas bread to try called christopsomo which translates to Christ's bread. This special bread is made on Christmas Eve.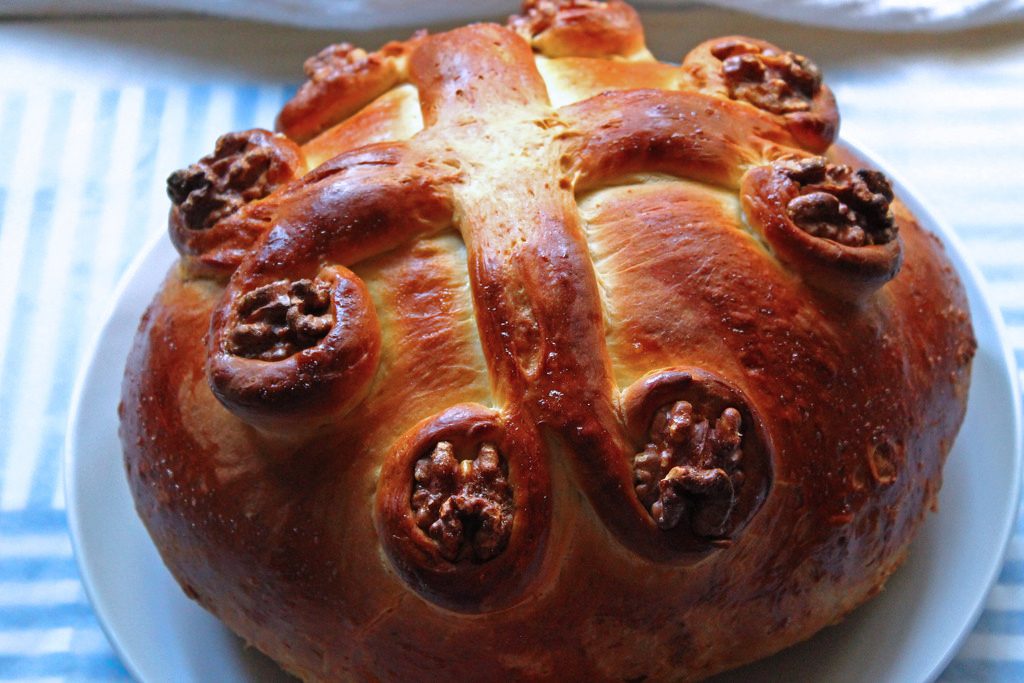 It has a cross carved into the top crust before it is baked. On Christmas Day, the head of the household makes the sign of the cross above the loaf of bread and every person present gets a tasty slice.
Vasilopita
This is a special cake served during the New Year. Every bakery across Greece has a selection of them. Some are simple while others are adorned with intricate designs.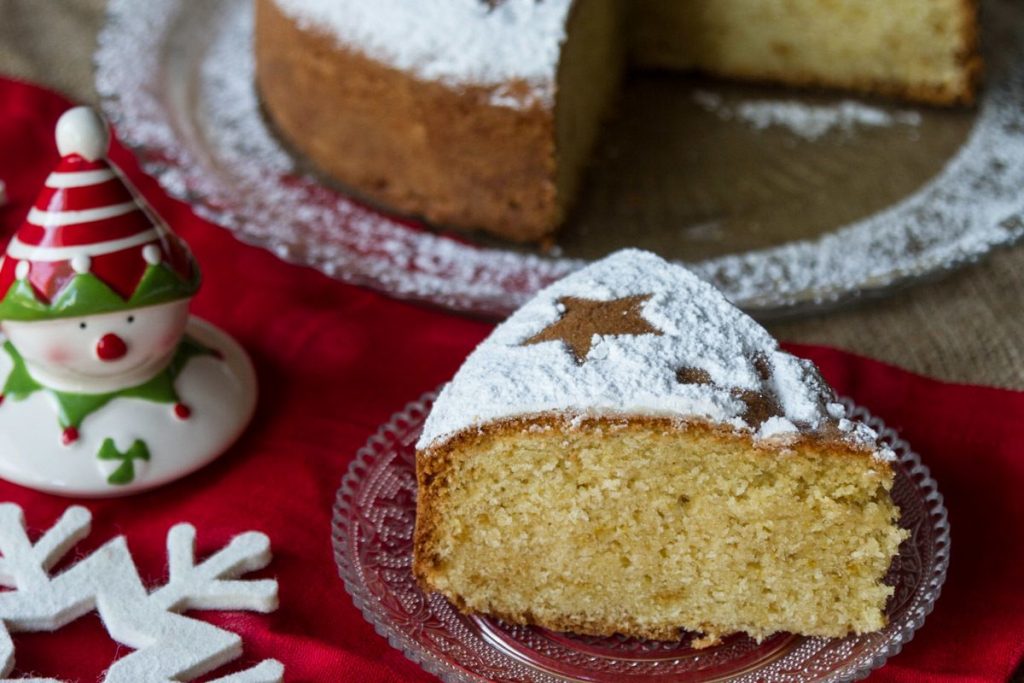 Inside, there is small coin baked in. After the slices are served in a certain order – one slice is set aside for the house, for Christ, the Virgin Mary and then Saint Vasileios – everyone checks to see who got the coin. The person who gets the coin in their slice is said to have good luck for the rest of the year.
This sums up our list of favorite Greek Christmas traditions.  Do you recognize any of them?