The prefecture of Messenia, at the south westernmost corner of the Peloponnese, is a region known for a few reasons. When mentioning Messenia, the following are bound to come up in a conversation among Greeks: the famous olive groves of Kalamata, the fiery temperament of Mani's culture and the Navarino castle and fortifications of Pylos. Let's put our Fly Me To The Moon spotlight on Messenia, and reveal some reasons why you should discover it on your next visit.

Spotlight on Messenia
Messenia is a beautiful part of Greece, made up of six main regions: Kalamata, Mani, Pylos, Messini, Trifylia and Oichalia. Choosing Messenia as your destination opens up a whole world of exciting and thrilling experiences. Messenia combines some phenomenal scenic views, due to the astonishing natural beauty of the wild and pristine landscape, and allows the visitor to fully immerse into the intriguing history, the local culture and traditions that are kept alive until this day.
Reasons to discover Messenia
History

Greece's most well preserved Mycenaean palace is found here. It is none other than the Palace of Nestor, a revered place throughout the ancient ages, having been glorified by Homer's sagas, the Iliad and Odyssey. It was not a fictitious structure. The remains tell the story even more vividly than Homer himself. Since 2016, the site has been remodeled and able of welcoming visitors who can observe the many, and often highly developed artifacts for their time (dating around 1300 BC). There is tangible evidence that the palace had store rooms, workshops, baths, light wells, reception rooms and a sewage system.
The archaeological site of Ancient Messene is a place charged with the energy of the ancients. It can easily be considered as the most impressive of archaeological areas in Greece. It is vast and with plenty to see, so allow for at least a couple of hours in order to fully explore it. The ruins are practically still standing, with arcades of columns creating a perimeter around the rest of finds. A world heritage UNESCO site, and one that has not suffered the plague of being physically destroyed by man and his fits of megalomania throughout the centuries, it proudly displays a variety of sanctuaries as well as public buildings, fortifications, tombs and houses.
Gastronomy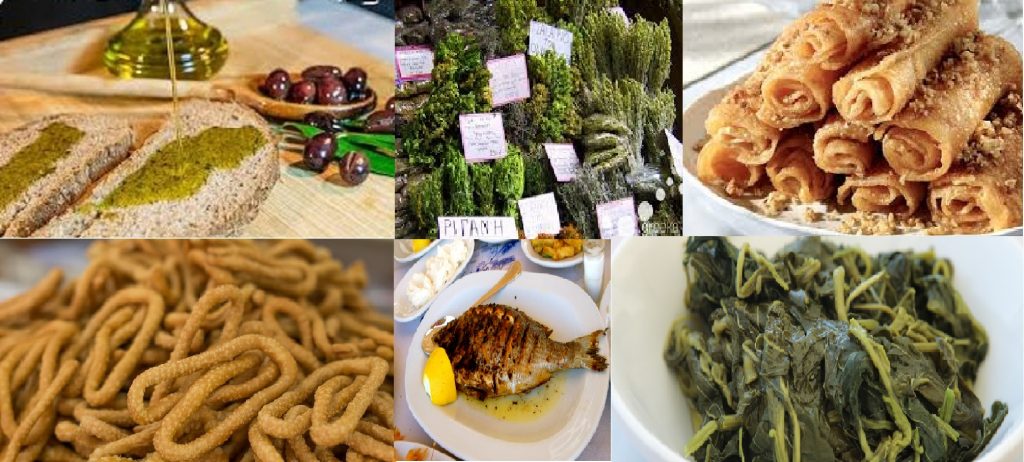 Greece is all about fragrance and flavour when it comes to its gastronomy. And the local cuisine and delicacies are no exception. Kalamata, is a blessed land where olive trees of exceptional quality grow.
Kalamon olives are renowned throughout the world for their high nutritious content and their full flavour. They are also the source of the exquisite extra virgin olive oil that the region produces, distributing it throughout the whole of Greece, also being one of the country's top export products. Therefore, olive oil tasting is almost mandatory while in Messenia. The local cuisine is simply delicious and that is no wonder, since they use the best olive oil for preparing dishes.
Pasto is a cured type of pork and meat lovers will also want to try the local Messinian sausage made with orange zest. A favourite recipe is also kagianas, which is a scramble of fresh eggs with tomato. As for dessert, diples (honey drenched, thin fried dough) originate in Messenia as does the pasteli (sesame and honey bar) and lalaggia (local pancakes). Wine is also traditionally produced in Messenia, both of the White (Roditis, Fileri and others) and Red kind (Fokiano, Mandilaria and others).
Nature & Activities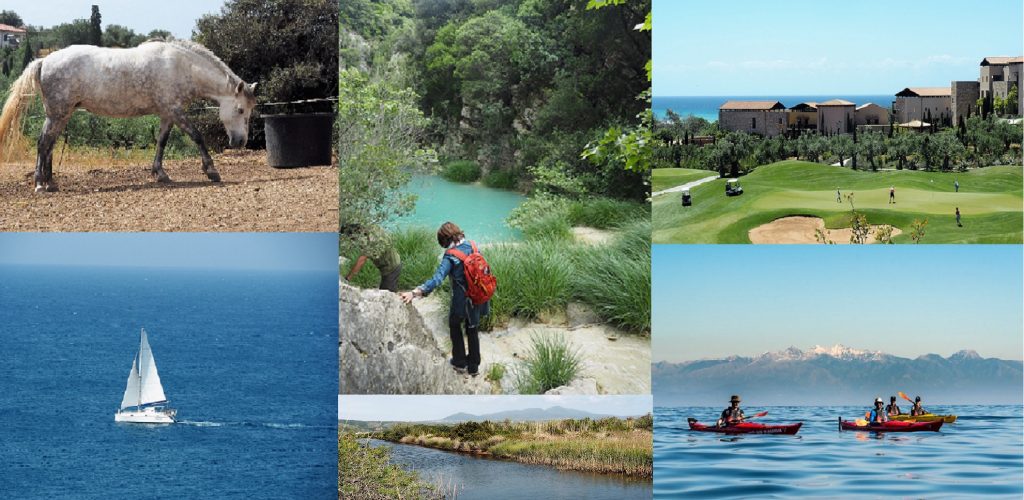 Messenia is a gorgeous place, if we haven't said so already. A place that is verdant and mountainous, a place of spectacular beaches, a place where nature runs wild and imagination follows. Here, nature enthusiasts can plan an itinerary that will literally fill their days with striking visuals and feed their souls with the satisfaction of becoming part of an unspoiled landscape. Apart from many striking beaches with crystalline waters, such as the magnificent Voidokilia, there are many more natural sites to discover. The Neda and Polylimnio waterfalls, the Neda and Pamisos rivers,
Nestor's cave  and Mount Taygetos are only a handful of the physical sites worth exploring. The landscape of Messenia lends itself to boating and sailing or motor cruising, which allows for visitors to cover a large area in short amount of time and discovering hidden coves on the way. It is also a great destination for hiking, kayaking, horse riding and even world class golf, so be prepared to have a range of activities within nature in Messenia.
Luxury accommodation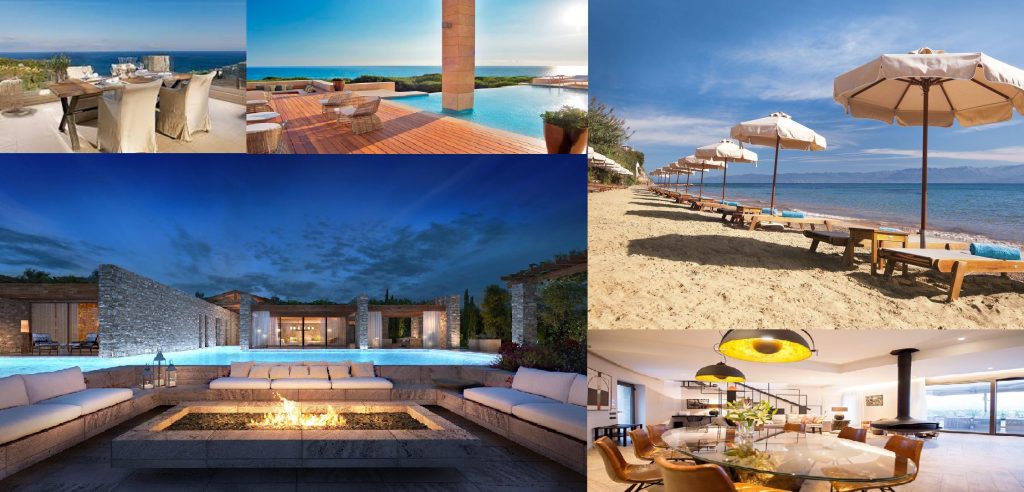 Staying in Messenia can prove to be a luxurious experience. Considering that it is home to one of the most developed and environmentally friendly luxury resort collection, the deluxe destination of Costa Navarino, the majestic panoramas and quality of the stay experience will make staying in Messenia utterly unforgettable. Messenia has a long standing tradition in hospitality that dates back to ancient times. It has been fueled by the ancient concept of Greek hospitality that is second to none, as cultivated by the local King Nestor, whose palace was part of a larger settlement. Messenia tops the charts on warm hospitality by way of its friendly people as well as its ample choice in boutique and luxury hotels, suites and villas that guarantee exemplar levels of hospitality.
Culture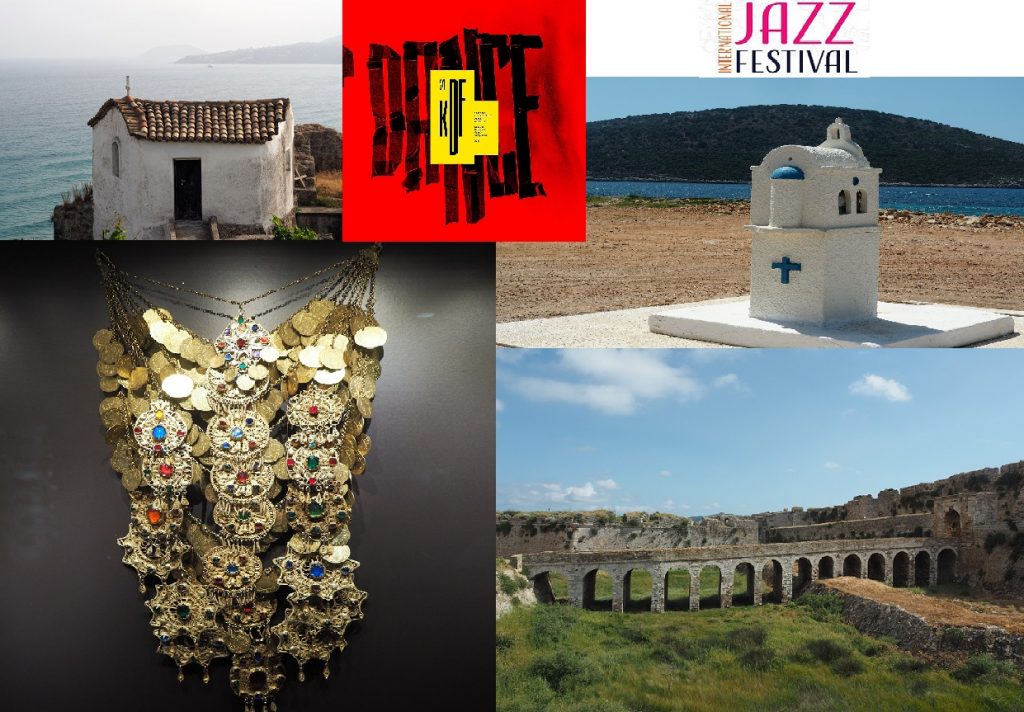 Depending on the time of your visit there can be many things to experience. In terms of festivals, there are many to do with the local gastronomy; the tomato and onion festival in August praises these two fine ingredients that are an integral part in the majority of Greek recipes. Numerous wine festivals during the summer take place in several villages, serving free wine and local delicacies to accompany them. The Messenian Feast in September lasts 9 days and is related to a religious commemoration of the Virgin Mary. Then there are others that encompass the arts, such as the Koroni Arts Festival in July, showcasing contemporary, traditional and opera music, theatre, dance, poetry and visual arts. Messenians are big dancers too, and the traditional Greek dance of Kalamatiano is known throughout Greece. An International Dance Festival takes place in Kalamata, making it a highlight of the greater region.
These and many more happen throughout the year, making a huge positive impact on the bonds of the local community, who are also so hospitable and happy to share their cultural traditions, and welcome visitors as they would members of their family.
Have we convinced you to discover Messenia? We look forward to showing you the best of Greece.