One talented Greek jewelry designer captures color, imagination and artistry in her pieces — in a special way that we love.  Dolly Boucoyannis' jewelry is part of the collections of many of the most elegant Athenians. She combines traditional Greek elements from various historical periods. Furthermore, her designs are influenced from her travels around the globe.
Boucoyannis studied Jewelry Design in Great Britain, Gemology in the United States of America and Goldsmithing Techniques in Florence, before returning to Athens.
She recently sat down with Fly Me to the Moon for this Artistic Tales interview to tell us about what inspires her as a Greek jewelry designer and what's next.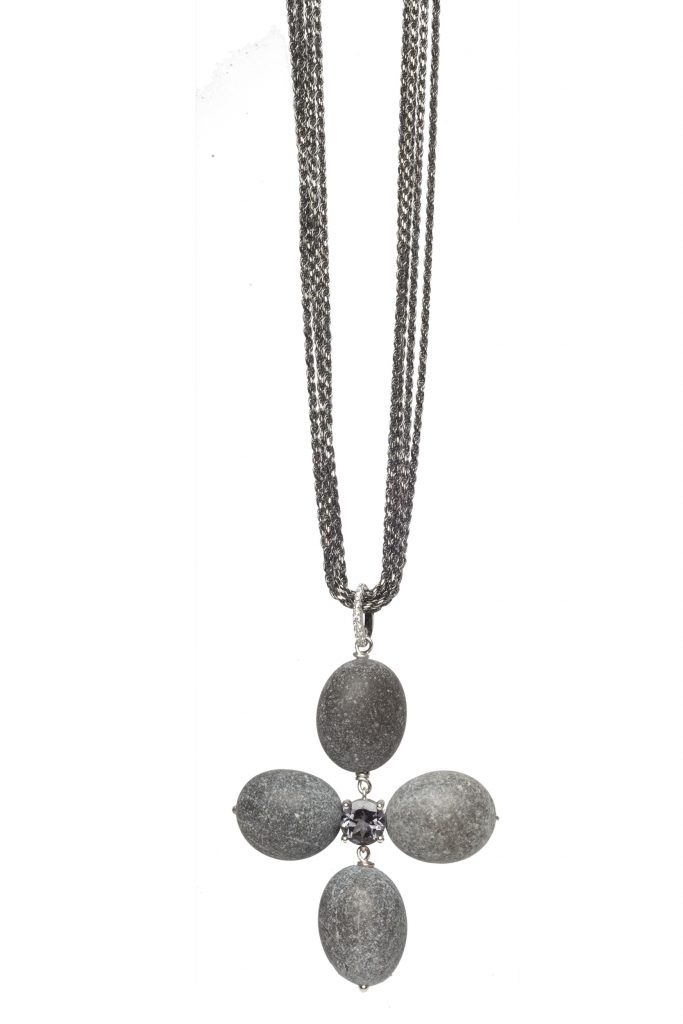 What inspired you to become a jewelry designer? 
The thought of being a jeweler hit me one day at the age of 14, when I was walking on a street full of leaves from a plain tree. I picked up one and bent it around my wrist.
I wish to differentiate between a jewelry designer and a jeweler. A jeweler uses tools and makes jewelry, the designer uses pencil and paper to draw his designs.  Being one doesn't necessary mean being the other.  I am happy and proud to be both!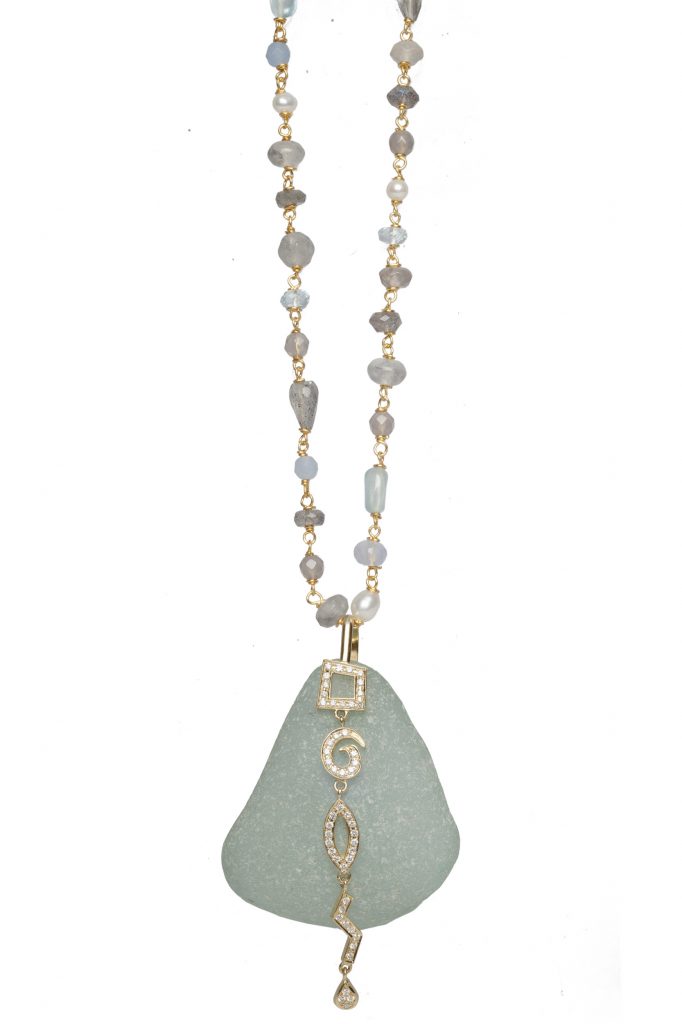 Tell us about your experience of studying in the United Kingdom, the United States and in Florence. How did each place shape your creativity in jewelry design as a Greek jewelry designer? Also, what was the most valuable lesson that you learned living and studying in each country? 
My studies in the U.K. taught me many things. Being creative is like a game, but all games have rules. We were encouraged to open our minds, go over limits, beat prejudice, explore, invent, discover and a lot more.  All of these in a very demanding and at the same time supporting environment. Perfection and personal style was our goal.
Personally, I feel I was trained to work hard and built my self-esteem gradually and only by my own achievements.  I learnt to be my own judge, and last but not least, to "always keep notes," which means "never stop thinking, never stop learning."
In the United States, where I was trained as a gemologist, a new world appeared in front of me: diamonds and colored stones. They are nature's gift and they show the most exquisite colors which last forever. My work was immensely influenced by the unique colors of gems. Although nature was always a source of inspiration, my attention grew stronger on the colors surrounding us. People say I have a good sense of colors. All I do is look around me!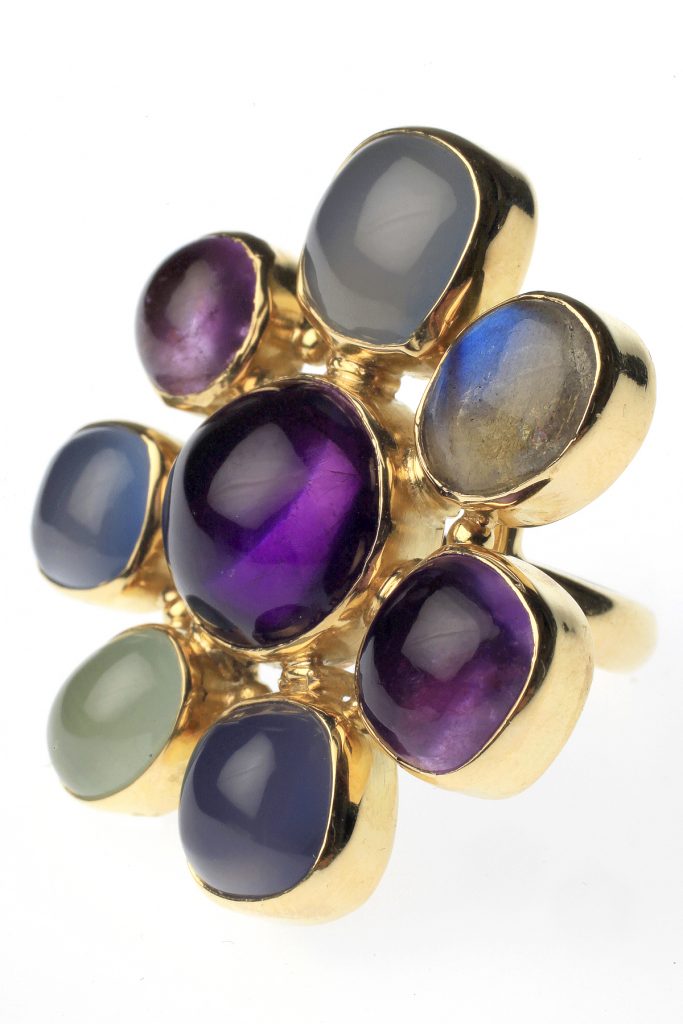 In Florence, but also in Athens, I had the chance to work with expert craftsmen. I learned old techniques that can be categorized as antique even. These techniques are rarely used today. What was equally important, I was "educated" to be a part of a team, where everybody worked for the creation of one beautiful, unique object — a piece of jewelry.
Magic and simplicity, difficulty and easygoingness, anxiety and satisfaction all combine and alternate in a workshop's everyday life.
You have won the DeBeers Diamonds International Award for the use of moving diamonds. Great accomplishment! Tell us about this experience and how it affected your career as Greek jewelry designer?
I won the DeBeers Diamonds Award in 1986.  At the time, most of the people around me from the jewelry field tried to convince me not to participate. They said that I was wasting my time! In fact, at a certain point, I had to calculate the cost of the necklace I was designing since if I won, it had to be manufactured. When I went to my diamond dealer he didn't bother to give me a quote at first because he claimed doing so would be a waste of time. I have to admit he is still giving me credit for this achievement even after 30 years!
It is difficult to assess the impact it had on my career because publicity worked very different 30 years ago. It certainly gave me a good base, but to be honest, I was too busy working to make a "profit" out of it.
As a Greek jewelry designer, tell us how you would you describe your design style? What makes your collections unique in the industry?
The more you see, the more you learn.  This is what makes it impossible to classify yourself as being unique. My style is simple.  Color, proportions, movement, safety and timelessness all play an important role. Probably, that is why my jewelry looks much better when they are worn.
My aim is to create pieces of jewelry that belong to those who wear them. They look better on them. They become part of them.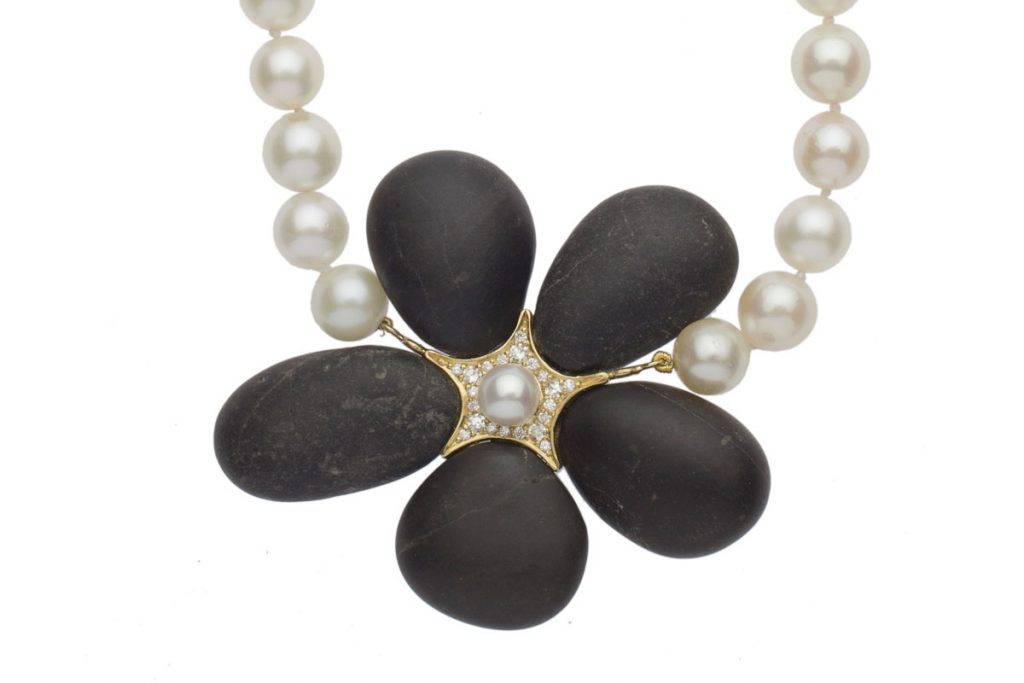 As a Greek jewelry designer, is there a particular place in Greece where you feel most inspired?
Kythera is the place where I feel most inspired. That is because it is an island where I feel at home. I enjoy the light, the colors, the sea and the life.
What is your favorite piece you have created so far and why?
It is very difficult, if not impossible, to answer!
I would rather answer what my feelings are on a particular piece. For example, the minimal chain with a pebble and a diamond on the front page of my website is a proof of no prejudice, a hint on the difference between cost and value, a proof of freedom. On this piece, you can see the two stones (points of view) having  the "pleasure" of being so "near."
What are the latest trends in jewelry design? 
I work too hard to be able to follow trends and maybe I would go as far as to say that in a small scale I would like to try to determine my own trend. The motto "be happy with yourself" should be, in my view, the eternal trend!
As you can see, Boucoyiannis has built an amazing career as a Greek jewelry designer. You can check her website at www.dollyboucoyannis.com
Do you have a favorite jewelry designer?