A visit to any Greek island is one of the top travel experiences I recommend.  This time I was about to embark on a holiday on a private Greek island. It proved to be a setting that combined luxury, authenticity and Greece's unique island beauty.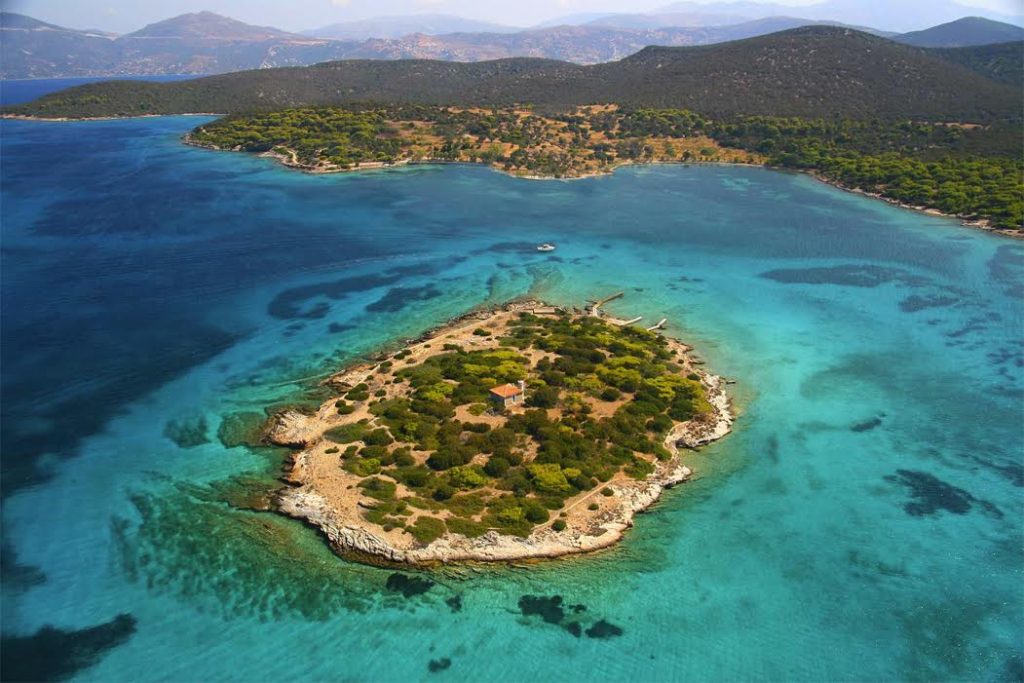 Travel to a Private Greek Island
There is something special about soaking in the atmosphere and nature on any island in Greece. Having traveled extensively across my country, I have come to learn that each one has its own character. Every island is proud of its own gastronomy and its own local culture where the inquisitive traveler can discover something new, charming or unique.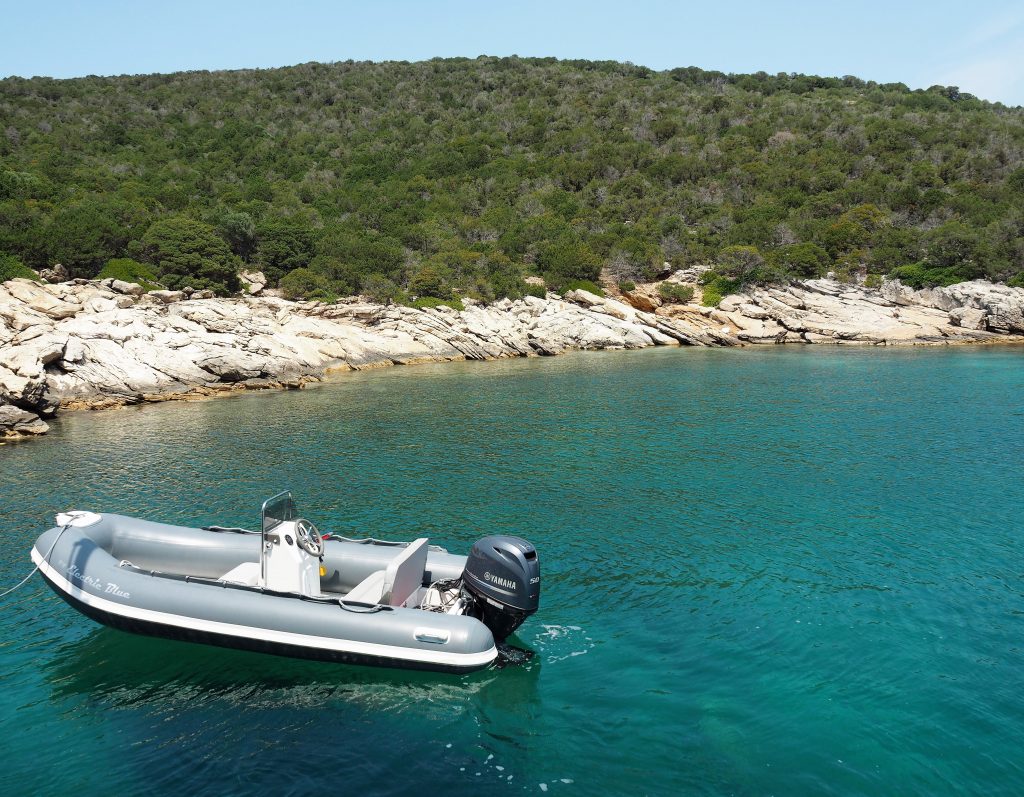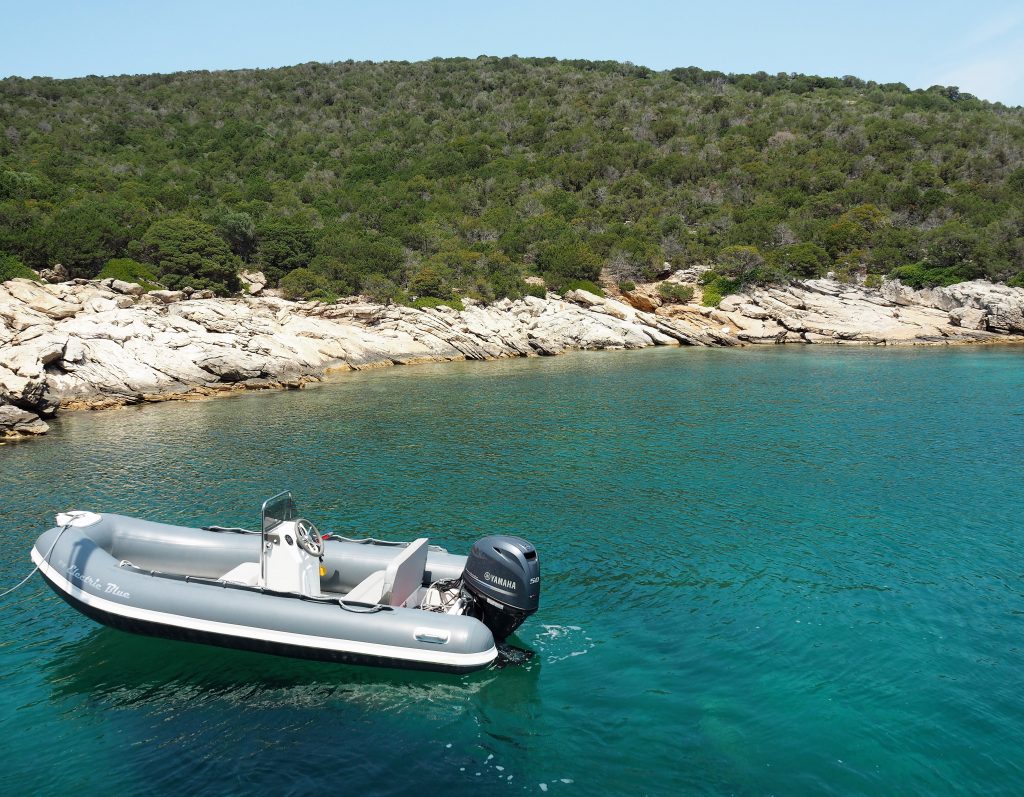 The opportunity to visit a private Greek island, just an hour-and-a-half boat ride from the capital of Athens, offered a new and exciting luxury travel experience.
Luxury and Authenticity: A Private Greek Island Getaway
There are many private islands across the world from the very accessible to the wonderfully exotic.  Some are created into a dream escape offering the luxury amenities of any top resort yet leaving the   feeling like the island is your own personal escape.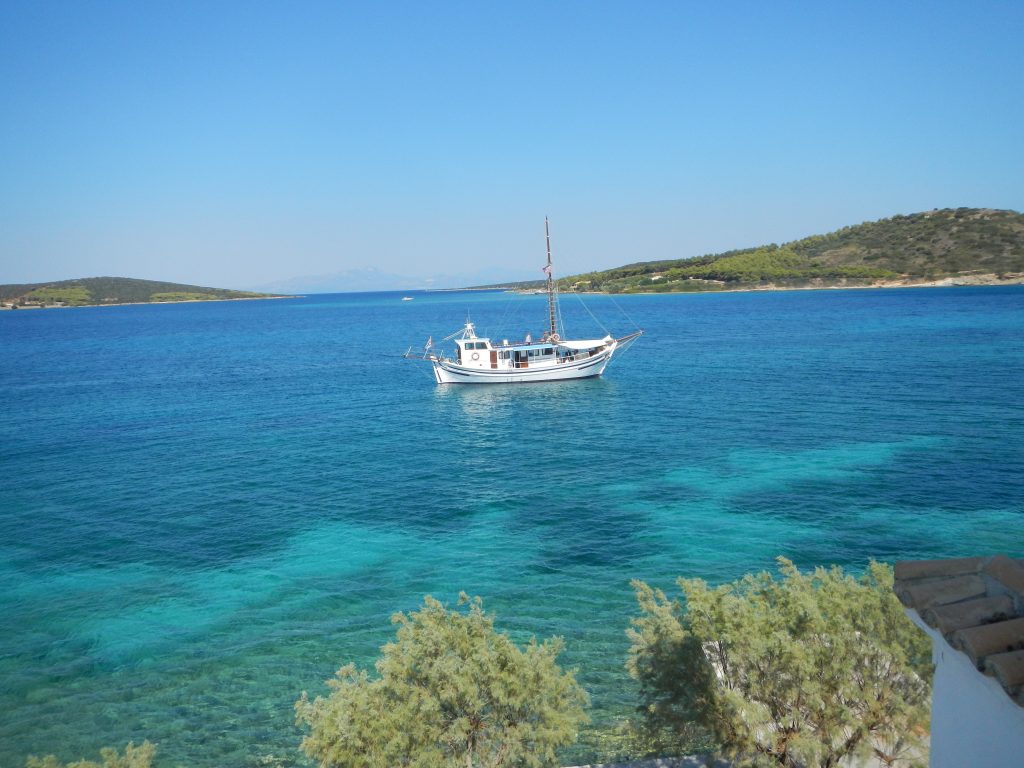 I had this in mind as we headed off on a traditional caique boat from the shores of Attica, which is the greater region of Athens.
Private Greek Island
No ferries or commercial boats dock at this "hidden" island in the Mediterranean. The caique was the only way to access this private island.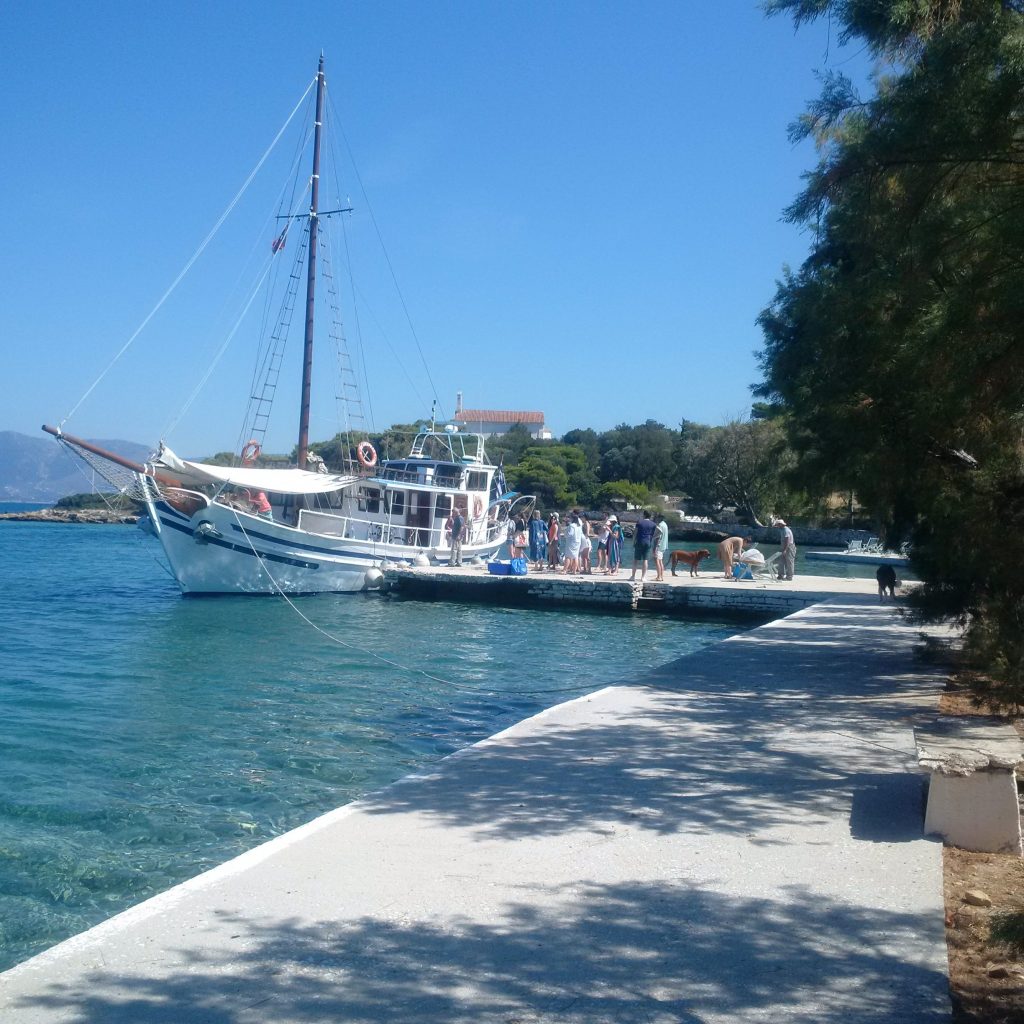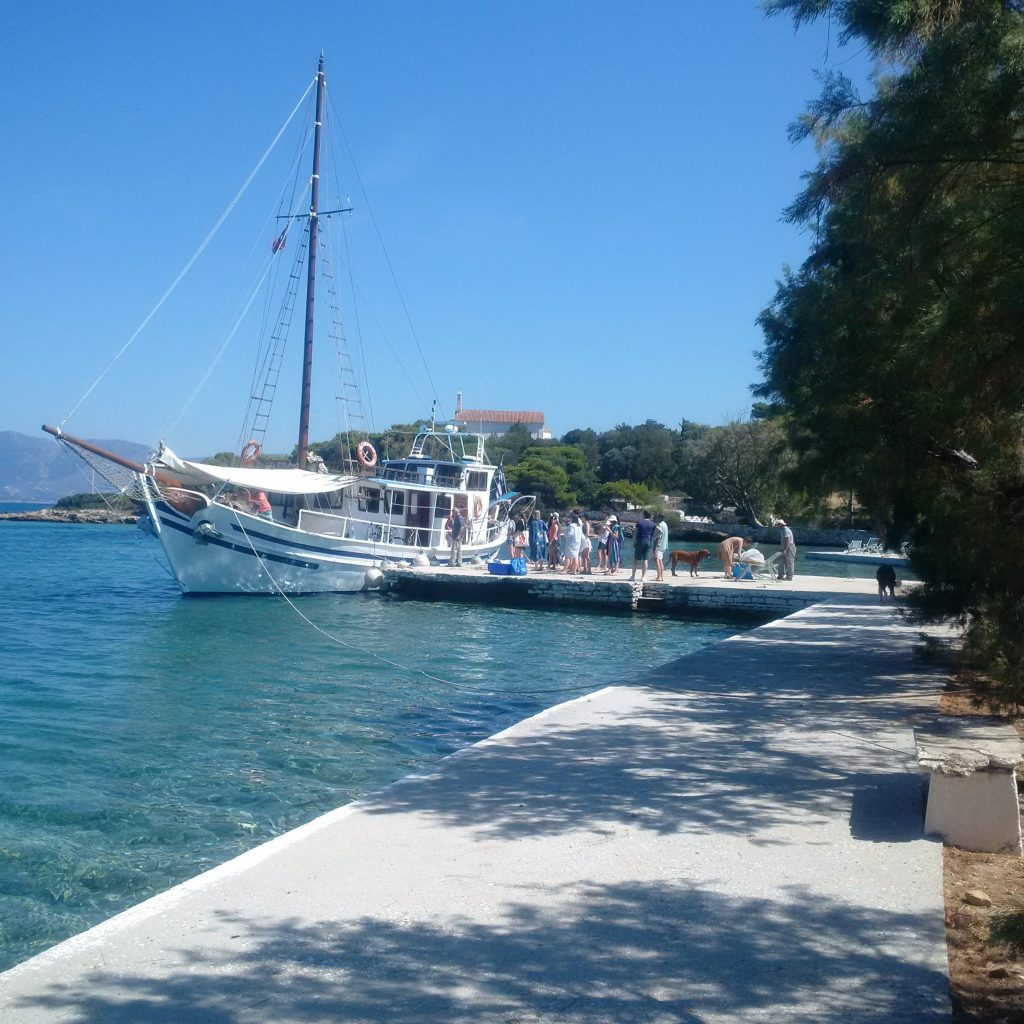 Once I stepped foot on the land, a feeling of pure ease washed over me. I was finally away from the pressures of daily city living.  Lush trees and greenery surrounded me, I was surrounded by the beautiful landscape typical of the Aegean islands.  I breathed in fresh clean air. I was ready to see more.
A Private Greek Island Stay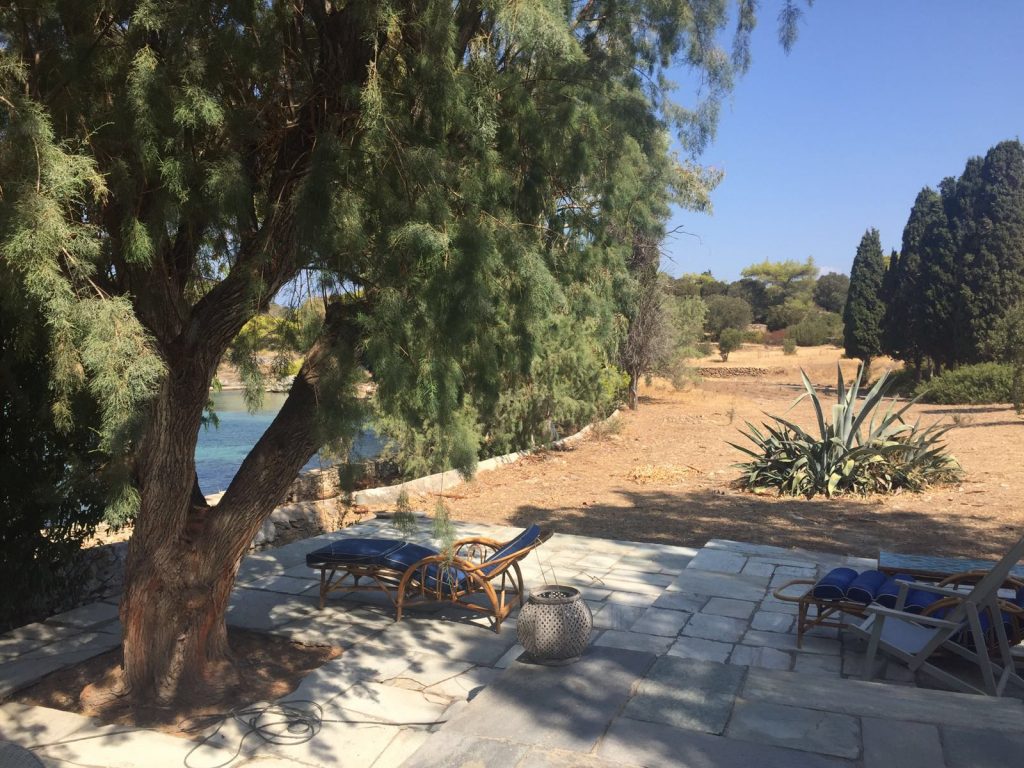 I was shown to my accommodation which was an early 20th-century style villa.  I admired the tasteful refurbishments including tiled floors in muted tones, gleaming marbled bathrooms and strong wooden doorways.  In the depth of its elegance, I found it rustic and charming all the same.
Things to Do on a Private Greek Island
There was more to discover outside of the villa doors.  It was clear that nature was a key focal point to experiencing this private Greek island escape. We Greeks adore what our land has offered since the beginning of time. I appreciated every moment as was led through the island's beautiful olive groves.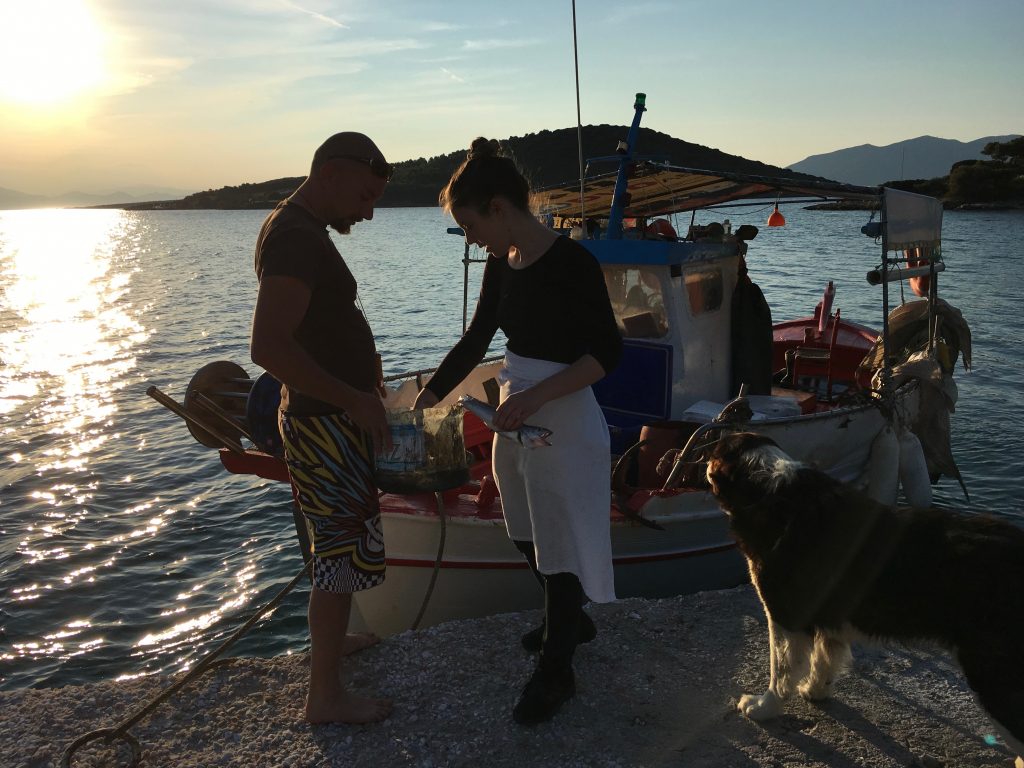 I was also led to the island's own bountiful vegetable garden.  The products of the land would later be the essence of every meal prepared for me at the villa.  I loved the succulence of the freshly picked tomatoes in my salads and the rich taste of vegetables such as zucchini and eggplants that completed the Mediterranean plates prepared for me.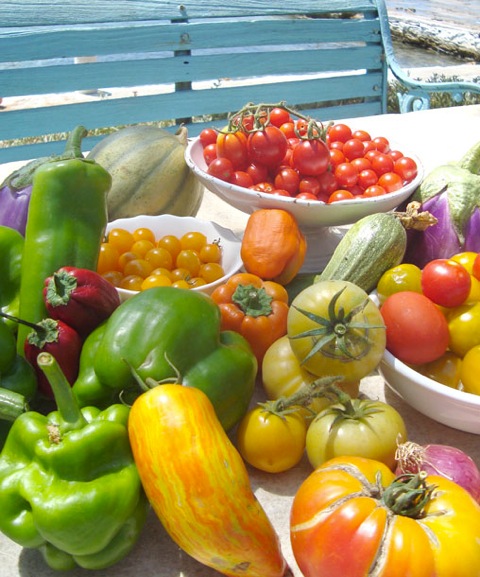 The extra virgin Greek olive oil and herbs like parsley, and oregano complimented perfectly grilled fish singed with lemon.
Around the Private Greek Island
No island experience is complete without a memorable time by the sea. On this private Greek island, I had the chance to unwind at beaches where crystal clear waters lapped gently. No one was in sight. They were my beaches for the day.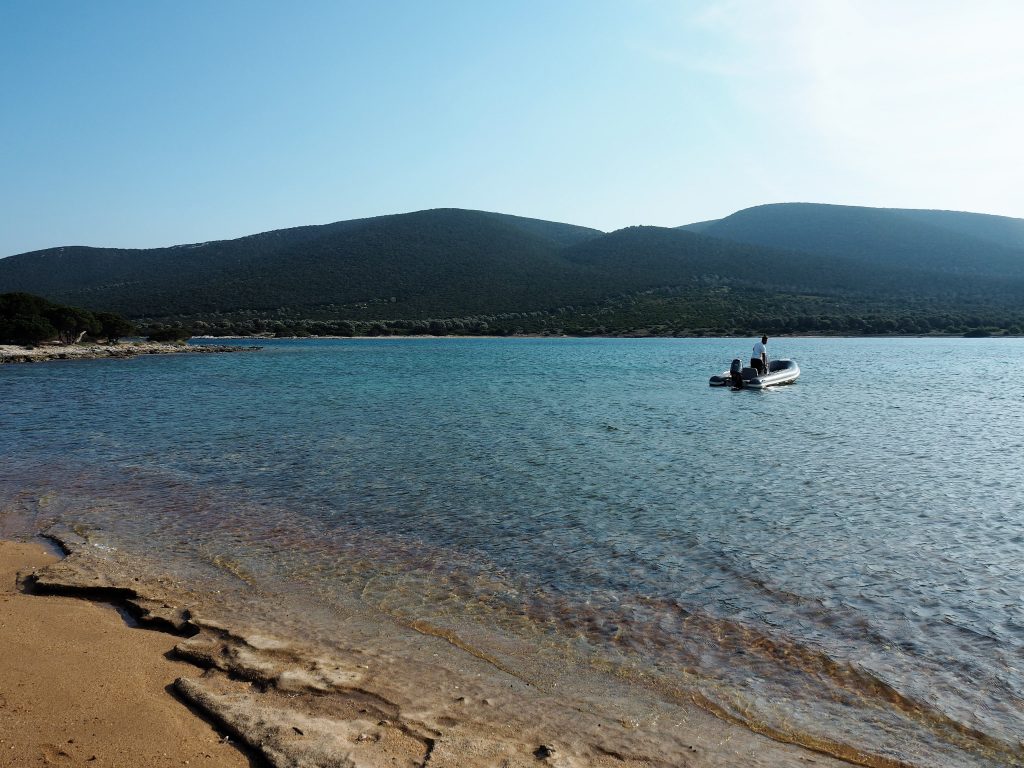 For a little exploring, I trekked through a rural settlement where island workers once lived. I poked through the ruins to see the remains of old kitchens, living rooms and bedrooms.  There was once another world on this little island.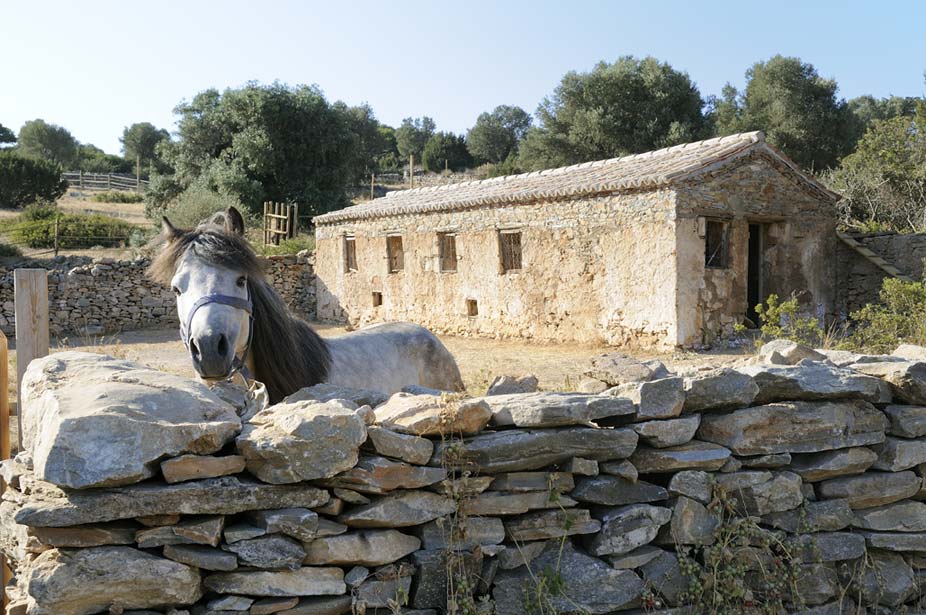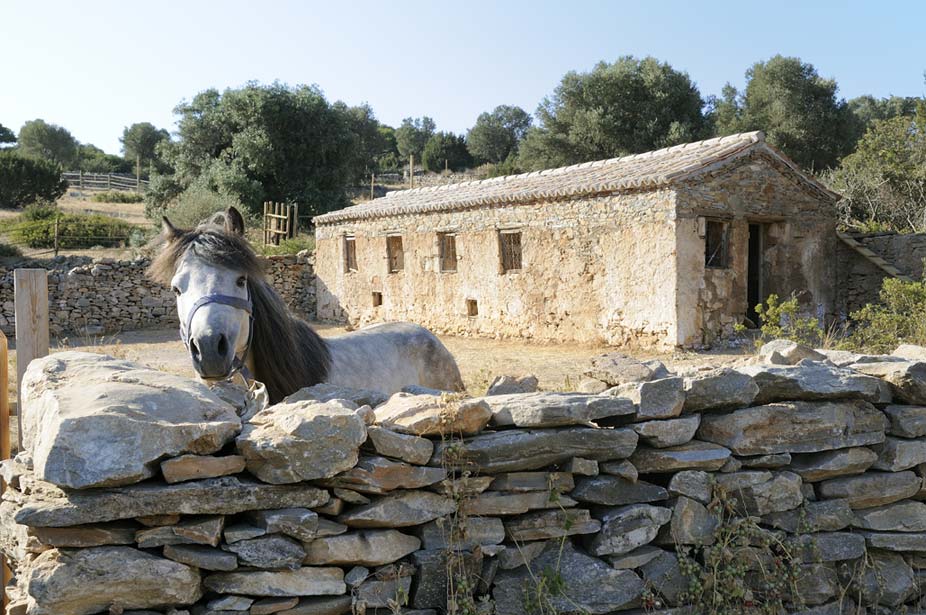 Meanwhile, the caique was ready to take me across the shore to family-run Greek taverns, boutique wineries and other historic sites.
A Unique Escape
A few days later, fully rested with a summer tan and a peaceful mind, I got back into the caique for my ride back to the city. I looked back at the private Greek island and smiled.  It was unlike any other Greek island experience. I had discovered a new definition to luxury travel, one that only a private Greek island getaway could provide — completely private with its own rustic definition of luxury that enabled me to relax, appreciate and rejuvenate.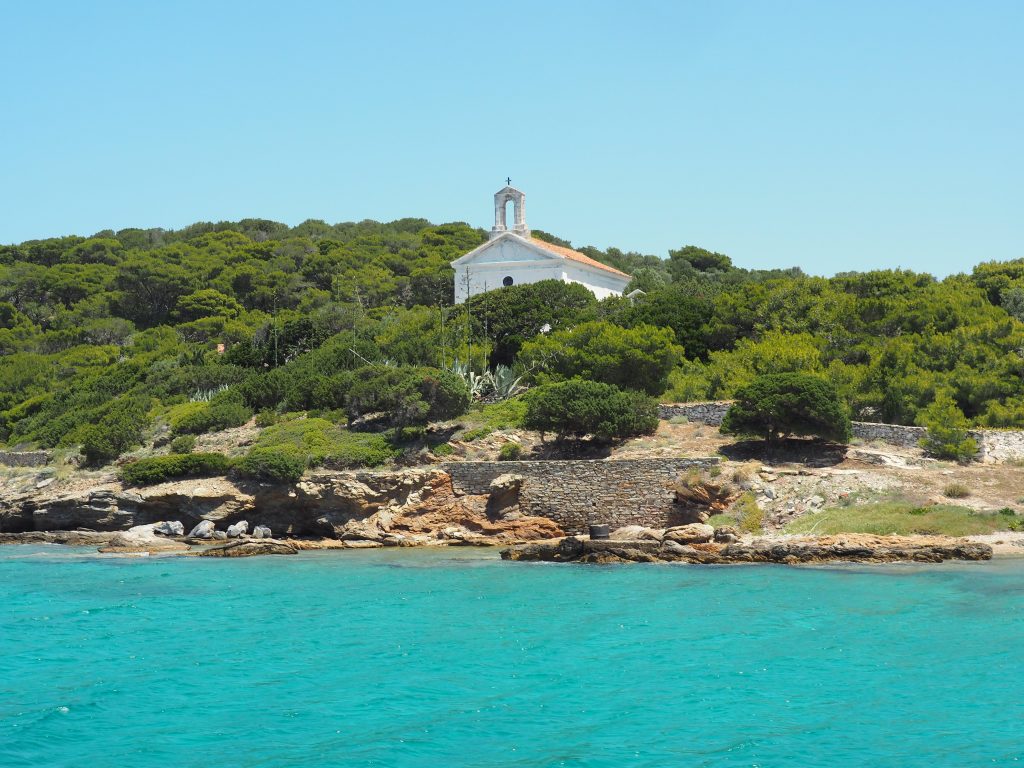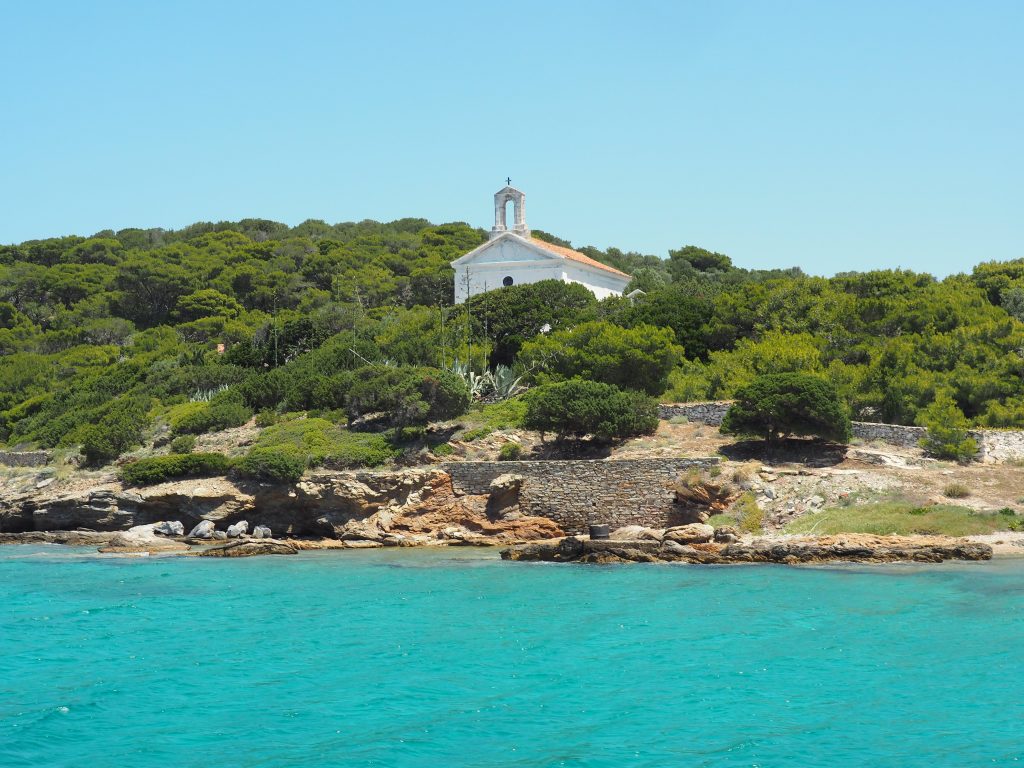 I also left the private Greek island with so many ideas that my clients would love.  Looking back, I think of it as a "hidden" paradise perfect for wellness retreats, gastronomy events or a place to celebrate a special time whether it be for work, friends or for family.
It was a trip that proved just how special the Greek islands are, especially if one can be your own – even just for a little while.
Travel Designer: Your Private Greek Island Getaway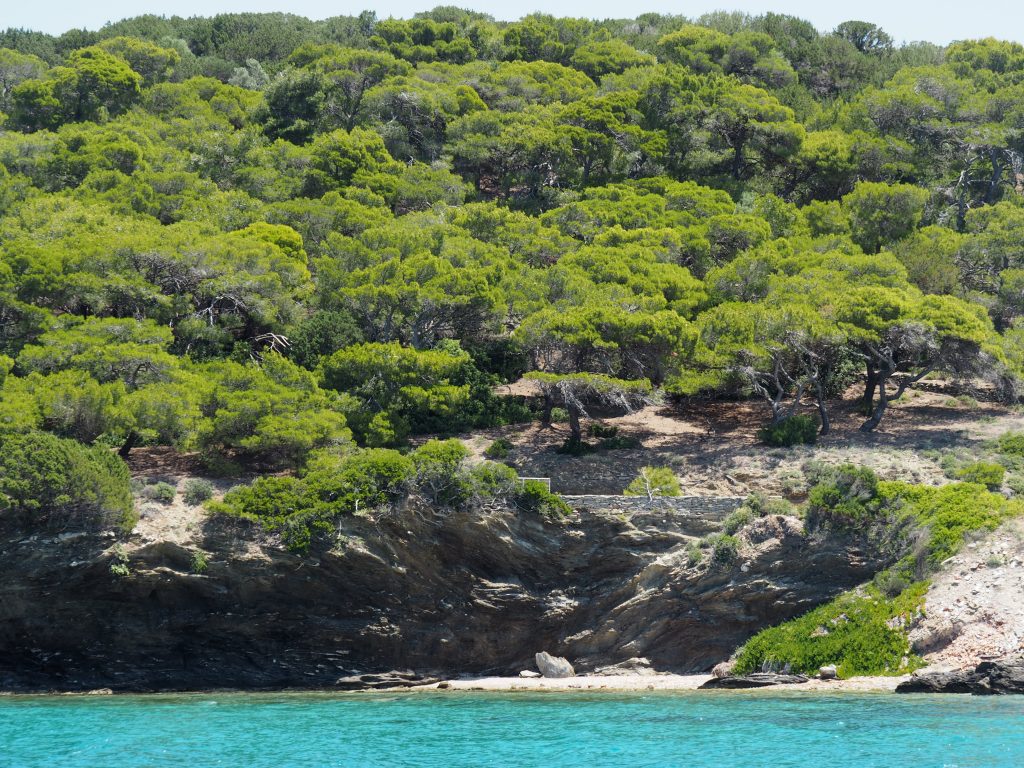 At Fly Me to the Moon, we are committed to offering you unique luxury travel experiences that bring you closer to Greek culture, gastronomy and heritage. Get in touch to discuss a bespoke itinerary to this private Greek island which has proved to be an island experience like no other.
Have you ever been on a private island getaway around the world?
By Elena Papanicolaou
CEO, Fly Me to the Moon Travel