Greek white beaches, either full of bright pebbles or thick with soft sand, are some of the most beautiful getaways you can experience.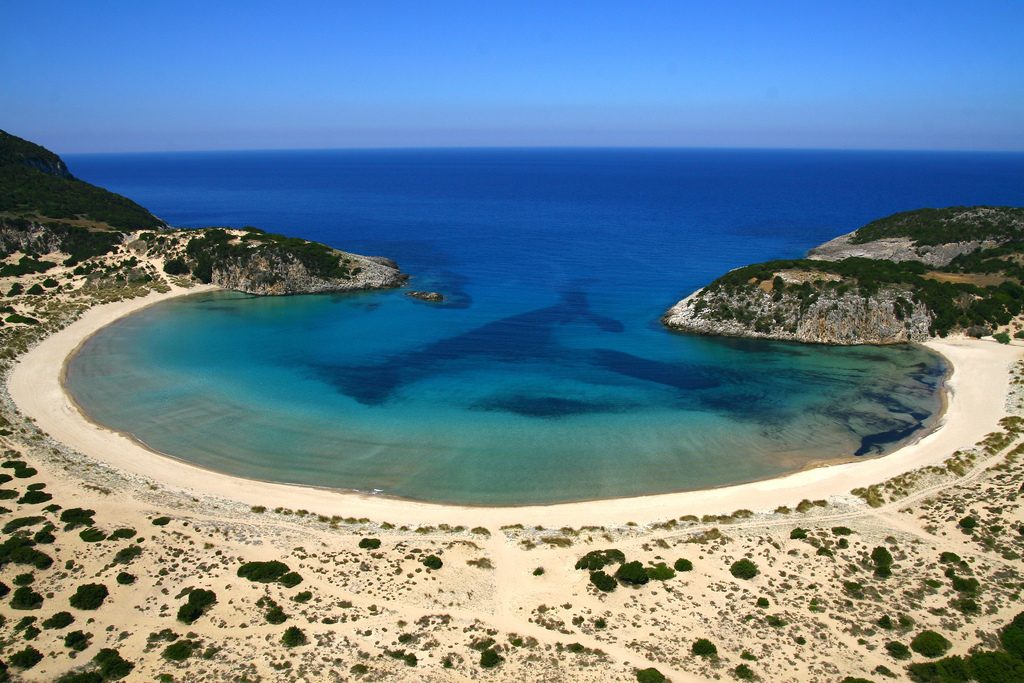 The Best Greek White Beaches
There are many diverse beach landscapes scattered across Greece. However, the beaches known for their powder white soft sands and white rocks are some of the most picturesque you'll find in the Mediterranean. Here's our list of the top ten Greek white beaches for you to enjoy.
Simos Beach, Elafonissos Island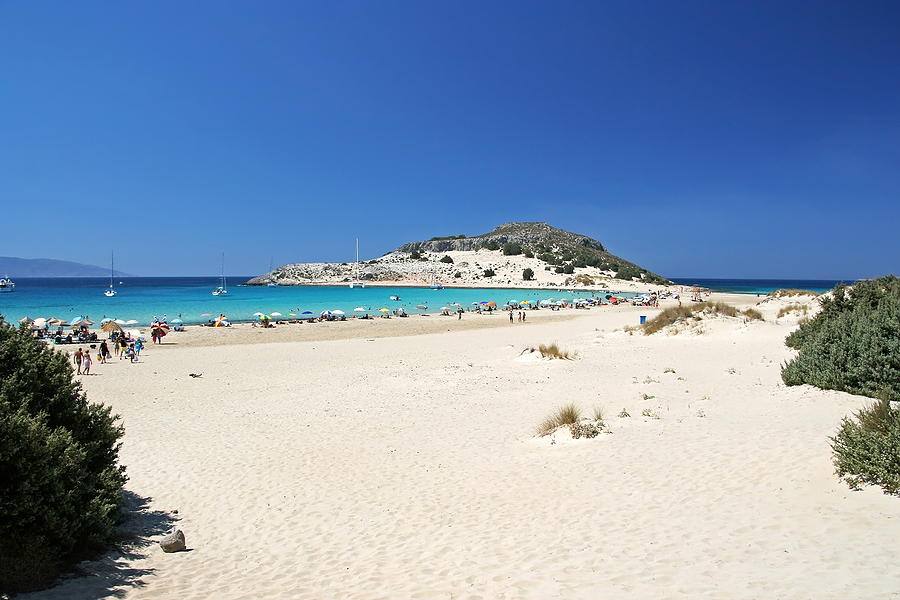 Elafonisos is a small island between the Peloponnese and Kythira where Simos beach is known for its seascape of white and turquoise colors. The beach has two parts: Megalos (large) Simos beach and Mikros (small) Simos beach. Only a narrow stretch of white sand divides them. Nearby, there are fantastic archaeological sites to explore.
Armathia Beach, Kasos Island
Kasos is another small island located between Karpathos and Crete. On the island's uninhabited islet of Armathia there are three gorgeous white sand beaches: Marmara, Karavostasi and Apopantoula. During the summer season, boats make the trip from Fry to Armathia, so travelers can enjoy the day there.  The islet is historic as well. It thrived with gypsum mines until the 20th century.
Italian Beach, Koufonisia Isand

Koufonisia is a little known destination, one of the smaller Cycladics, living in the shadow of the larger and more known Mykonos and Naxos islands. Many Italian tourists can be found taking a trip to Koufonisia from Naxos, after jetting in from Milan. Fashion moguls such as Roberto Cavalli and the Missonis are regulars.
Koufonisia is actually a trio of islands: Pano (Upper) Koufonisi, Kato (Lower) Koufonisi and Keros. Although little, these islands were vital pieces of land during the trade wars between Venice and the Ottoman Empire. On them you can visit the astonishing white sand beaches including the Italida beach. Also known as Platia Pounda, this lovely beach scene is completely undeveloped – remaining as nature intended – reachable by a coastal footpath.
Kavourotripes Beach, Chalkidiki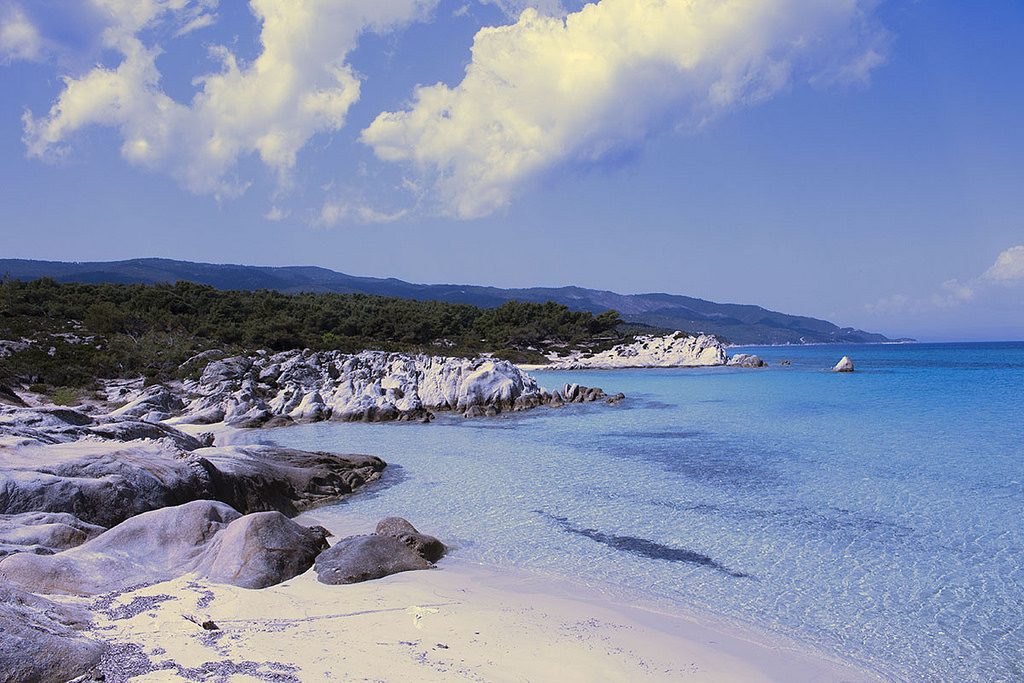 Kavourotripes (crab holes) beach , also known as Portokali (orange) beach, is located between Armenistis and Platanitsi Beach in Sithonia, a beautiful region in Chalkidi. It's a popular beach thanks to its idyllic setting of turquoise waters lapping up against white rocks. In some places, you can find sculptures carved on the rocks by several artists.
Elafonissi Beach, Crete

The island's name may mean deer, but you won't find any. What you will find is one of the most breathtaking destinations in Greece. Located in the western portion of Crete, Elafonissi is actually an island in itself known for its stunning white and pink sand. Elafonissi is separated from the shore by a meter-deep lagoon. While it is such an amazingly beautiful place, it has played some rather sad roles in Greek history.  In 1824, during the Massacre at Elafonissi, Turks massacred 850 people on Easter Sunday. Also, in 1907, the S.S. Imparatrix ran aground the reefs in Elafonissi and many lives were lost.
Egremni Beach, Lefkada Island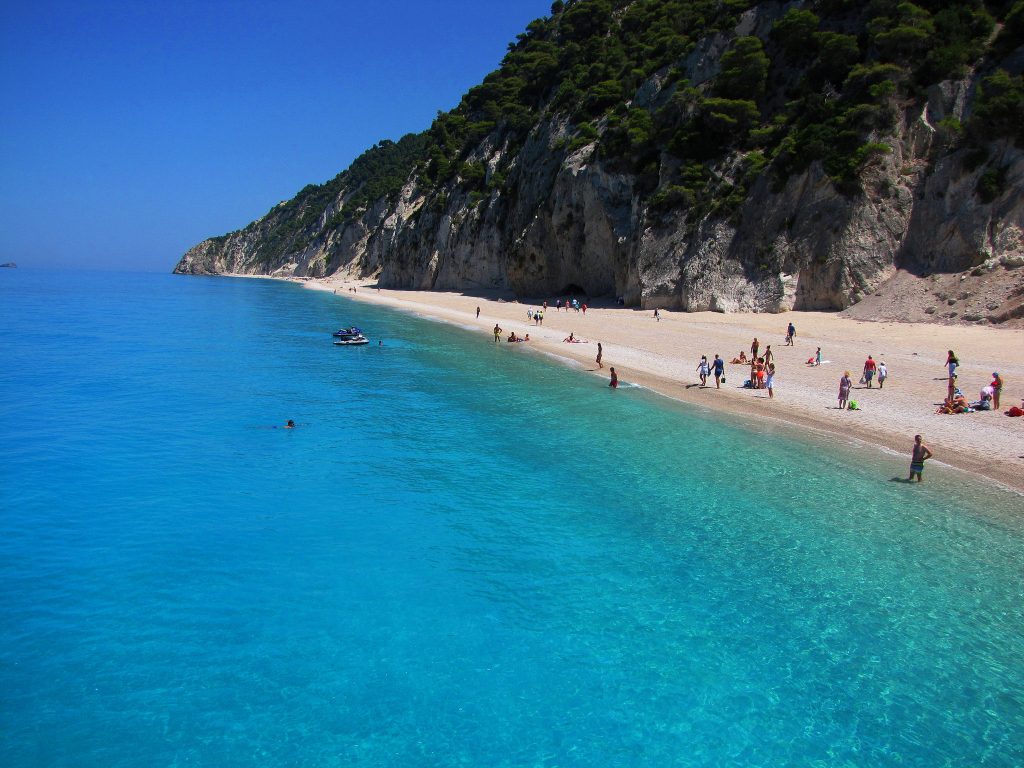 Egremni beach is one of the longest beaches on Lefkada, a beach that stretches for nearly three kilometers. It was ranked as one of the top 100 beaches in the world thanks to its stunning seas and pristine white sand. However, in 2015, the beach was hit by a deadly earthquake which filled the beach with rubble.  Hopefully, nature itself will somehow restore this stunning area of Greece again.
Bella Vraka Beach, Sivota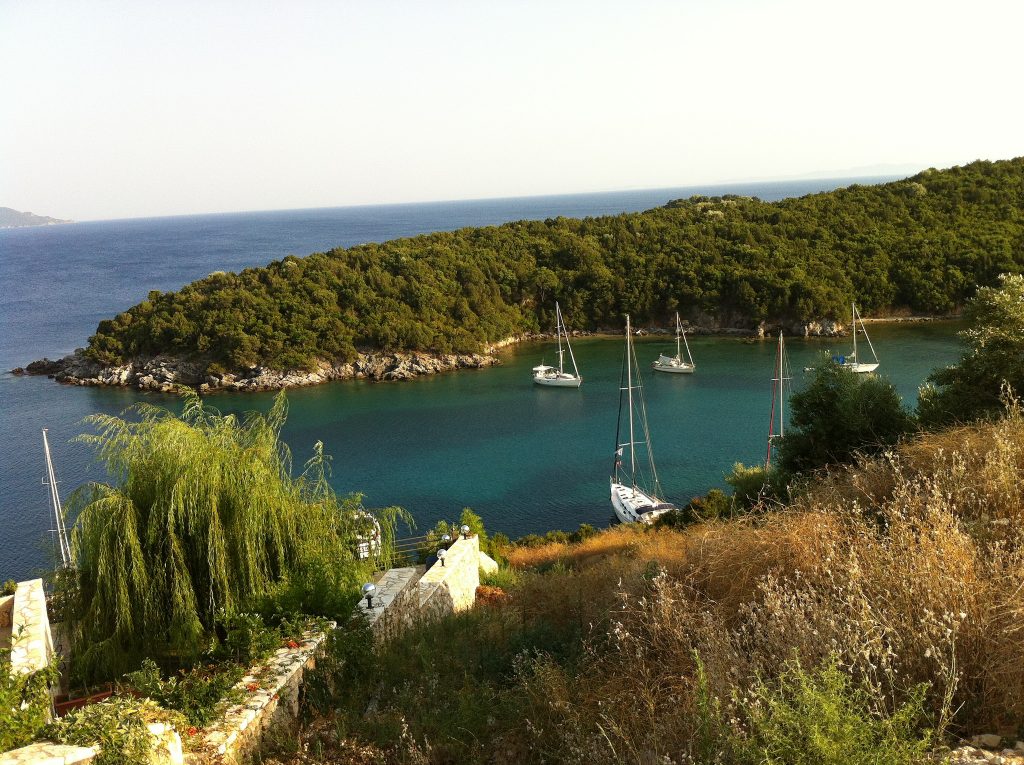 Sivota is a picturesque coastal village on the southern tip of Thesprotia in the off-the-beaten-track region of Epirus. Bella Vraka beach is located on the islet of Mourtemeno, reachable walking across the sea!  It's easier than you think, a thin strip of sand connects Sivota with the islet, some parts extremely shallow knee-level waters. The area isn't developed so it is a natural beauty — perfect for a refreshing and picturesque summer swim.
Seychelles Beach, Ikaria Island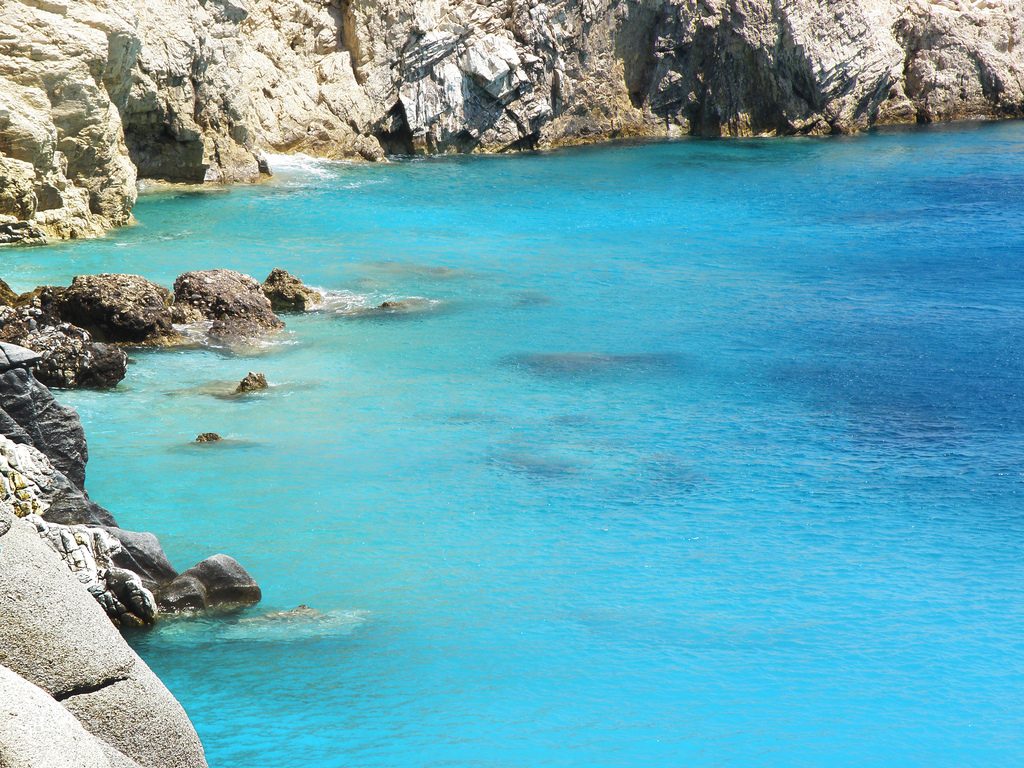 On Ikaria island, southwest of Agios Kirikos, Seychelles beach impresses its visitors with its white sand and pebble beach as well as its blue-emerald waters surrounded by interesting rock formations. Those who love diving into the sea enjoy exploring the beach's seabed and jumping off the white granite rocks.
Voidokilia Beach, Messinia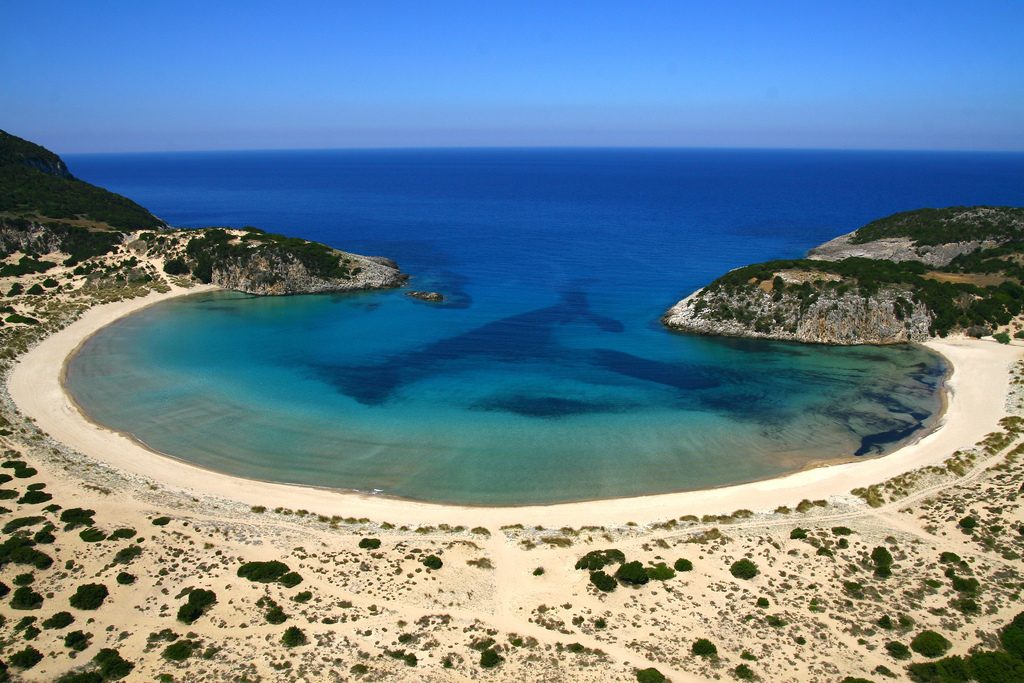 Located in Pylos, near Navarino Bay in the Peloponnese, Voidokilia beach is famous for its picturesque and distinct "omega" shape.   Other attractions located above the beach include Nestor's Cave, the ruins of Old Navarino Castle, and the tomb of Thrasymedes (Mycenaean period). The beach was referred to in ancient Greek times, in Homer's Odyssey and it may have been a port as well.
Voutoumi Beach, Antipaxos Island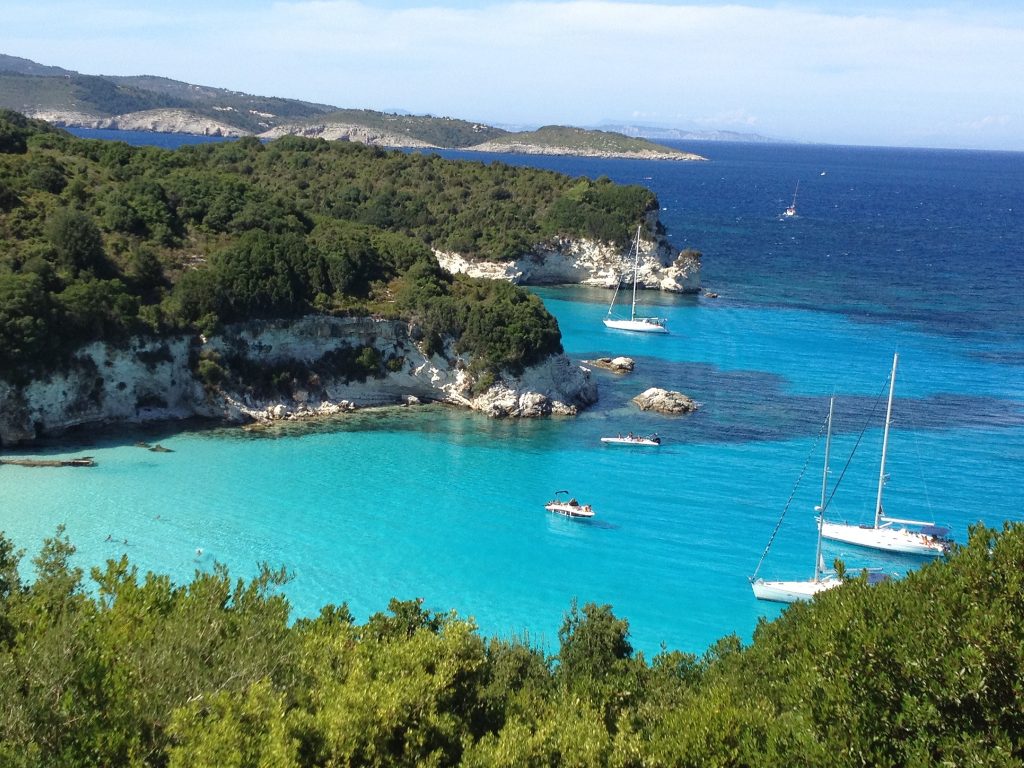 Antipaxos is the smallest of the Ionian Islands, just two square miles long with less than 100 locals living there. While visiting you can enjoy Voutoumi beach known for its turquoise waters, clifftop surroundings and beautiful pebbled white beach.  Regular water taxis service Voutoumi beach from Gaios and Paxos. The island's most interesting resident was Souliotes who fought the Ottoman Empire until they were defeated in 1803.
Have you ever travelled to any of these beautiful Greek white beaches known for their bright sands or rocks? We'd love to hear about it!