Travel in Greece is so conducive to inspiring mindfulness. Here, in the pristine landscapes, engaging with the warmth and genuineness of the Mediterranean character, one feels a renewed sense of connection – with others, with the earth, with the flora and fauna. It engenders both a sense of spiritual well-being, and a desire to connect on a meaningful level, by making a contribution.
The notion of sustainable travel is very much a concept for our era – how to minimize our impact. But taking it a step further – how to maximize our impact in a beneficial way – is even more rewarding. While charitable giving is a great place to start, more sustainable awareness creates a lasting benefit. 
As a boutique travel designer specialising in custom experiences in Greece  – at Fly Me To The Moon we are committed to fully supporting sustainability through our own actions. It has been our long-term vision to promote the lesser known destinations in Greece and we ourselves have been actively involved in including these off-the-beaten-path destinations in our travel itineraries. Thus it is absolutely crucial for us that these special places remain untouched and preserve their remarkable authenticity. In this month's posts we'd love to highlight some organizations doing marvelous things in Greece. 
Given the uniquely complex topography, the unusually rich biodiversity, marine, avian, and land-based, the vibrant character of the urban areas, the unique opportunities for making an impact are many.
Symplefsi (+Plefsi) – Supporting Greece's Most Remote Island Communities
One thing visitors and Greeks themselves treasure most about the nation is the diversity and the sheer number of magnificent islands. While some are world famous and easily reached, visited by many, others are truly remote – their own kingdoms of nature. Their inhabitants, removed from the world and its many conveniences, are bold and noble in character, as befits a life so far from the urban world. It's an inspiring existence and part of what makes the culture of Greece so unique.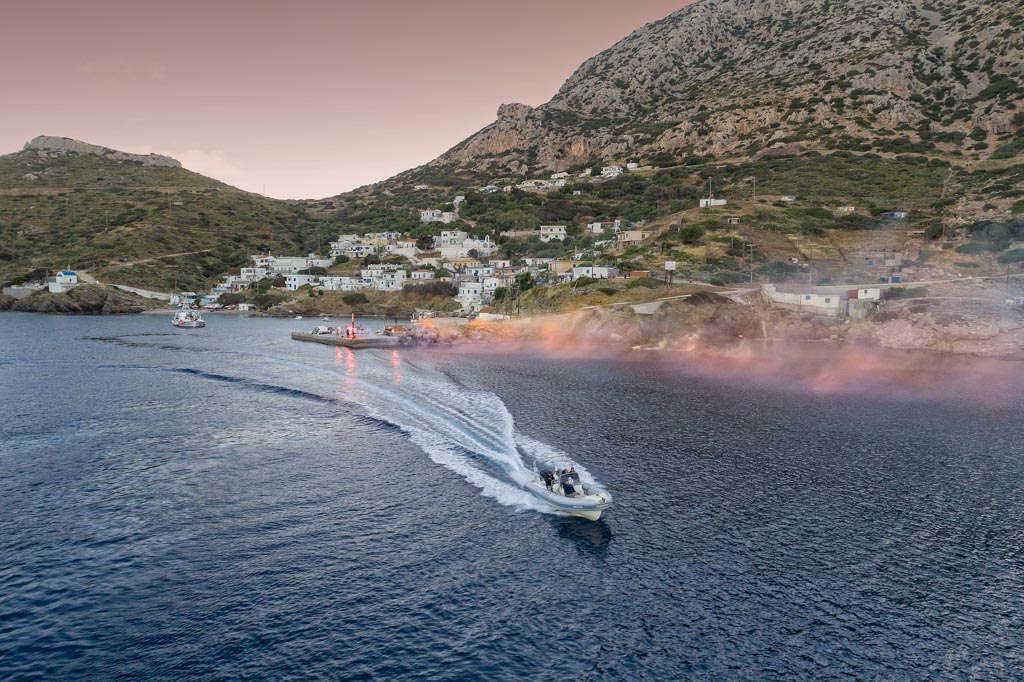 Life in such remote locations is not without its challenges. Therefore, a diverse group of individuals made up of doctors, nursers, teachers and humanitarians came up with a novel solution. Aris Papapetropoulos, President of the BoD of the innovative organization Symplefsi, shares the vision: "Symplefsi was created in 2014 by a group of people that shared the same passion; to offer to the inhabitants of Greek remote islands access to healthcare, of the same level as in mainland Greece. The founding members of Symplefsi, except for the common vision, they had experience in volunteering, as well as travelling long distances with rib boats. Although each of them came from different backgrounds, they decided on the founding of Symplefsi, as a partnership of people who wish to offer services of support, reinforcement and upgrading of the social and living standard of living in the island and remote areas of Greece."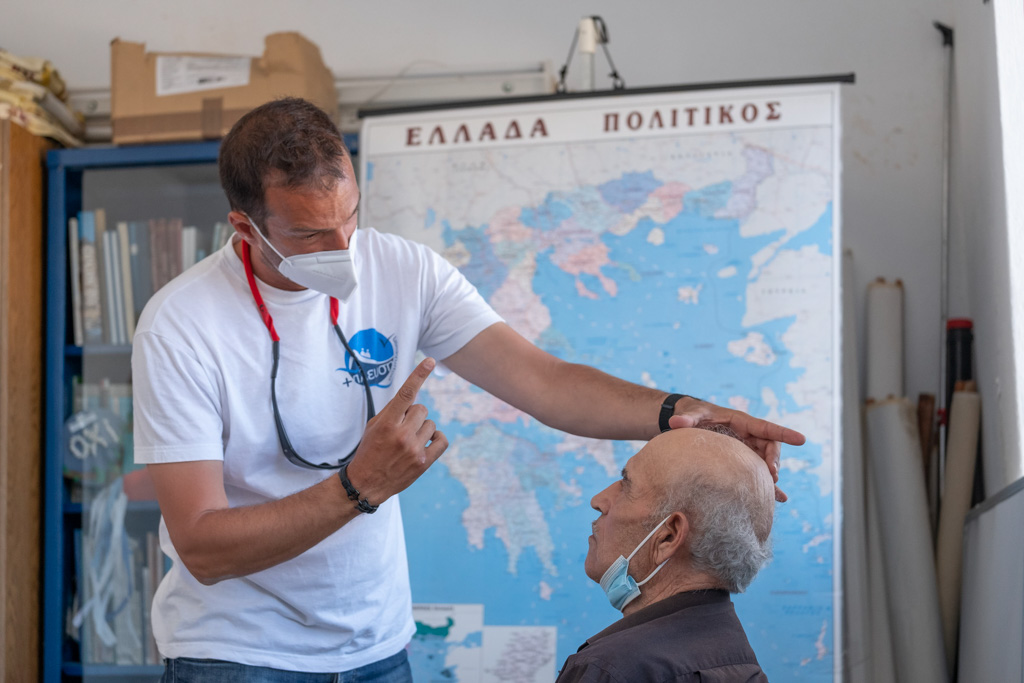 Two annual journeys serve the communities of the most remote islands of Greece. One journey involves just a single remote island, geographically so distant it requires a separate trip. The main journey – "Diaplous" – takes place in the spring. It encompasses 8 to 10 islands, with stays for a day or two in each. Some of the distant islands that have already received the organisation's help are  Nisyros, Astypalea, Fourni, Kasos and Iraklia, just to name a few. 
How can the visitor get involved? Aris elaborates: "besides the medical examinations that take place in the medical practices we set up, we organize cultural and informational activities for the children of the islands with the help of our volunteers. For the successful implementation of those, the participation of Fly Me to the Moon travelers could be valuable!"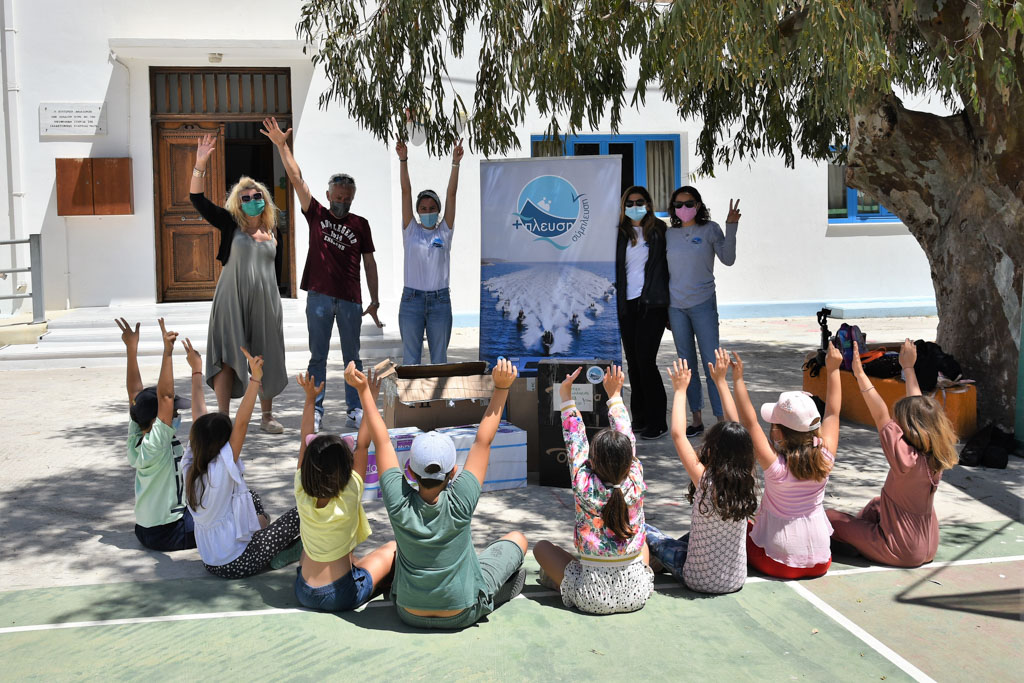 For the traveler who seeks a meaningful connection to a deeply authentic and seldom discovered Greece, and a privileged experience with its most remote islands and islanders, this can be a uniquely enriching opportunity.
Archipelago – Raising Awareness of and Protecting the Greek Seas, and their Rich Biodiversity
For many, the sea itself is virtually synonymous with the Greek experience, something to treasure and protect. Great strides have been made in raising our collective sense of responsibility as stewards of the seas – minimizing our negative impact and respecting the marine kingdom. This inspiring organization is taking things a measurable step further, addressing not just continued sustainability, but reversing the negative impact on some of the sea's most vulnerable noble inhabitants.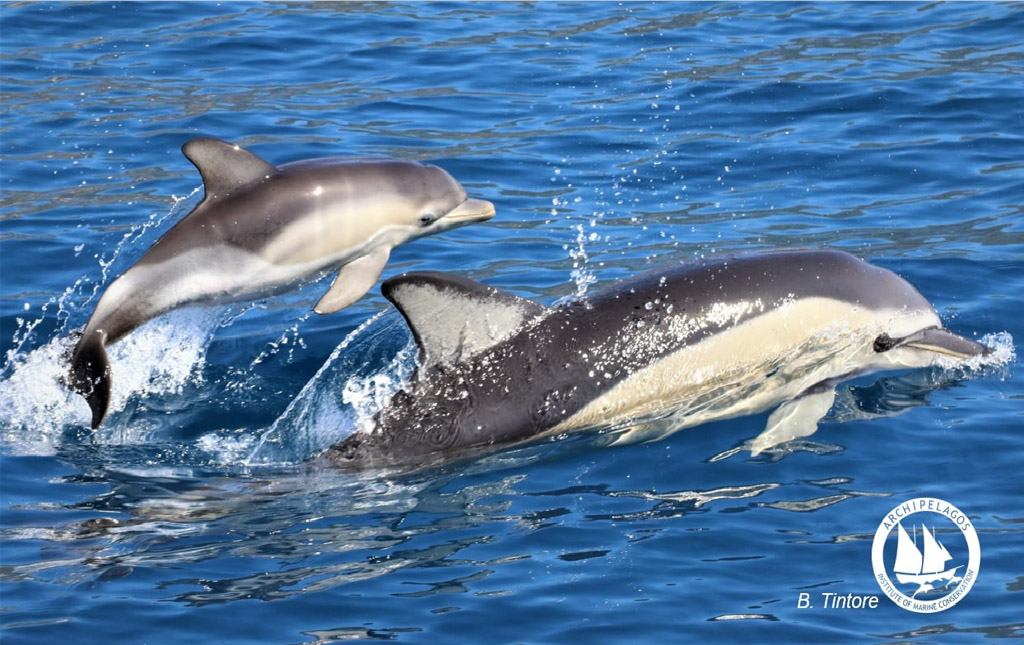 Archipelagos was born of a true connection to the sea. Many years on merchant navy ships all over the world gave Thodoris Tsimpidis a deep connection to and appreciation of the world's seas and their rich marine life. It also gave him an awareness of the many threats to these fragile and precious communities and habitats. He resolved to take action, and founded Archipelagos Institute of Marine Conservation in 1998. Archipelagos brings together Marine Scientists and local communities so they can collaborate effectively to reach a common goal – protecting the sea and its inhabitants from human threat.
The next step in this successful and inspiring endeavor is the establishment of the Aegean Marine Life Sanctuary. More than plastics and pollution, overfishing, and other dangers have impacted marine life. The past decades have seen beautiful creatures captured and used for entertainment purposes in shows in the many Dolphinaria that once were popular.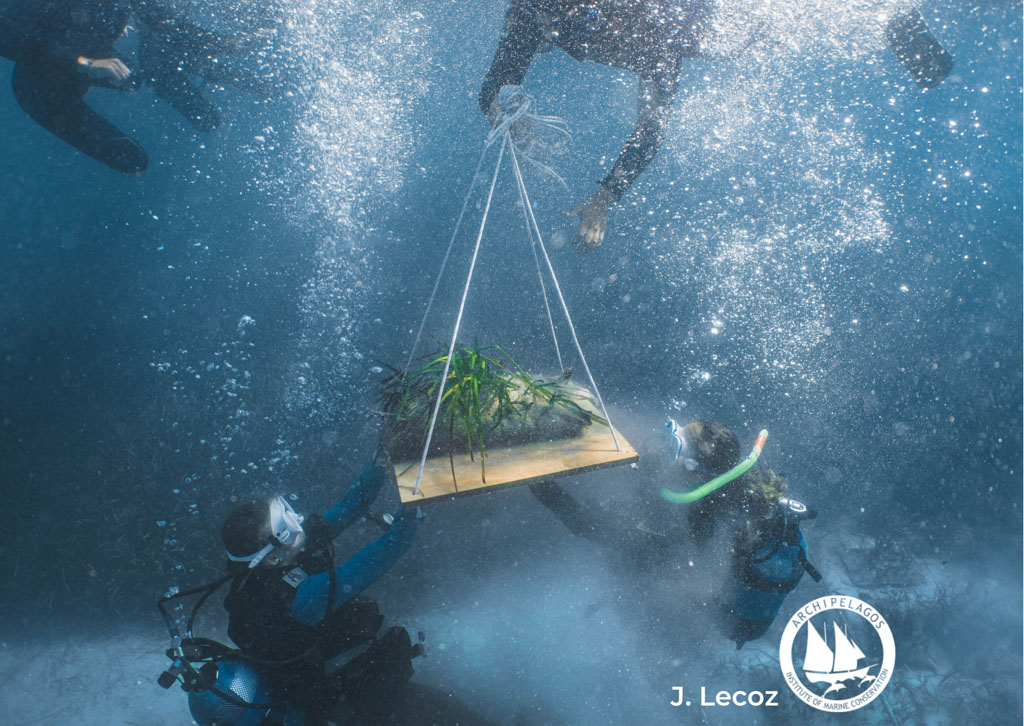 Happily, our increased awareness of animal exploitation has seen the closure of many of these, liberating many dolphins who are now free to return to their natural way of life. This is good news. But it also presents a new challenge: where, and how will these dolphins be cared for and rehabilitated? What habitat can be offered for them? The Aegean Marine Life Sanctuary addresses this specific issue: "The AMLS will be the first-of-its-kind veterinary clinic & rehabilitation centre for sick/injured marine animals (dolphins, sea turtles, monk seals), to provide critical clinical care and rehabilitative treatment in a "teaching marine mammal hospital" far from human impacts." says Anastasia Miliou, Hydrobiologist, Scientific Director, Greek Ambassador in the EU for Sustainable Maritime Policy.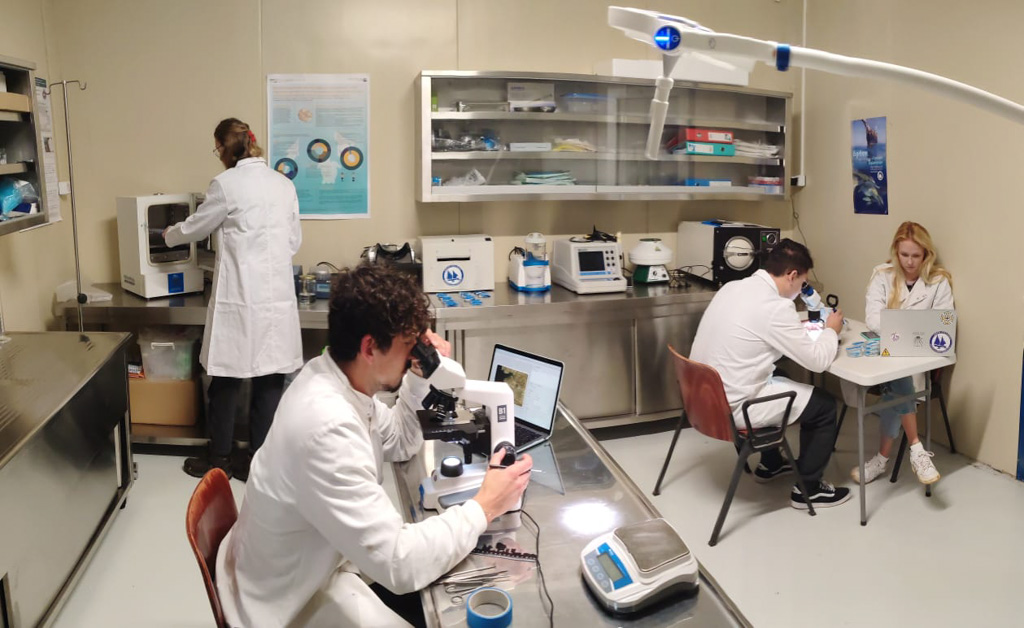 The Aegean Marine Life Sanctuary is on the Dodecanese Island of Lipsi. It functions first and foremost as a safe habitat and rehabilitation center, as well as a non-invasive research and rehabilitation center available to scientists, researchers, and students. Visitors can come by pre-arrangement on an invitation-only basis to deepen their understanding and awareness. There is also a viewing platform to observe marine life from a distance. The AMLS, while already functioning, will be completed as a state of the art facility in 2023. Charitable contributions to realize the unique vision of the AMLS to aid in its completion and well as to Archipelagos are of course always warmly welcomed.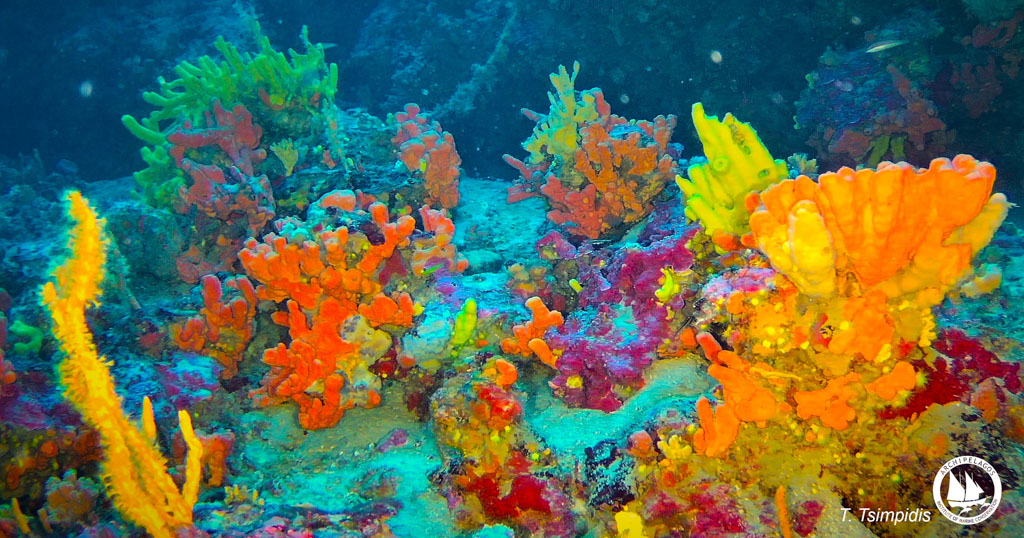 It's not just travelers to Lipsi that can get involved. As Dr. Miliou expresses, this is a goal we all can share in: "We are always happy to meet and talk with people who are interested in helping to protect the environment and eager to learn how they can efficiently do that through joining our conservation actions. Everyone who is trully interested can help and use their knowledge, skills and ideas to help our seas. Being active year round in various parts of the Greek seas, we are happy to meet with travellers who want to learn more and help in the protection of the special biodiversity of our seas."
Many of us now are traveling with a keen awareness of our impact on the places we treasure. Have you considered taking the next step, engaging more actively in Greek society and the natural beauty of the country?