As if Greece were not already blessed enough with gorgeous waters, the country is also rich in therapeutic natural thermal springs that make ideal destinations for a wellness get-away. The famous thermal springs of Greece offer a broad spectrum of experiences.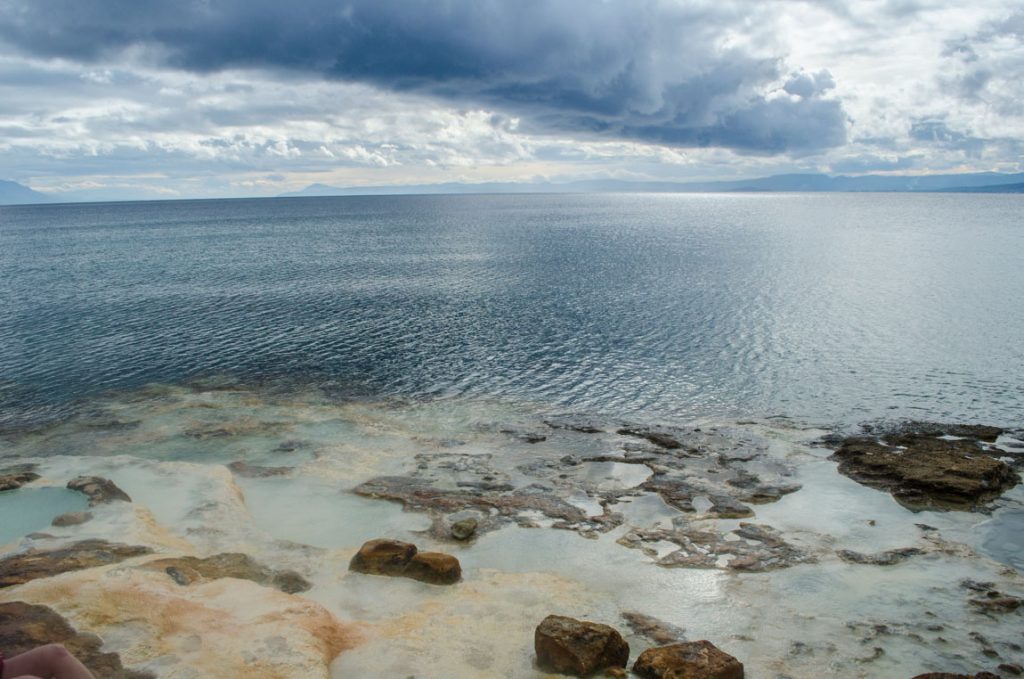 Some of them are wild, out in nature to enjoy under the trees, or mingled with the waters of the Aegean. Others are fully developed- luxury spas with character and history. And one is even a hidden suburban retreat, on the Athenian Riviera. Although ideal for those seeking simply relaxation and rejuvenation, the waters also have various mineral properties which have been shown to be therapeutically effective in combating a great range of ailments- muscular/skeletal, internal, and dermatological. At many, qualified professionals administer a broad spectrum of therapies. Beauty treatments and massages for relaxation are also widely available, and are sure to leave you feeling and looking your best.
The Famous Thermal Springs of Greece
Loutra Pozar — Natural splendor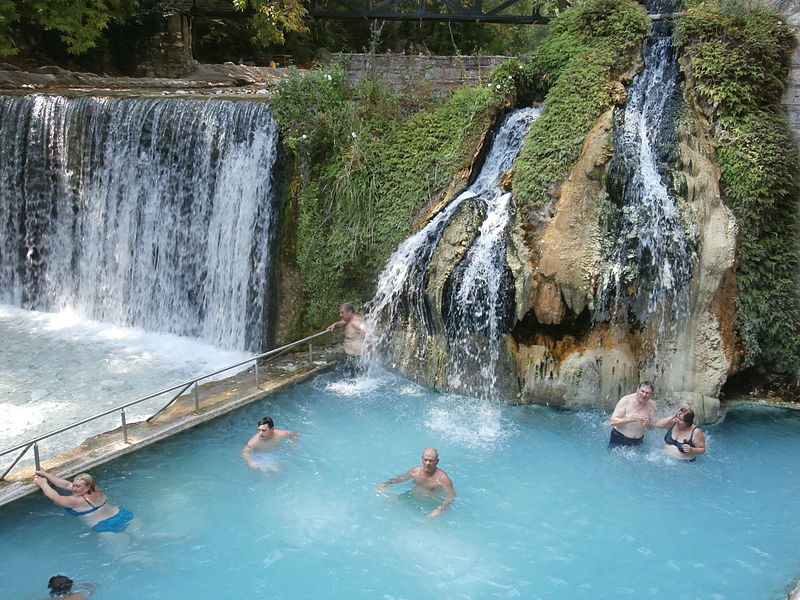 A short drive from Thessaloniki, in the lovely forest near the foot of Kaimaktsalan mountain, are the therapeutic thermal springs of Pozar. The thermal springs here offer an experience for every taste — there are modern facilities you can book for sessions in private pools, and also larger indoor pools. But there is also a very large outdoor pool set amongst the trees — warm enough to be comfortable even in the snow, steam rising into the winter air. The highlight for many is the natural pool though— fed by a strong, shoulder-massaging waterfall, and overlooking a river. Therapeutic massages are on offer. The surrounding woods are ideal for a light, pre-spa hike, and there is an excellent restaurant with a view to the beautiful natural setting, serving local specialties. The water is 37 C.
Lake Vouliagmeni — Chic Urban Getaway on the Athenian Riviera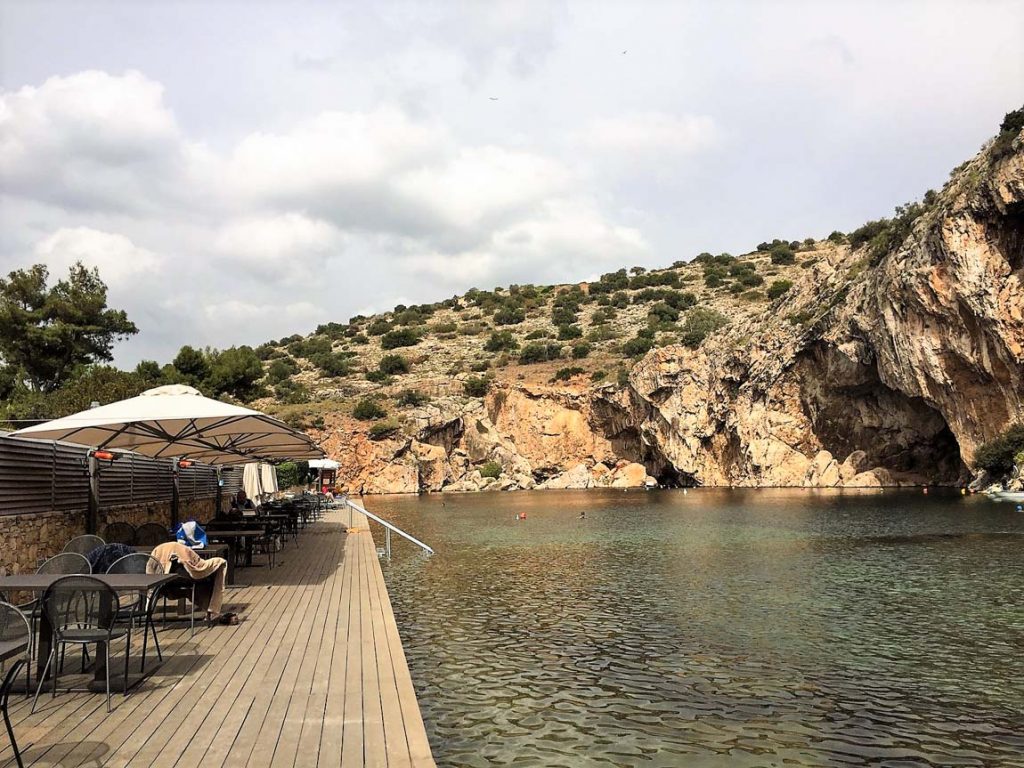 A popular Athenian getaway, Lake Vouliagmeni is sheltered by a gorgeous cliff and has its own chic mini-beach plus a wooden deck surrounding the lake — both with comfy beach chairs and chaise longues. This full-service spot with waterside snack and drink service makes for a luxurious mini-break. The brackish waters are fed both by an underground thermal spring and sea water and they are rich in aquatic life. And there is another surprise: the lake has many Garra Rufa fish — for a natural pedicure, just sit on the dock with your feet in the water and let the fish go to work. The water temperature is fabulous for swimming, ranging from 22 C to 29 C.
Edipsos — Historic Spa Culture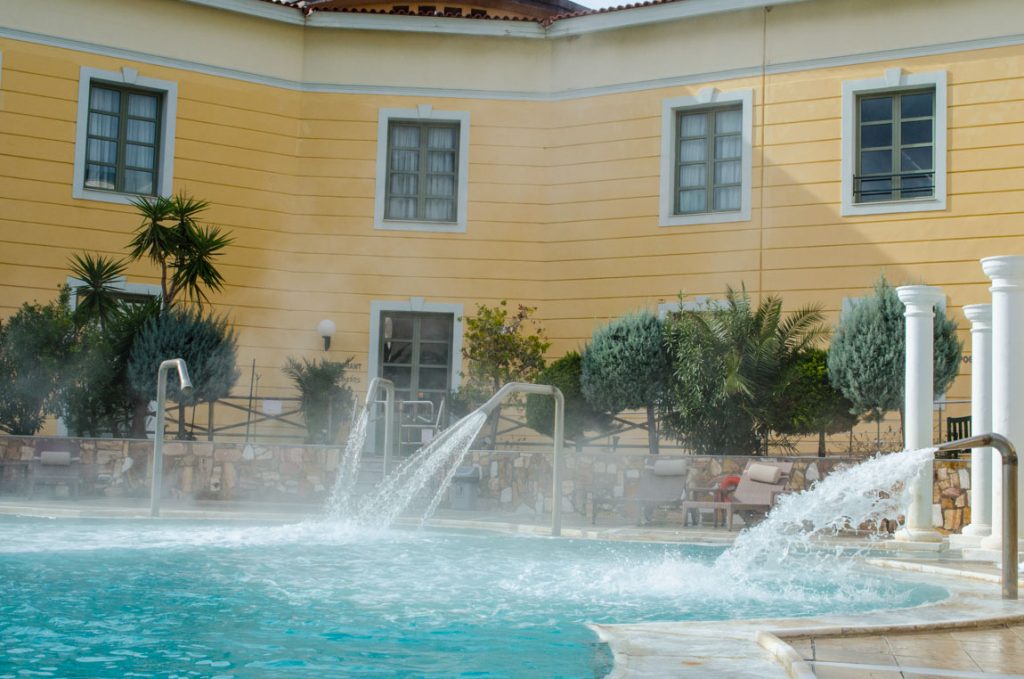 A prime spa culture destination popular with glamorous A-list visitors (Greta Garbo, Omar Sharif, Winston Churchill, Maria Callas….), its pedigree goes back a lot longer. The thermal springs were included in Aristotle's meteorological writings, and visited by the Roman Emperors Augustus and Hadrian. At Edipsos, the hydrotherapy facilities — indoor and outdoor pools, Jacuzzis— are joined by a full range of treatments from doctors and physical therapists. There is a luxury spa hotel, the Thermae Sylla for a classic experience. Or enjoy the natural pools at the beach- extremely hot (careful!) natural thermal springs mix with the water from the sea in a series of naturally formed pools that grow cooler the further they are into the sea.
Loutraki — Spa playground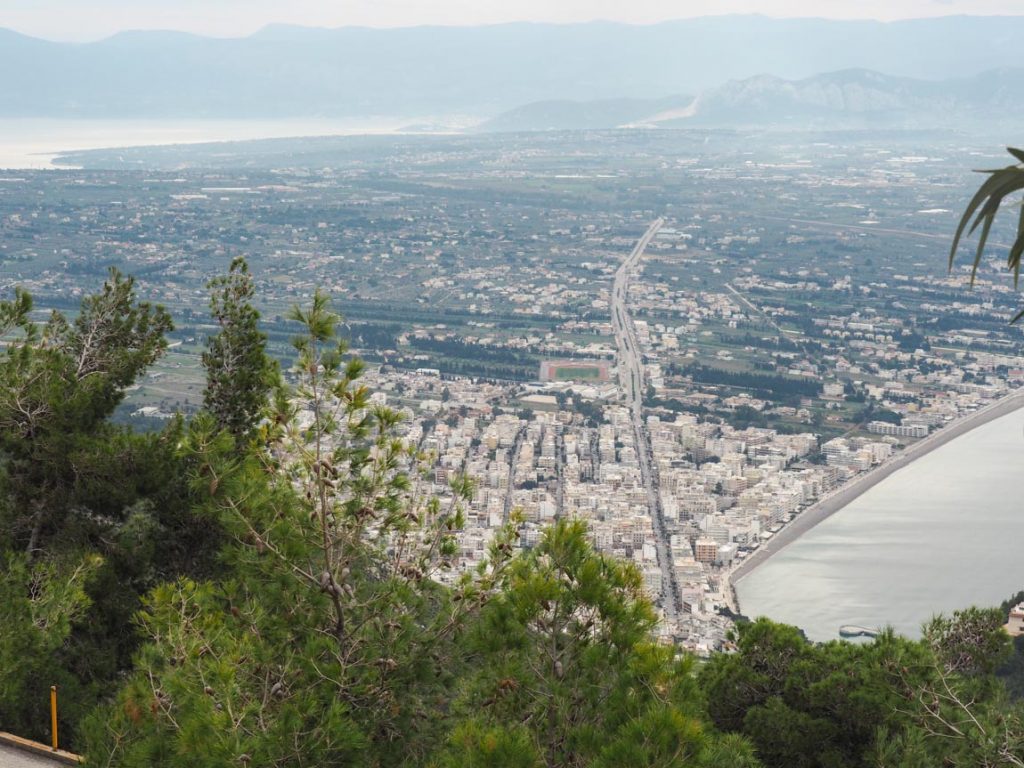 Less than an hour from Athens, the therapeutic springs in beautiful location in the gulf of Corinth has been a magnet for those seeking health and relaxation since ancient times. In its modern incarnation, Loutraki was first developed in 1855 with a simple wooden building. Improvements were made over the years and finally in 1934 a beautiful historic building was constructed. This was renovated in 2009.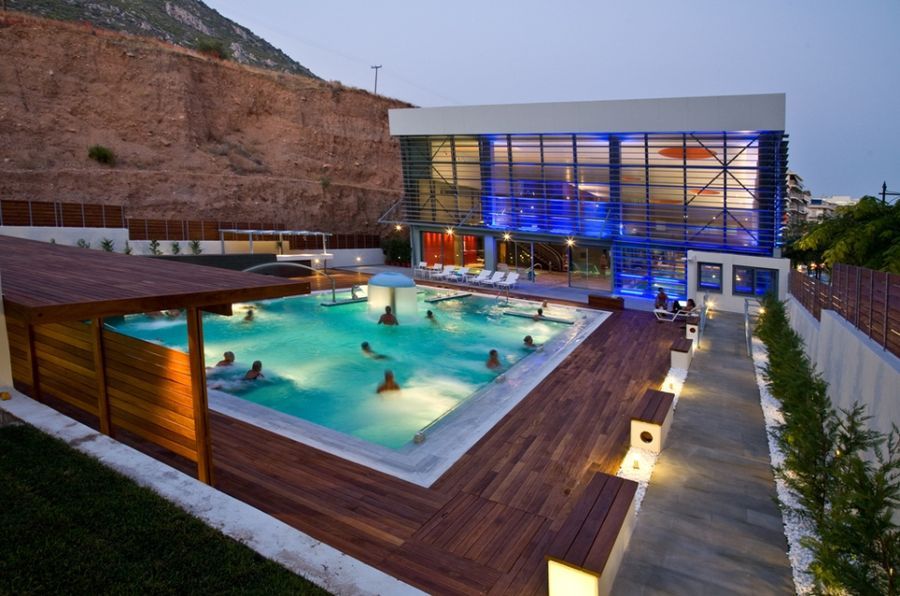 The spa facilities offer anything you could wish: pools, sauna, hamam, mud treatments, hydrotherapy, and massage. This fully developed spa town now also has a casino. The therapeutic waters are 30 C. Loutraki also features a spring for drinking cures, the water of which is 19.5 C.
Kamena Vourla — Where the Mountains meet the Sea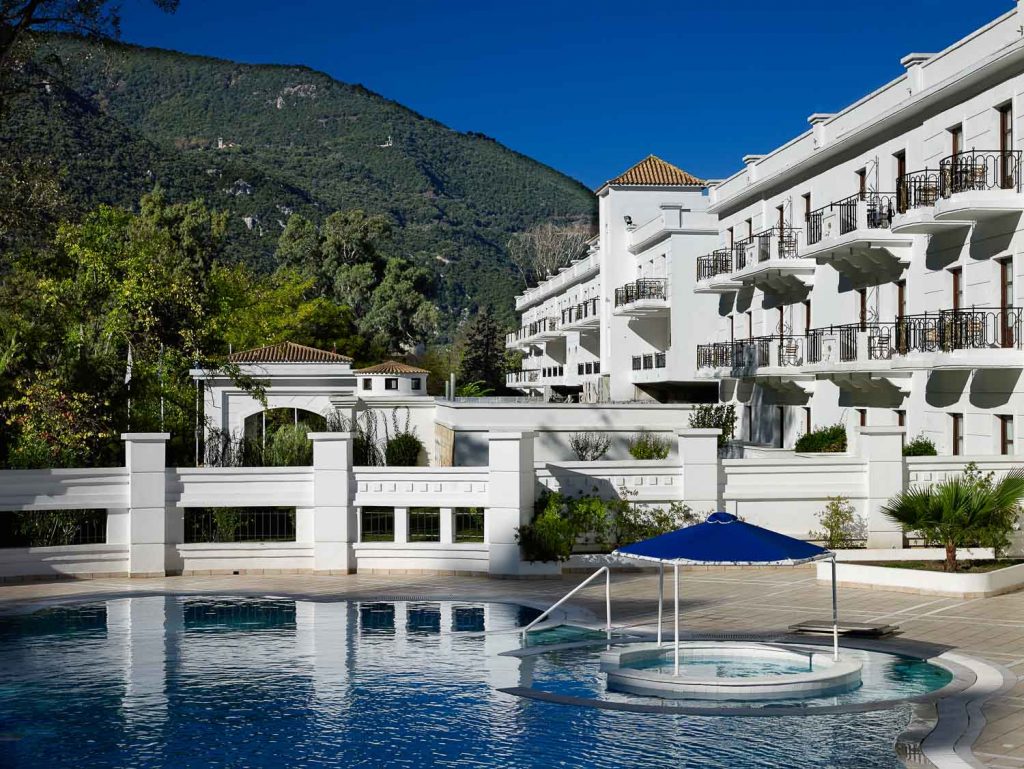 The wonders of Greece's natural wealth converge at Kamena Vourla, a gorgeous spot less than 2 hours north of Athens. The Thronio and Kalidromo mountains meet the gulf of Maliakos and the spot is bathed with a variety of natural springs with different compositions and temperatures to offer a range of treatments. The waters are particularly rich in radon, and are prized for their effectiveness in treating arthritis, some forms of bronchial asthma, and rheumatic muscle/tendon diseases, among other ailments. The waters can be enjoyed in luxury at a five star resort — the Galini Wellness Spa and Resort, whose facilities include large indoor and outdoor pools, rasul (a therapy of Arabic origins), hamam, and jacuzzi, as well as a full range of spa treatments. While you are here, you can visit the historic Metamorfossi Sotirios Monastery of the 7th century. Just 4 kilometers from the spa town, it is 310 meters above sea level and has an extraordinary view.
Greece is one of the privileged countries that nature has gifted with rich scenery changes and Mediterranean climate, making it an ideal destination to enjoy its unique hot springs at all times of year. Have you been to any of the famous thermal springs of Greece?