Wishing you a beautiful Holiday Season! As Christmas and New Year approach, we'd love to share Greek traditions with our friends from around the globe.
Holiday Greetings from Greece
Greeks love to exchange kind greetings at any opportunity – even wishing one another "Happy Week" on Mondays – Καλή Εβδομάδα (Kali Evdomada).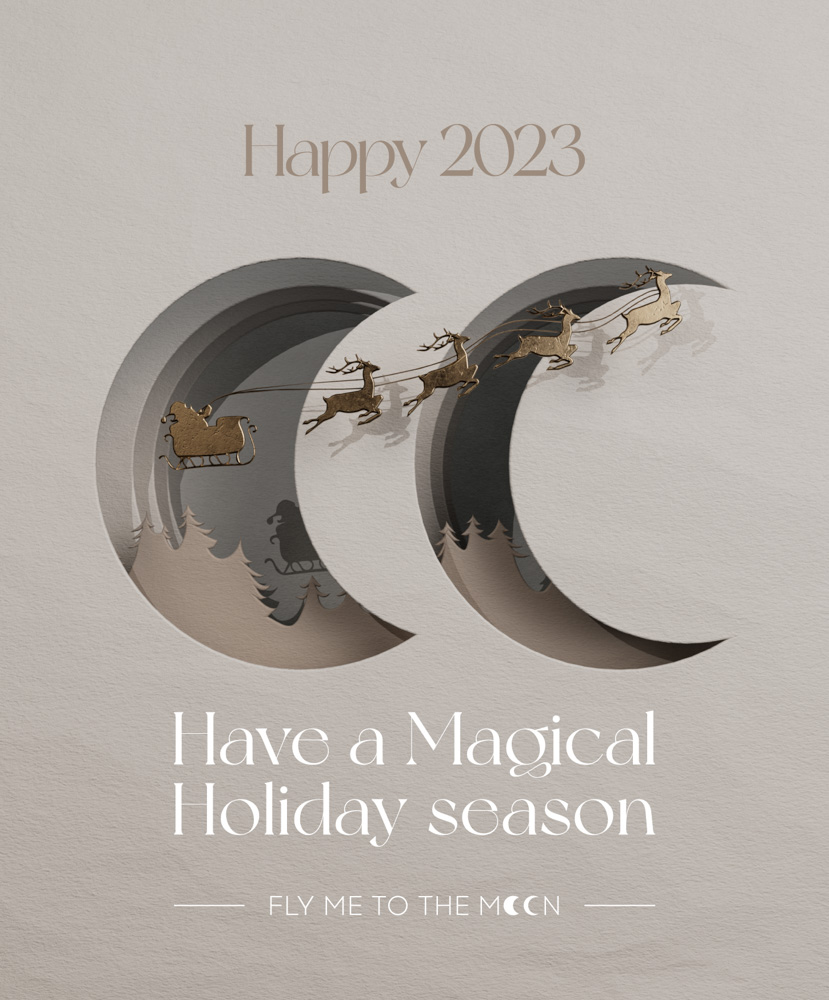 Merry Christmas in Greek is Καλά Χριστούγεννα (Kalá Christoúyenna). To wish someone a Happy New Year, it's Καλή Χρονιά – Kalí Chroniá (that's a soft 'ch' like in "Christmas"). For all festive occasions this time of year, and to extend good wishes to people of all faiths, we say Καλές Γιορτές – Kalés Yiortés – Happy Holidays.
All Dressed Up for the Holidays, Greek-Style
Anyone who visits Greece during the winter holiday season will of course see decorated evergreen trees and lots of festive evergreen wreaths. But the traditional decoration for the Holiday season in Greece is actually a boat. In this seafaring nation, it is boats that reunited families at the holidays, as their loved ones returned from the seas.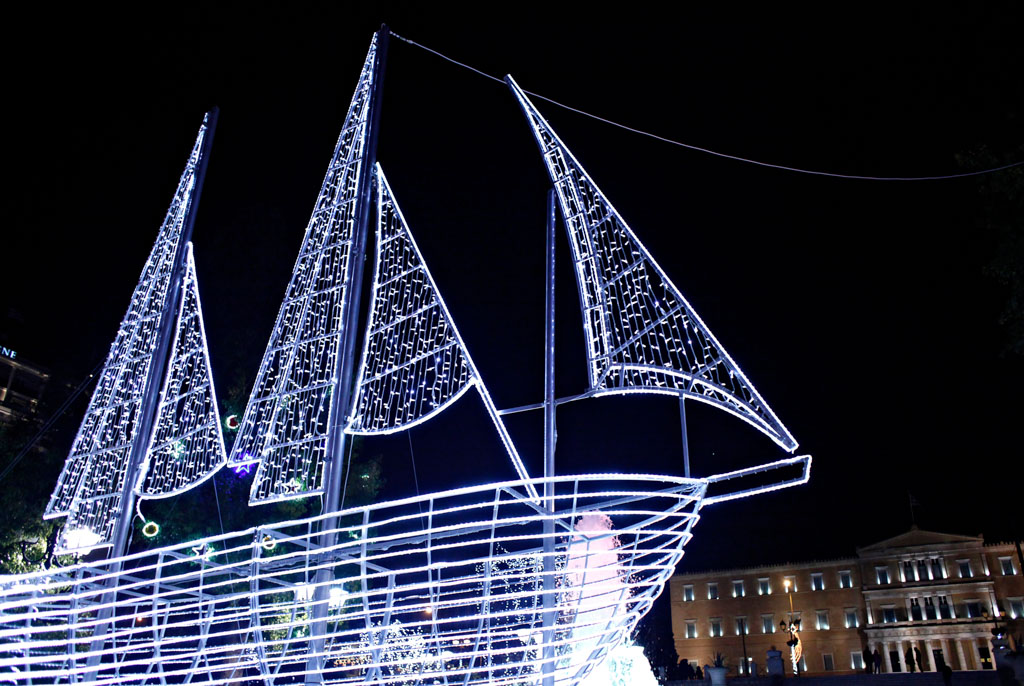 You'll see small decorated boats adorned with lights in many homes, and very large and festive ones in the public squares of cities and towns. The Nativity Scene is also commonly seen in Greece.
A Season of Giving
Greece is a generous culture, and people rejoice in every occasion to express their affection with gifts large and small. When visiting someone's home during the holiday season, it's traditional to bring some sort of sweet to share – if you're a good baker, something homemade is always appreciated! One can also bring a nice bottle of wine, or a small decorative object appropriate for the holiday season.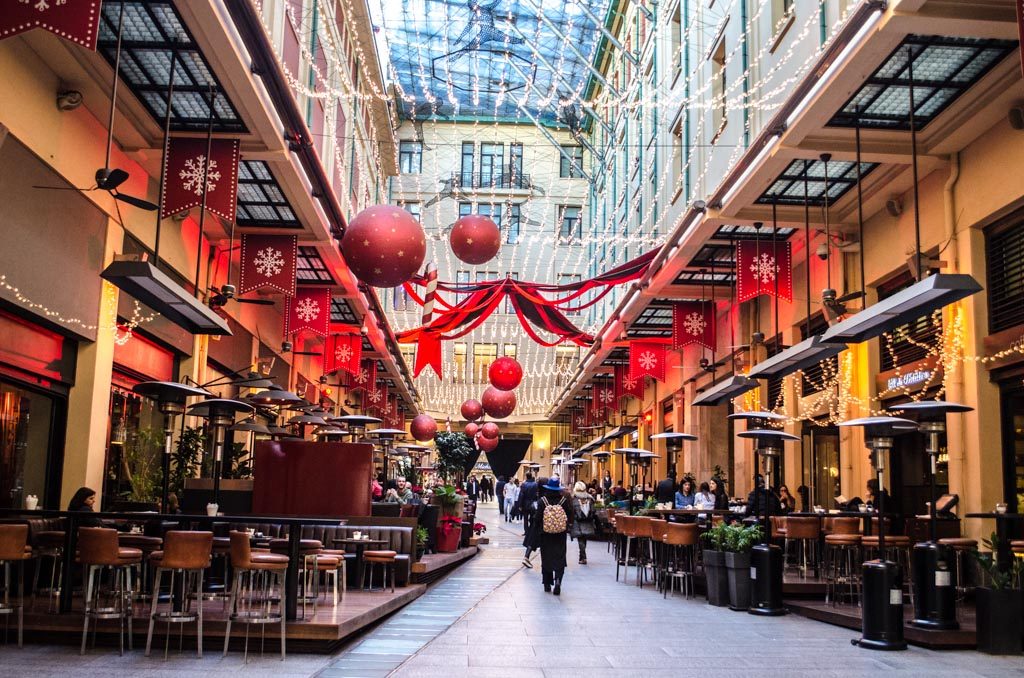 Christmas in Greece is not as commercial of a holiday as it is in many other countries. Gifts are first of all primarily given on January 1 – the feast day of Agios Vasilis (the Greek Santa). Christmas is about family, and for many families, faith.
Christmas Carols
Greek caroling is a beautiful tradition. In great contrast to other countries, there's just one song! Actually three- there is one song for Christmas, another for New Years, and a third one for Epiphany – January 6th. Children make the rounds of the neighborhood and their family and friends. A small monetary gift is expected in exchange for the heart-felt performance! Many people gather their change and keep it in a dish by the door in order to be ready.
The Sweetest Treats for the Sweetest Season
Many other countries who celebrate Christmas have several traditional cookies and sweets for the holidays – a huge selection. Greece has just two – but they are so wonderful! There are snowy, crumbly, buttery, melting Kourabiedes that are dusted in clouds of icing sugar for those who like something crisp, and there are dense, moist, syrupy Melamacaronia for those who like a juicier, spicier treat. They also complement each other perfectly.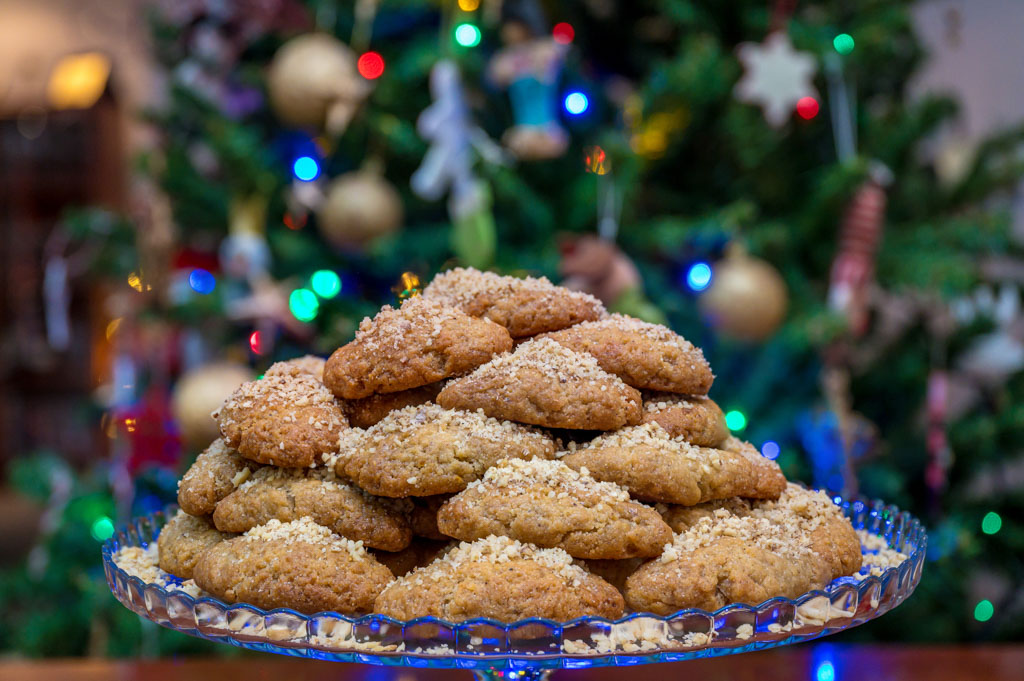 These delicious cookies are also both simple to master.
These very simple tried and tested recipes will bring a taste of Greece into your home this holiday season. With best wishes!
Greek Christmas Kourabiedes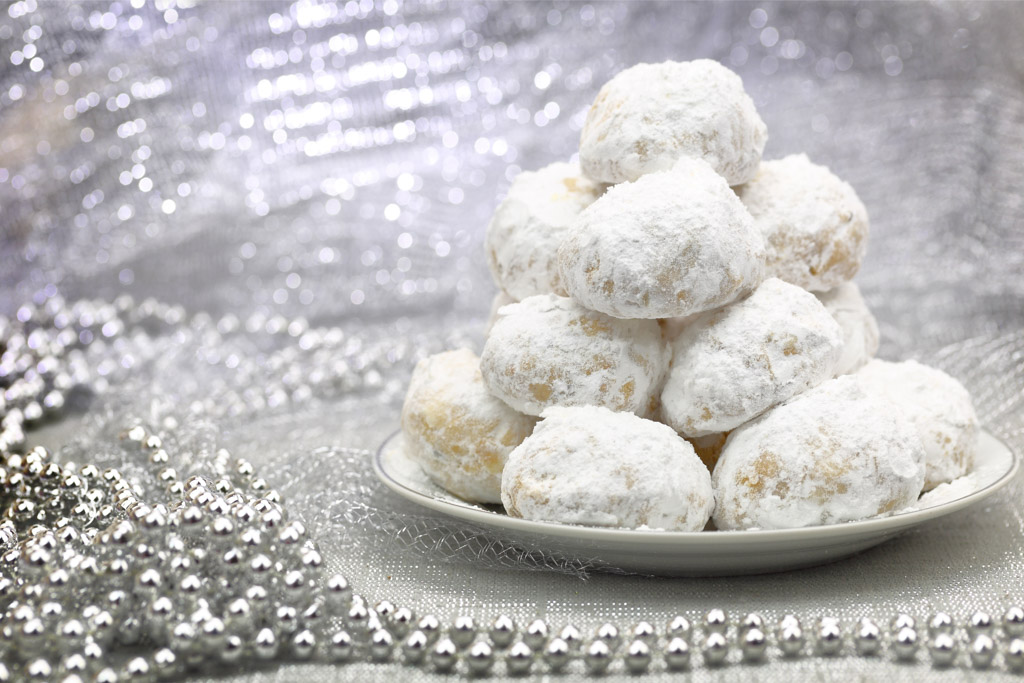 500 butter, at room temperature 
220 g icing sugar
1 tablespoon brandy, rum or almond liqueur
1 pinch salt
1 C coarsely chopped almonds
7 1/2 cups/ 900 g all-purpose flour
To finish –
Rose water in a spray bottle (optional)
300 g icing sugar
Beat the butter until very light and fluffy, adding then the icing sugar, liquor and salt.
Beat to combine. Then, by hand, gently add the flour and almonds, mixing just until combined. 
Preheat oven to 180 C
Shape dough into oblong balls slightly larger than a walnut. Flatten gently on top. 
Bake for 20-25 minutes – they will not take much color, and they will firm up as they cool.
After the kourabiedes are cool, spray them gently with rose water, and sift a generous amount of icing sugar over them (they should look like they are covered in snow)/
Greek Melomakarona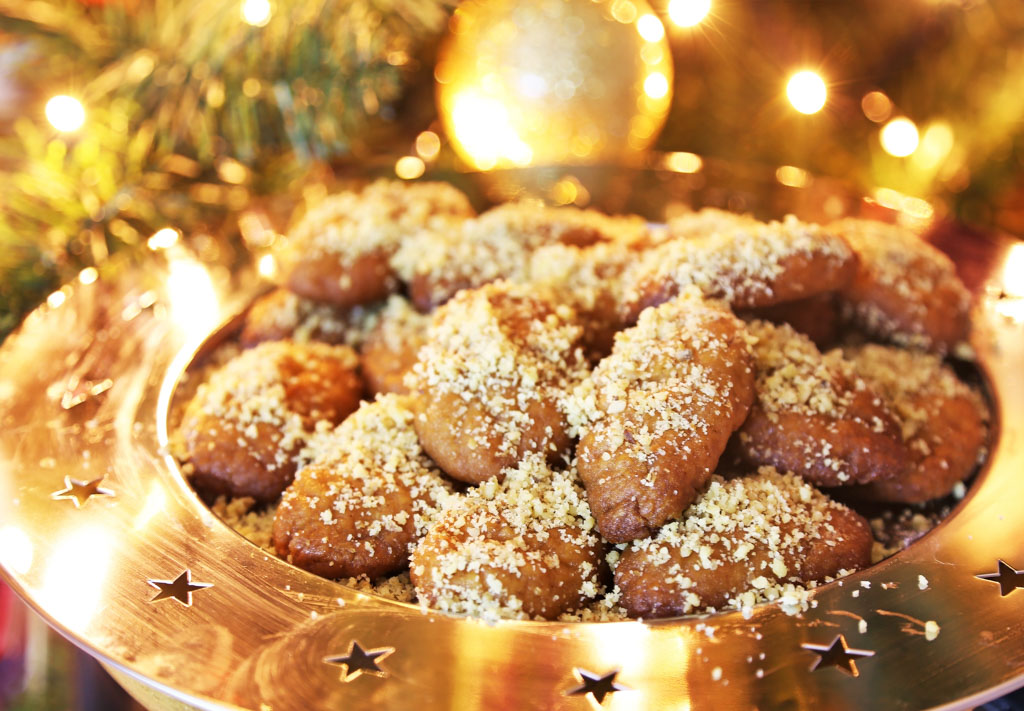 For the cookies:
8 C (1 kilo) all-purpose flour
200 g fine semolina (slightly more than a cup)
1 tsp baking soda
1 pinch salt
2-3 tsp ground cinnamon
1/2 tsp ground cloves
1/4 tsp ground nutmeg
orange zest, of 2 oranges
1 ¾ C fresh orange juice
1 ¾ C plain vegetable oil (sunflower oil, canola oil, etc)
¾  C olive oil
50 g icing sugar
For the syrup:
2C/500 g water
4C/800 g granulated sugar
½ C/150 g honey
2 cinnamon sticks and 4 or 5 whole cloves
1 orange, cut in half
Blend all the dry ingredients together in a  large bowl.
In a separate bowl, mix the wet ingredients – the oil, juice, sugar, and zest.
Mix very lightly into the dry ingredients, stopping when they are just combined – Melomakarona needs a very light, delicate handling so all that oil doesn't seep out of the dough.
Preheat the oven to 180 F
Shape into ovals, a little larger than a walnut. Press the tines of a fork into them one way, and then the other, to make a hatched pattern – this helps them absorb the syrup. Also, they look lovely (like pine cones). 
Bake the melomakarona for 20-25 minutes.
Meanwhile, gently boil the syrup ingredients together. When the sugar is dissolved, pour the syrup into a shallow dish, and remove the orange half.
When the cookies come out of the oven, dip each one into the syrup, turning briefly, and place on a rack.The syrup will slowly soak in, and the cookie will become like a moist small cake.
Traditionally, Melomakarona is served with lots of chopped walnuts sprinkled on top.