Chalkidiki is Northern Greece's premier beach destination, on a par with the finest beaches throughout the country. With a fascinating geography- a lush peninsula that in turn has three long "legs" Kassandra, Sithonia, and Mt. Athos, each with its own character – Chalkidiki offers an island-like experience. There are beaches for every taste, and lots of them – Chalkidiki has 500 km of coastline.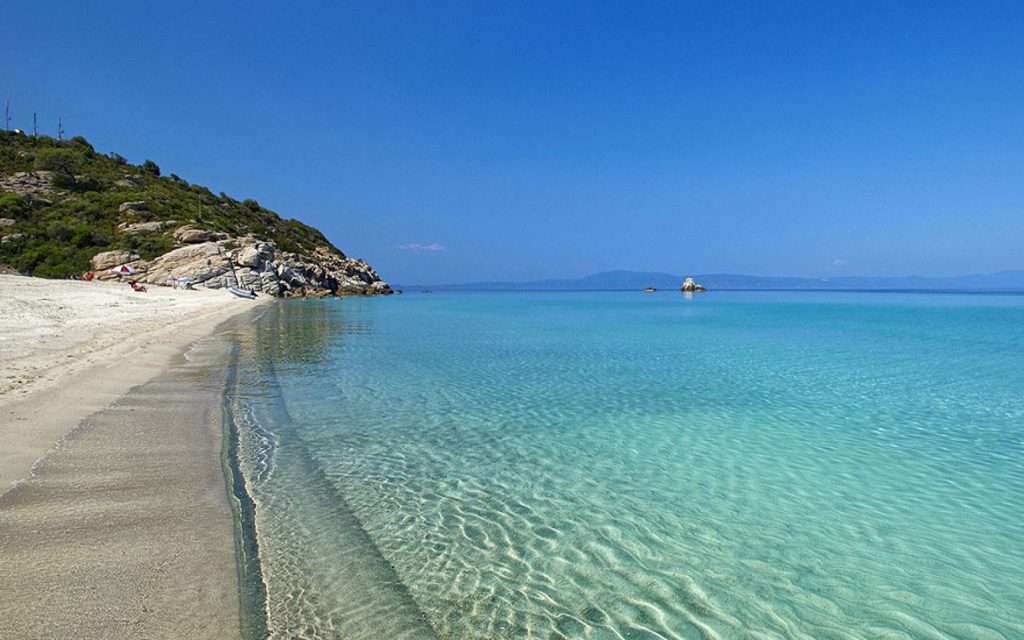 The villages of Chalkidiki also have history and character. As ideal of a travel destination as Chalkidiki is, it has its own life year-round, which makes for a depth of experience, and more authentic culture.
There is a lot to do in Chalkidiki. Even if you devote yourself solely to the beaches – a rewarding prospect – you'll find the supply inexhaustible. But Chakidiki also has ancient archaeological sites, mountainous areas, and a fantastic cave. It's also a top destination for gastronomy and contemporary culture, with exciting summer festivals. While enjoying this diverse destination, you'll have your choice of luxury accommodations, from five star resorts to elegant private villas.
The Most Famous Beaches in Chalkidiki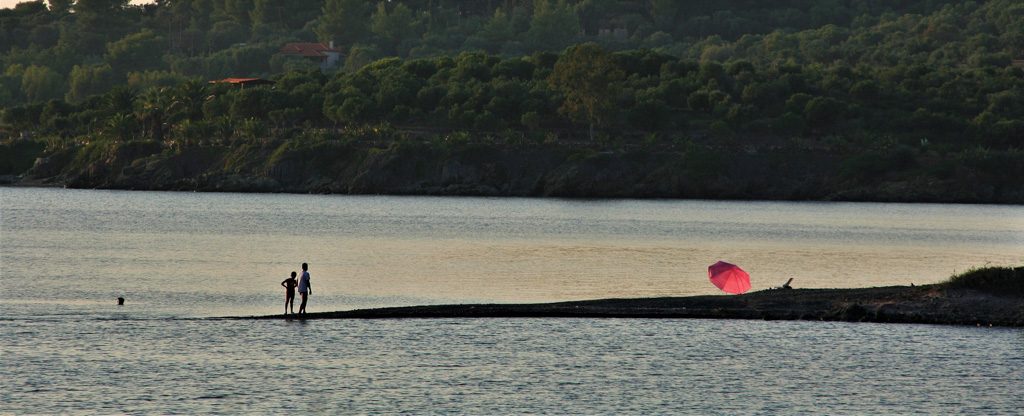 Kriaritsi
Sithonia's golden and silky Kriaritsi, in Sykia, has superb turquoise waters. The sea deepens gradually for a relaxing and gentle swim. On the easternmost part of Sithonia, you have a view of Mt. Athos from here, which is spectacular.
Kavourotripes
In Sarti, this charmingly-named beach – "Crab holes" – suggests something wild and remote, and it is. Surrounded by white rocky hills, green shrubs and beach grasses give way to the sugary sands of Kavourotripes. The water is an almost unbelievable shade of aquamarine. Explore the neighboring small coves by boat.
Trani Ammoudia
Large and lovely Trani Ammoudia in Ormos Panagias is one of the longest beaches of Sithonia, with fine sands and turquoise waters for an idyllic swim, with a view of Mt. Athos.
Vourvourou
Enchanting Vourvourou is a paradise of a beachscape. There are nine tiny islands, coral reefs, a crystal lagoon, and the secluded cove called Karydi. Soft sandy beaches are all around, and trees offer sweet shade.
Alykes
On Ammouliani, this blue flag beach, lined with greenery, offers white sands and sparkling turquoise waters. The crescent-shaped beach is very long, wonderful for strolling as well as swimming.
Possidi
This fine beach on the Kassandra peninsula is in fact two beaches. The cape of Possidi stretches out into the sea towards the west, making for a long day at the beach and a gorgeous golden sunset. The sandy cape has a beach on either side, and a lighthouse at the tip of the cape. Near the lighthouse are the ruins of a temple to Poseidon.
The Villages of Chalkidiki
Parthenonas
One of the lovely things about Chalkidiki is the dramatic, mountainous terrain. Just inland from the beaches, there are therefore charming villages of stone houses and a completely different atmosphere. Parthenonas, 350 m high on the slopes above Neos Marmaras in Sithonia, is just such a village, set among the olive groves. This is a wonderful place to come for a change of scenery – shady lanes, cooler breezes, and the delights of rustic local cuisine.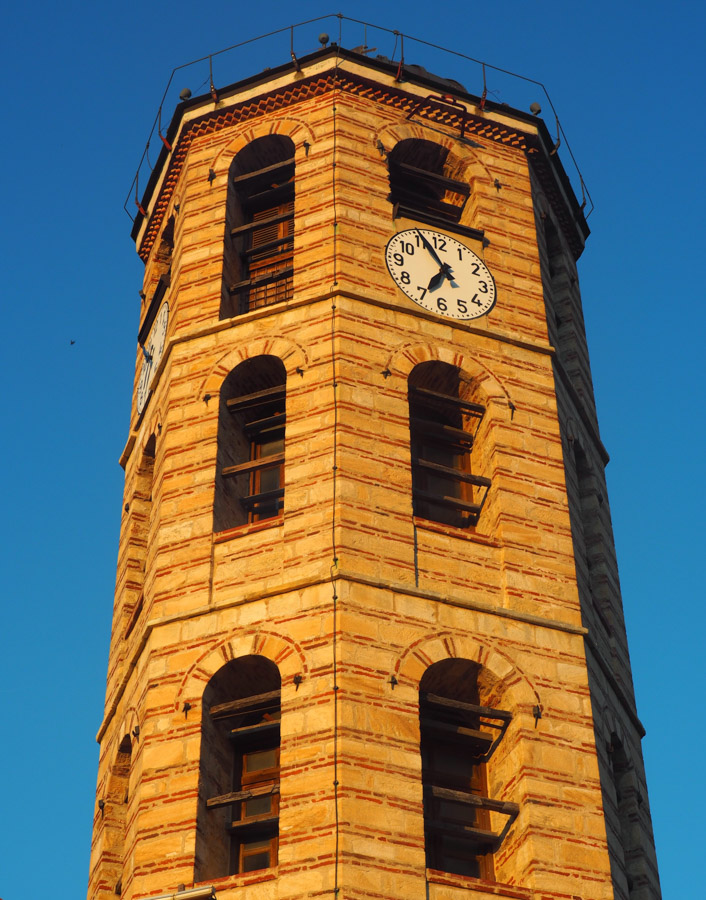 Arnea
Well inland in the heart of the center of Chalkidiki is a charming traditional village with stone vernacular architecture and a classic town square shaded by a plane tree with cool mountain water flowing from it. In Arnea, you can visit the 19th-century church of Agios Stefanos, whose glass floor reveals the Byzantine ruins found beneath the church during reconstruction after a fire. 
Porto Koufo
The fishing village of Porto Koufo is in one of Chalkidiki's most dramatic areas, on the tip of Sithonia at Cape Kartalia, with its high rocky cliffs. Greece's deepest natural harbor, Porto Koufo is nearly completely enclosed, making it seem almost like a lake. One can admire the extraordinary views on a hike, then sit down to a meal of the freshest seafood in Chalkidiki or indeed anywhere on earth. 
Ammouliani Island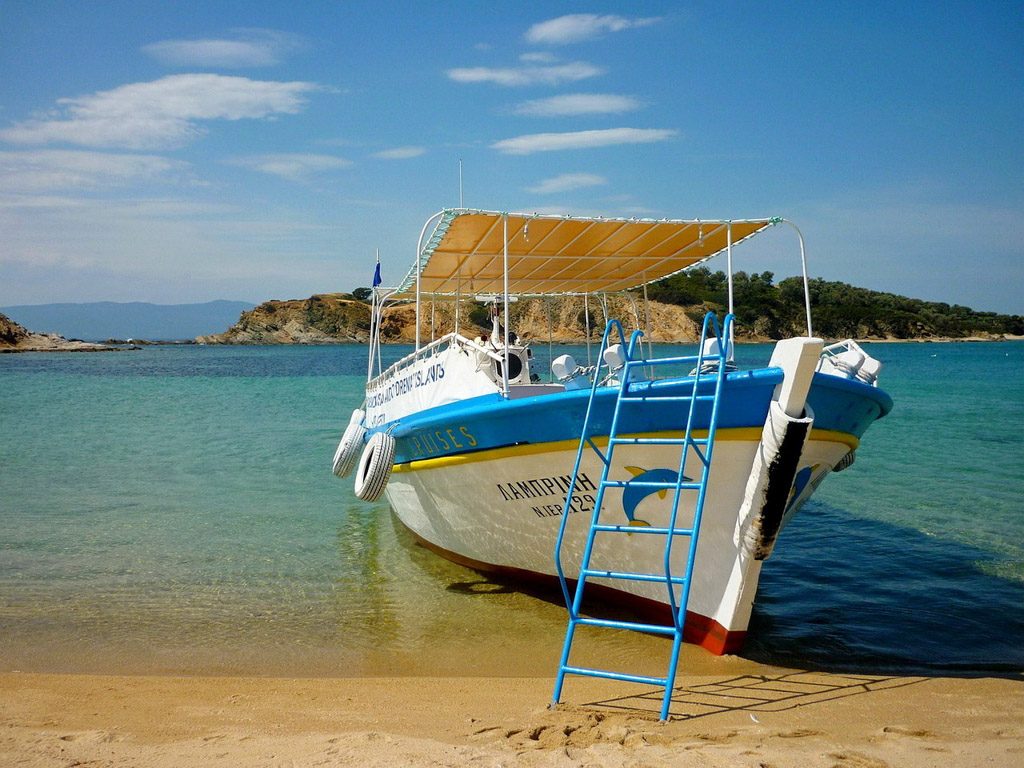 Just off the shore of Agios Oros is a fabulous little island – more of an islet. Petite Ammouliani is just 5 square kilometers, with lovely beaches and excellent traditional tavernas. The island originally belonged to the Vatopedi Monastery of Mt. Athos, but the monastery gave the island to the refugees of Asia Minor. Just 3.5 kilometers from the shore, it is serviced by frequent ferries from Tripiti, at the neck of the Mt. Athos Peninsula.
Things to See and Do in Chalkidiki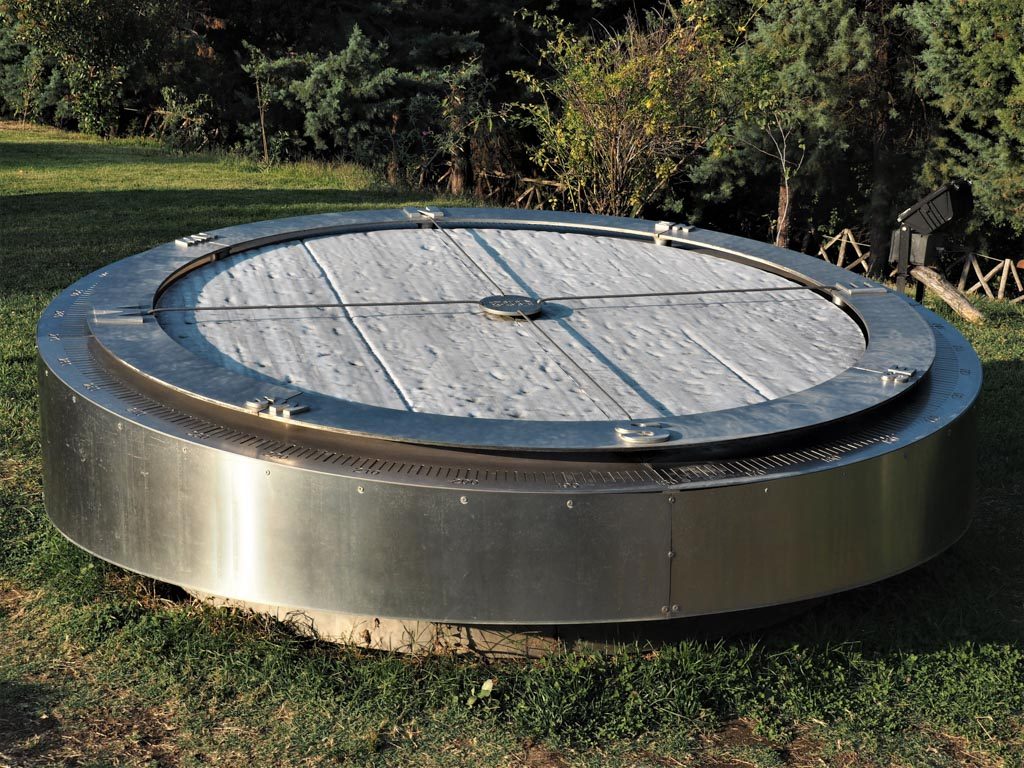 Ancient Stagira
The birthplace and city of Aristotle. Ancient Stagira – rich in timber and mines – was originally a colony settled by the people of Andros. This is an exciting archaeological excavation, set among the trees with beautiful views. Afterwards, you can visit Aristotle Park in nearby new Stagira, to experience phenomena of perception first observed by this greatest of philosophers.
Sani Music and Gastronomy Festivals
The Sani Beach Resort has firmly put itself on the cultural map with its superb annual music festival, which has been going on for over 25 years and draws international performers in music, dance, and the performing arts. Now, they also hold an exciting Gastronomy festival – Sani Gourmet – which features both Greek and International Michelin-starred chefs.
Seeing Mt. Athos by Boat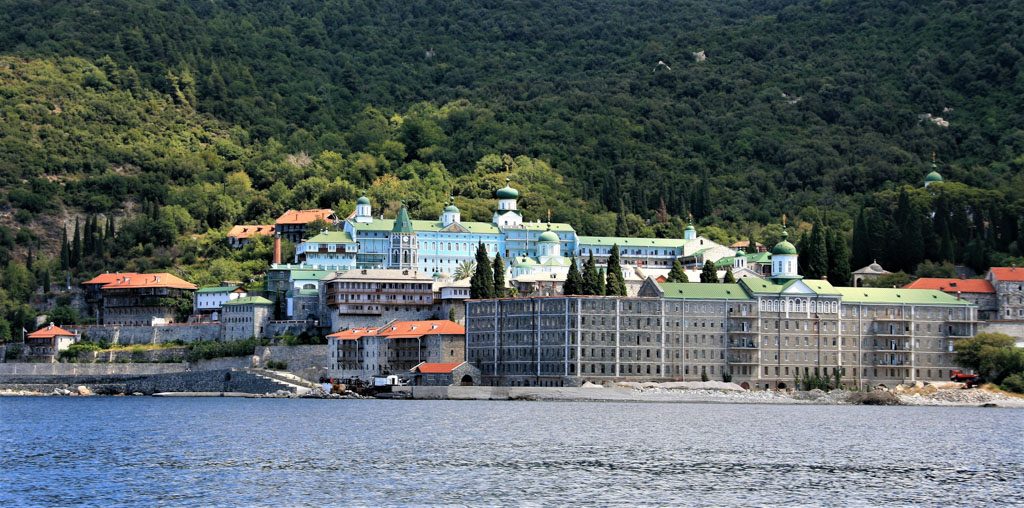 Chalkidiki's third leg – to the east – is an extraordinary place. A UNESCO World Heritage Site, Mt. Athos has been home to Orthodox Greek Monasteries for centuries. There are over 20 monasteries, some over 1,000 years old, holding great cultural and spiritual treasures. 
Mt. Athos can only be visited by men, primarily on a religious pilgrimage. But the astounding beauty of the monasteries, as well as the dramatic 2033 m peak of Mt Athos itself at the tip of the leg, can be seen on day cruises.
Visiting the Archaeological Site of Ancient Olynthos
This ancient town, inhabited since the Neolithic era, Olynthos grew to become enormously prosperous, head of the Chalcidian League.
The excavated portions represent only about a tenth of the city, but the findings are fascinating. Built on a grid plan with broad avenues, the city was divided into large blocks. Wealthy villas had some of the first floor mosaics of Greece, which can now be marveled at in situ. 
Exploring Petralona Cave
This magnificent, multi-chambered cave was discovered by accident in 1959. The cave has extraordinary rock formations, stalactites and stalagmites. But besides being a place of geological interest, it is a trove of paleontological treasures. The most significant finding is the Petralona Skull, belonging to a figure between homo erectus and modern man. This is the most significant of many fascinating findings from the cave, including an astonishing array of fossilized fauna. In the Anthropological museum on site, there are traces of one of the oldest fires ever found, as well as early tools of stone and bone.
Chalkidiki – A Destination with Great Variety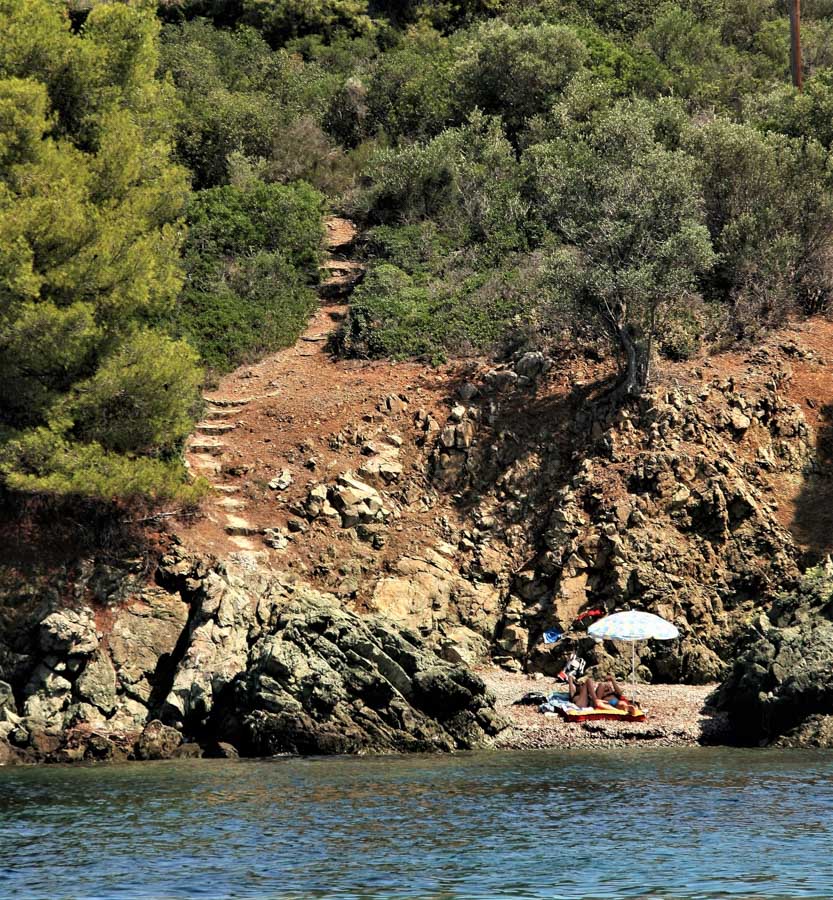 Chalkidiki is just a short drive from Thessaloniki, and offers an astounding array of experiences, from world-class beaches to fine dining, culture, archaeology, and geology. Have you ever visited Chalkidiki?