Greece's glorious cuisine is beloved throughout the world. Besides being so delicious, it is inventive, richly varied, and – above all – honest. Greek cuisine relies on the seasons and on the best local ingredients. It is a true expression of place and time, nature and season.
Greek cuisine is also an expression of necessity and resourcefulness. Better-known of course are the more luxurious dishes — the composed dishes like a refined moussaka, or a sumptuous lamb "kleftiko". But just as appreciated, and maybe far more revealing – are the humble dishes. The simplicity of the cuisine of necessity – so popularly called "Cucina Povera" by the Italians – reveals the true elegance of Greek food. The appreciation of the elemental. These dishes are the bearers of history and nostalgia, perhaps more than the rich and complex dishes that have grown in fame.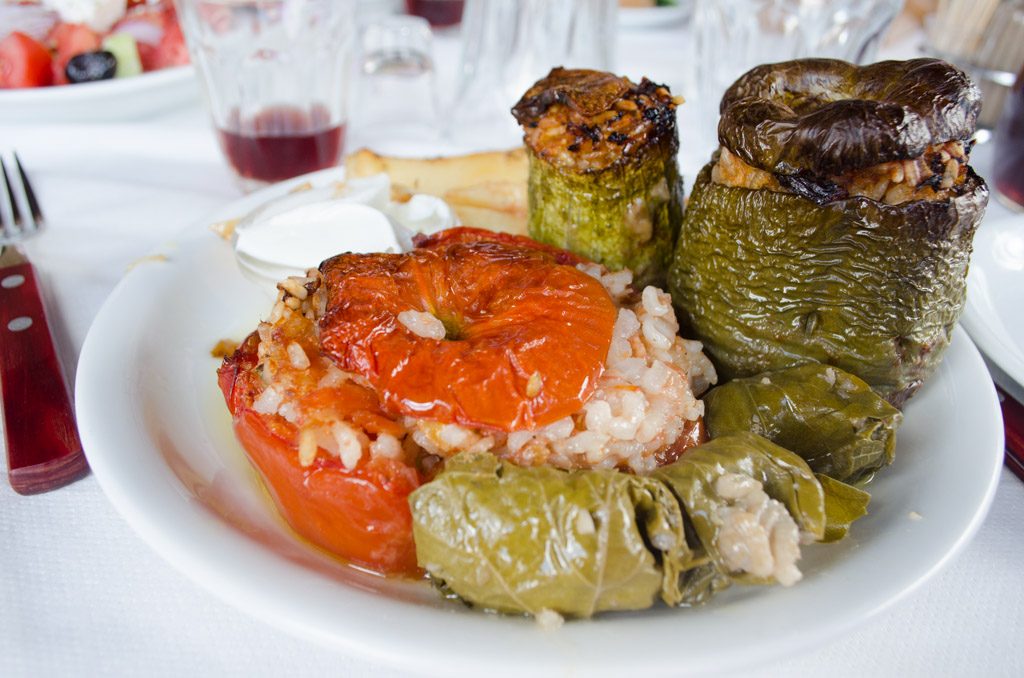 But what makes Greek dishes more compelling still is that they are also an expression of history. These dishes are not random – they have a story. Sometimes, that story reaches back through centuries – in some cases perhaps even to the ancient Greeks themselves.
Greece's Brilliant Comfort Foods
Let us begin with a look at the humblest and least expensive dishes. These truly are the comfort foods of Greece. Some have a longer history than we could imagine.
Trahana
This delicious and healthy alternative to pasta is a pantry staple in Greece. Flour, cracked wheat, bulgar, or semolina are combined with either fresh milk, for "sweet" trahana, or cultured milk or yogurt to make "sour" trahana. The mixture is dried and then rolled into small pebbles, and stored dry, like pasta, until needed. It is then a component of many recipes. Or it shines on its own, simmered in broth, with a squeeze of lemon and a crumble of cheese on top.
There are many ancient versions of this dish. Apicius, the Roman gourmet and author of a 1st century AD cookbook, mentions "tractae" – used to thicken soups. In the Arab world and in Persia, there were similar foods made of grain and yogurt.
Like many Greek foods, the regional variety is endless – from the "Xinochondros" of Crete to the tasty red pepper version of Macedonia.
Bougatsa
This delicious and delicate flaky pie is relatively new to modern Greece, but it is not new to Greeks. Bougatsa belongs to the culinary legacy of the Greeks of Asia Minor. This tender and flaky dough was originally just that- a dough. It was used as a filling working-man's lunch to carry on the go. Only later was it embellished with the fillings we now love- spinach, minced meat, cheese, and of course the classic favorite – sweet cream served with a dusting of cinnamon and sugar.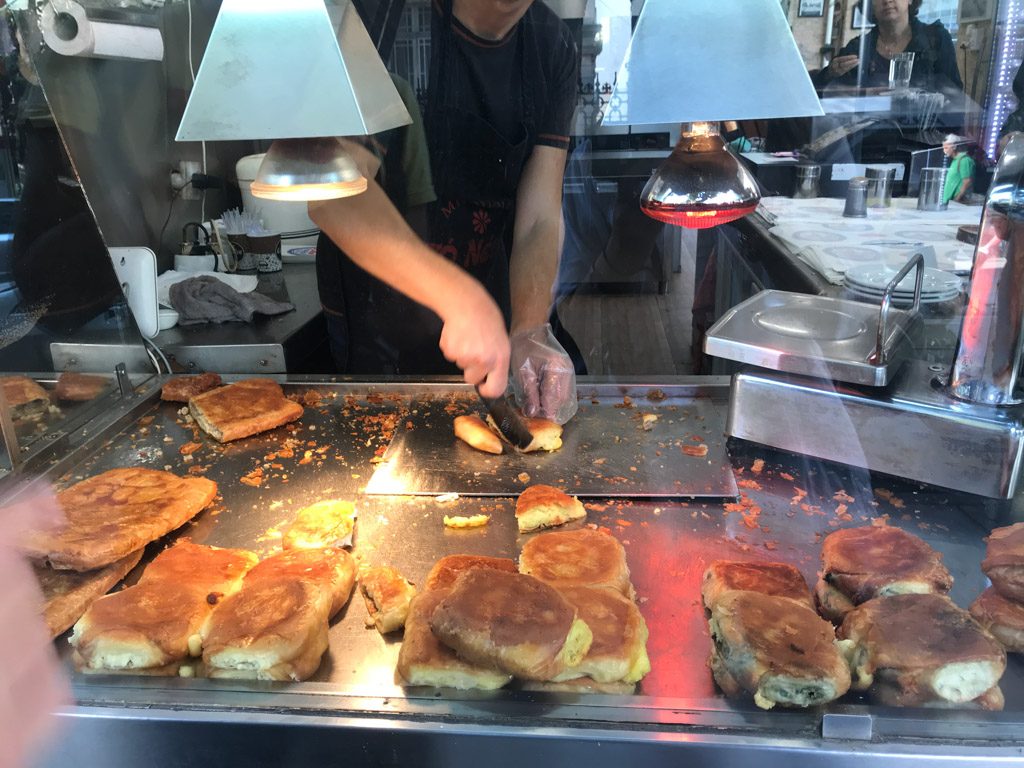 Today, bougatsa is a favorite morning treat, served hot and cut into bite-sized pieces to be eaten with a fork. It's enormously popular in Thessaloniki. But people say the very best is to be found in the town of Serres.
Legumes
Greeks have a way with legumes. And they should- they've had lots of practice. Philosopher and proto-botanist from the Island of Lesvos – Theophrastus – mentions both the numerous lentil and chickpeas. Legumes were a staple in the Greek diet of the ancient world.  
Today, lentil soup is a popular lunch time standby. The lentils are classically prepared simply, simmered until tender with just a bit of onion and garlic, and a spoonful of tomato paste. Smoked fish, pickled vegetables, and – of course – olives serve as lively garnishes.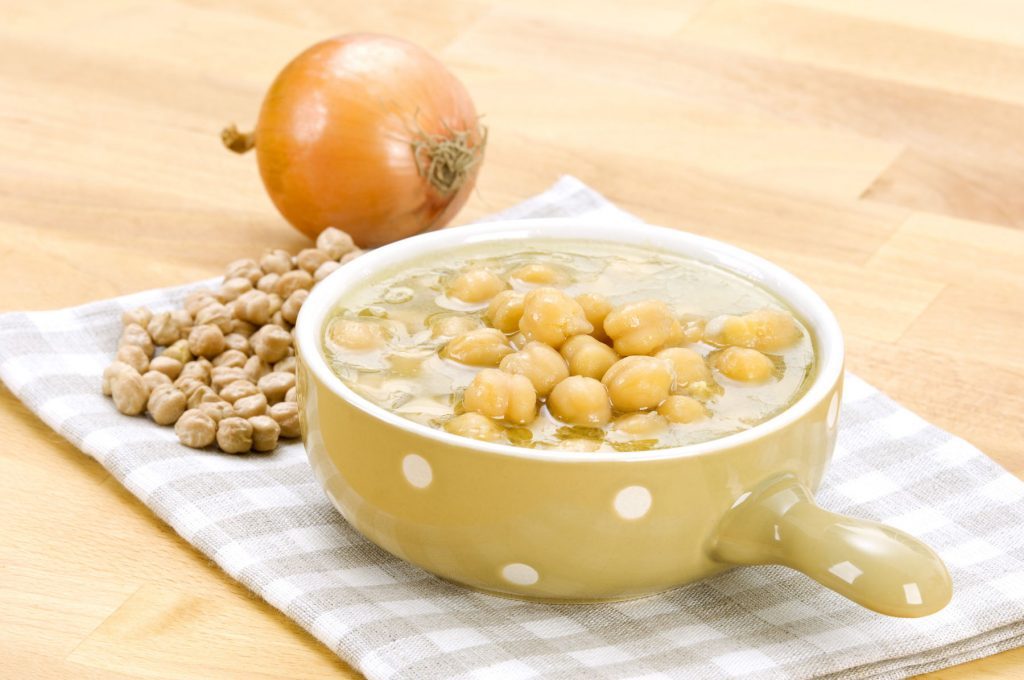 Chickpeas also make fine soup, but on some islands like Sifnos, they are served as a hearty main dish, baked in a ceramic casserole in the oven until meltingly tender, fragrant with tomato, onion, and wild herbs. 
Hortopita
Pies with hand made phyllo, stuffed with whatever is to hand, is a traditional way of making humble ingredients go a long way. In the case of "Hortopita"- the humbler the better. "Horta" are wild greens.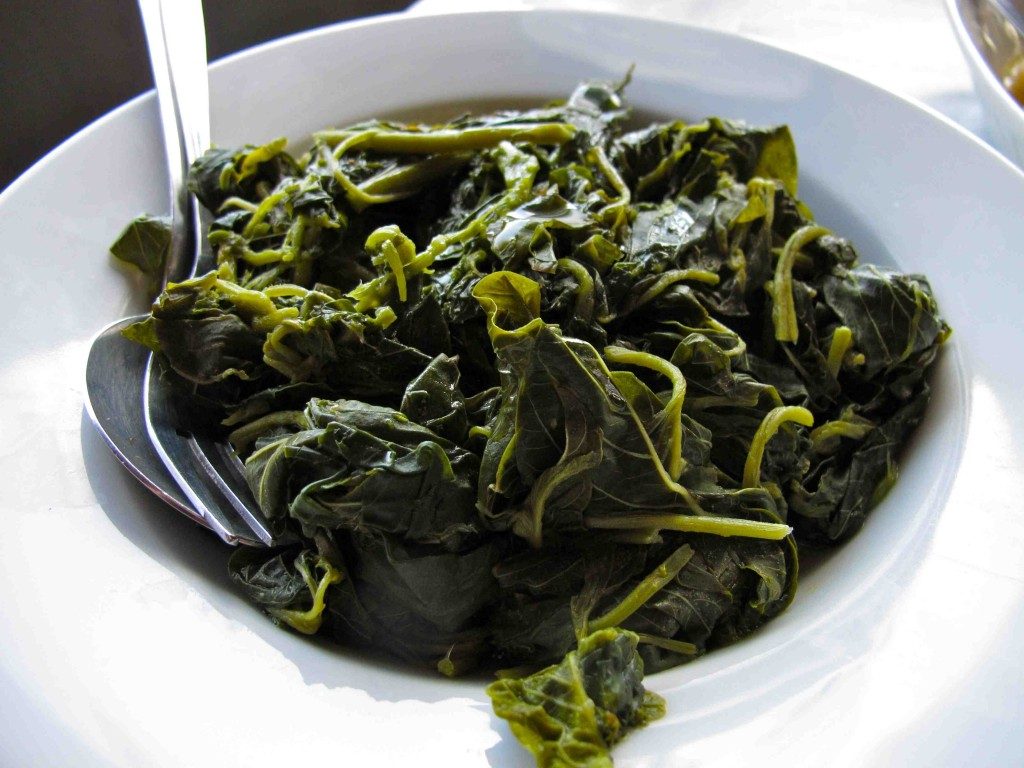 Anyone who has tasted a variety of greens foraged wild from the landscape will know that they are much more flavorful than a cultivated crop of spinach or Swiss chard, to say nothing of quite nutritious. A variety of wild greens makes the most delicious pie filling you can imagine. There is no need for cheese or any other expensive, rich ingredients. The humble greens shine best on their own.
Festive Meats
Greeks' taste for excellent – and varied – meats also has a long history. Descriptions of ancient Greek Banquets can include an astonishing array of game, and game birds especially. These are still popular, but difficult to source, unless one is friends with a hunter.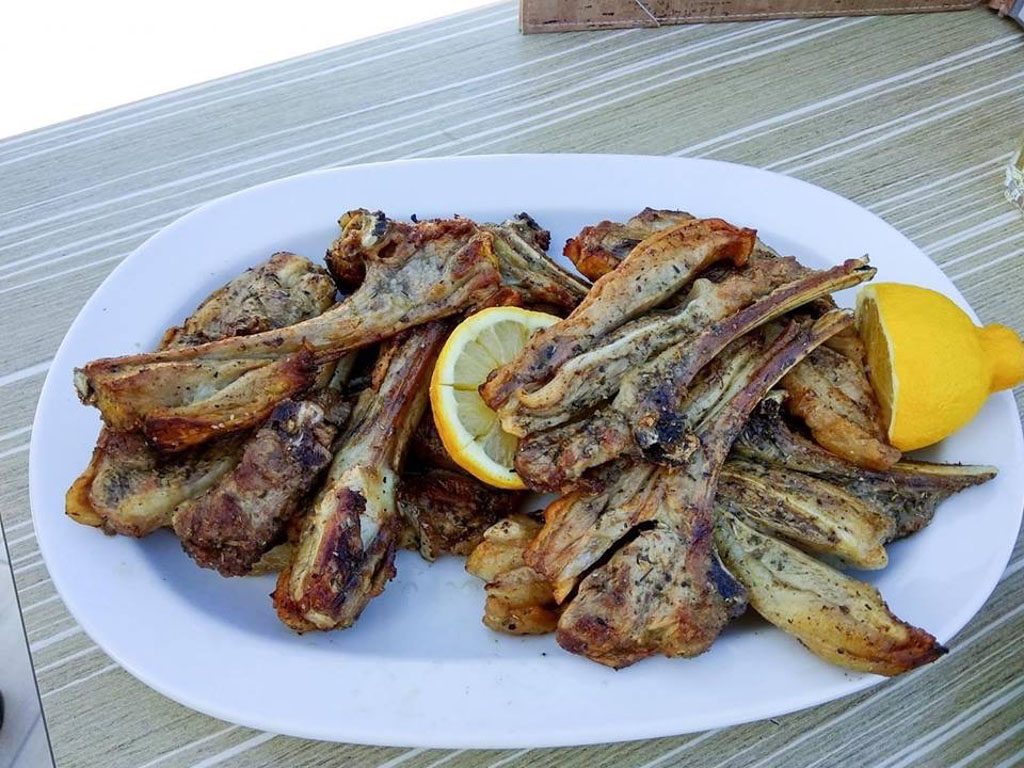 Somewhat more conventionally, and more easily sourced, are the meat of lamb and goat. A nation of shepherds with gorgeous mountains and plains for grazing, natural Greek lamb and goat are popular standbys for a festive evening out or a family meal.
Kleftiko
One very popular dish, in particular, has an interesting name – "Kleftiko". This means "Stolen." The name originates, according to oral tradition, is centuries old. It relates to the practice of roasting a stolen lamb underground- burying it completely and sealing in mud, cooking it with a fire above for hours. This way, there would be no tell-tale meat smoke to give the thieves away.
Of course, all the aroma that did not escape with the smoke is now locked in the meat, and the slow roasting has made it flavorful. Modern versions of this very old dish involve roasting the meat sealed in baking parchment. When served, the paper is sliced open and the most fragrant stream flows upward, making for a festive presentation.
Roast Pork with Quince
Fruit and meat is a much, much more classic combination than the roast meat with potatoes so popular today. The fact is that it's impossible to imagine Greek cuisine without the potato, the pepper, and – most difficult to imagine of all – the tomato. Yet, these are all foods that came from the new world, unknown in earlier Europe. The most authentic – and delicious – meat recipes feature fruits, nuts, and chestnuts, rather than potatoes. The savory and sweet combination is wonderful.
Souvlaki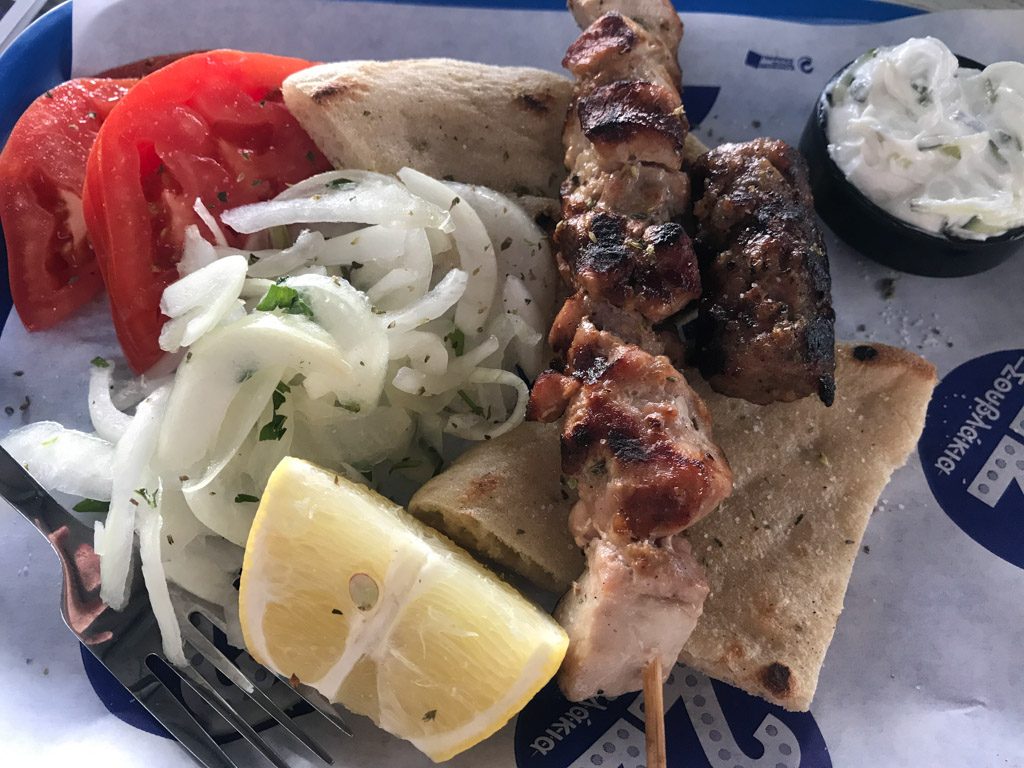 As difficult as it is to imagine a Greece without tomatoes, it is equally difficult to imagine Greece without Souvlaki – meat grilled on a skewer. Happily- we don't have to. Ancient excavations reveal grills for grilling souvlakia and flatbreads – a combination perhaps as popular in Ancient Greece as it is today.
Last but Not Least – a Modern Classic
Those tomatoes from the new world have been used in so many ways – they have become essential to Greek cuisine, and indeed the tomato itself has been perfected here (as one taste of the flavorful lumpy, small tomatoes of the rocky Cycladic islands deliciously attests).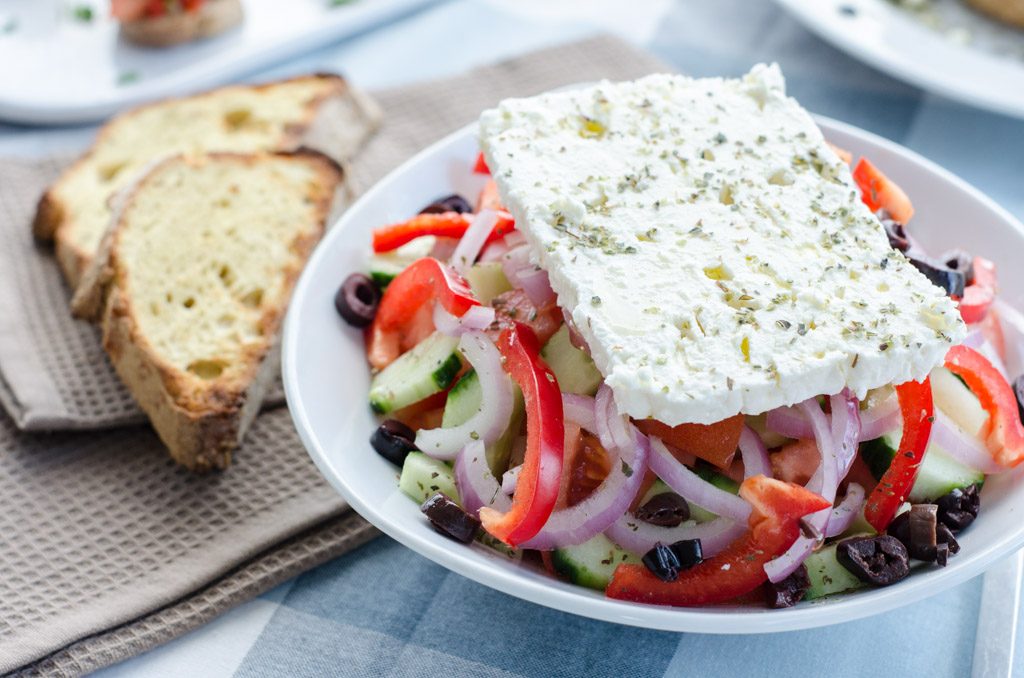 Perhaps the best known Greek dish throughout the world is the Greek salad. This combination of tomatoes and cucumbers topped with a slab of feta cheese and olives, onions, and peppers is actually called a "Village" salad in Greece – "Horiatiki". What are the origins of this classic? With those tomatoes from the new world, the dish cannot be so very old. In fact, some sources suggest that it is the invention of the taverna owners of Plaka during the early tourism boom of the 1960s and '70s, while others credit the enterprising Greek diner owners of North America (where the salad include lettuce, canned dolmadakia, and even anchovies on top). This shows that innovation remains a key ingredient in this cuisine with historic roots.
Have you tried some of the less familiar traditional dishes of Greek Cuisine? Gastronomy is one of many excellent reasons to visit Greece in any season.