Although well-known among Greeks, gorgeous Pelion somehow still counts as a somewhat under the radar destination. Easily reached and by no means remote, it is still a place that must be sought out. This forested peninsula on the eastern shores, a couple of hours north of Athens, is a refuge of culture and authenticity, dotted with enchanting mountain villages, and surrounded by beaches of legendary status.
The Mountain Villages of Pelion
In Autumn, the mountain villages of Pelion are at their most magical. Bathed in the golden light with the colors of the season turning their leaves, this is a slice of Greece that fewer visitors know. Those who seek it out will be rewarded with relative solitude. It is mainly locals and Greeks who seek this sophisticated retreat.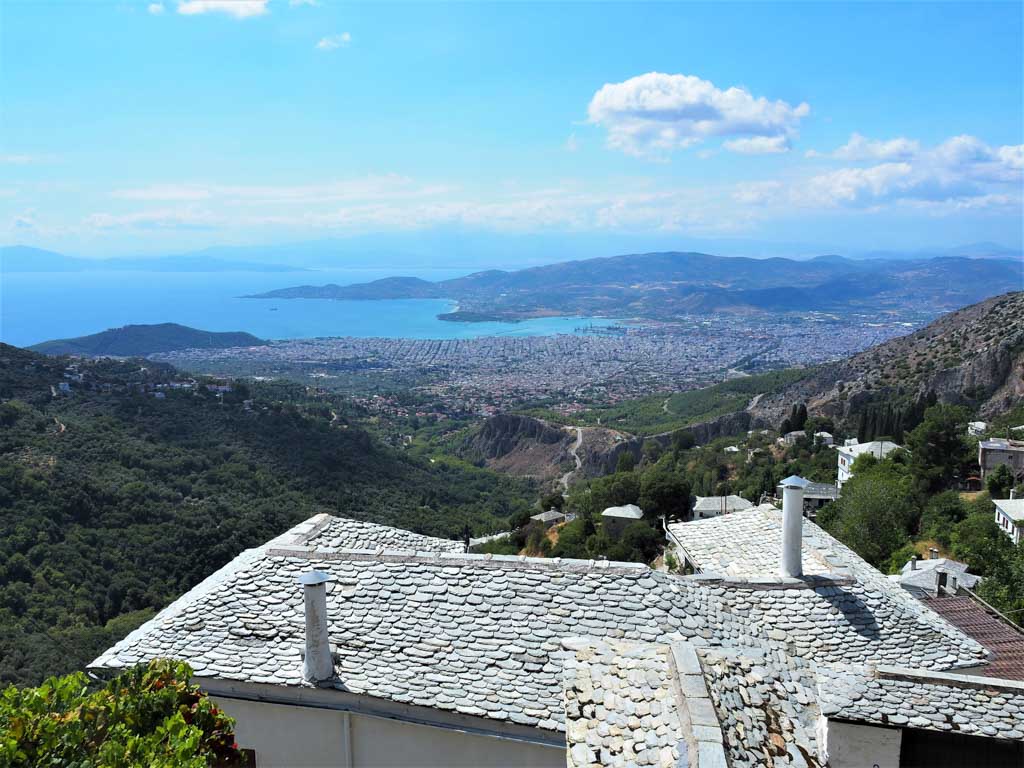 Closest to the fine port town of Volos are Portaria and Makrinitsa. These twin villages, high above the Pagasetic gulf, offer sweeping views of the surrounding topography, and of each other. You'll leave your car at the edge of each village and stroll in on the stone paths, admiring not only the view but the glorious vernacular architecture along the way. Unlike the lovely terracotta that graces many traditional rooftops in Greece, the villages of Pelion glow silvery bright with slabs of glittering slate, tiling the rooftops in intricate patterns. Decorative motifs top the windows, and the whole effect is both charming and aristocratic.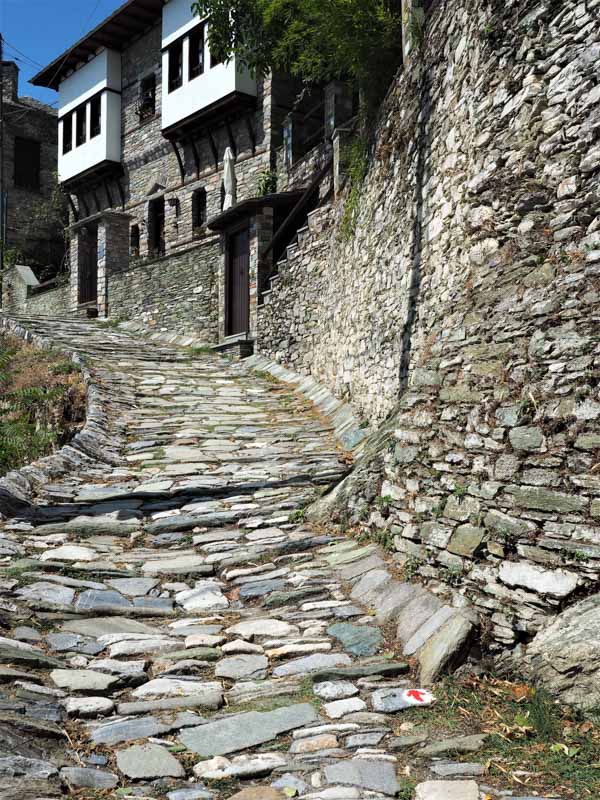 As we enter the peninsula, we come to more famous villages, such as the neighboring villages of Milies and Pinakates. Milies is the destination of the famous narrow-gauge railway that once traversed the whole area. A ride through the scenery is a wonderful activity, and when you do you can think of the surrealist painter Giorgio de Chirico, whose father built it. Pinakates is a protected village on account of its unspoiled character and its grand architecture. The villages of Pelion have two major advantages in charm – remoteness and inaccessibility to cars has left them untouched by the ravages of modernization, and an aristocratic history has graced them with mansions. Vysitza has deep traditional roots, fed in part by a women's cooperative where they keep the traditions of gastronomy alive. There is a magnificent Byzantine church here. Tsagarada has a mountain feel, but overlooks a sparkling sea below.  Mouresi is known for its great village "plateia" – the square lined with cafes around a great plane tree, a place where the locals congregate to exchange the news of the day, and linger over glasses of tsipouro in the evening.
Mansions and Monasteries
This was and is a wealthy part of Greece. In addition to having their own oil and wine, many residents also emigrated to Egypt, where they found great success in the cotton industry. This money built grand and tasteful mansions, true to the regional character, and also funded magnificent churches. There are several lovely Byzantine monasteries in Pelion, and two of the most famous – Panagia Odigitria and Agios Gerasimos – are in Portaria and Makrynitsa, respectively. In addition to the architecture, the frescoes, and the precious icons, monasteries are excellent destinations for contemplation. The wisdom of centuries has guided their placement in locations of inspiring scenery and spiritual energy.
Beaches of Pelion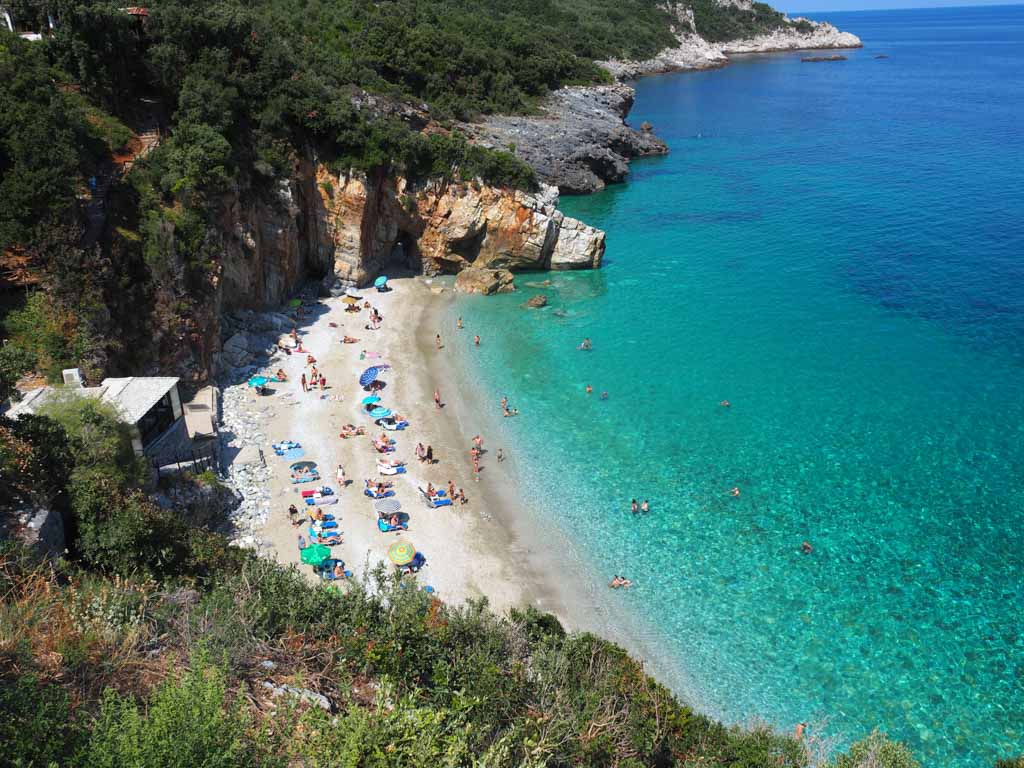 Famous for their beauty, the beaches of Pelion attract the most visitors. But while summer can sometimes see them crowded, the visitors of Autumn are in for a treat – tranquil beaches and waters still warm from the heat of the summer. Papa Nera ranks among the finest places to take a fall dip – a great stretch of pristine white sands lines a turquoise sea. Chorefto is another large and sandy beach that draws great crowds in the high season and will reward the fall visitor with some tranquility and beauty. Damouchari, just down the hill from Tsagarada, is an enchanting bay with two little unspoiled beaches of clean pebbles.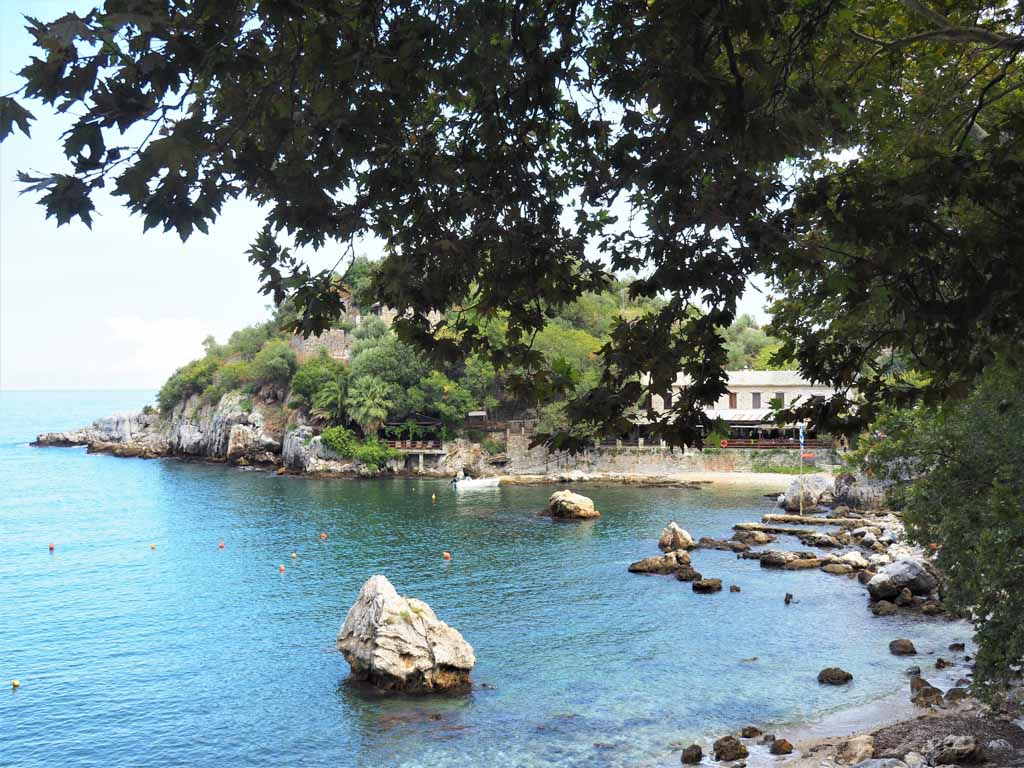 Fans of cinema and popular culture may know that scenes from "Mama Mia!" were filmed here. Mylopotamos is the most dramatic of Pelion's beaches – this white pebbled beach has incomparably clear waters of bright turquoise as well as an exotic rock formation that divides it into two beaches – a hole in the rock offers access to the other one.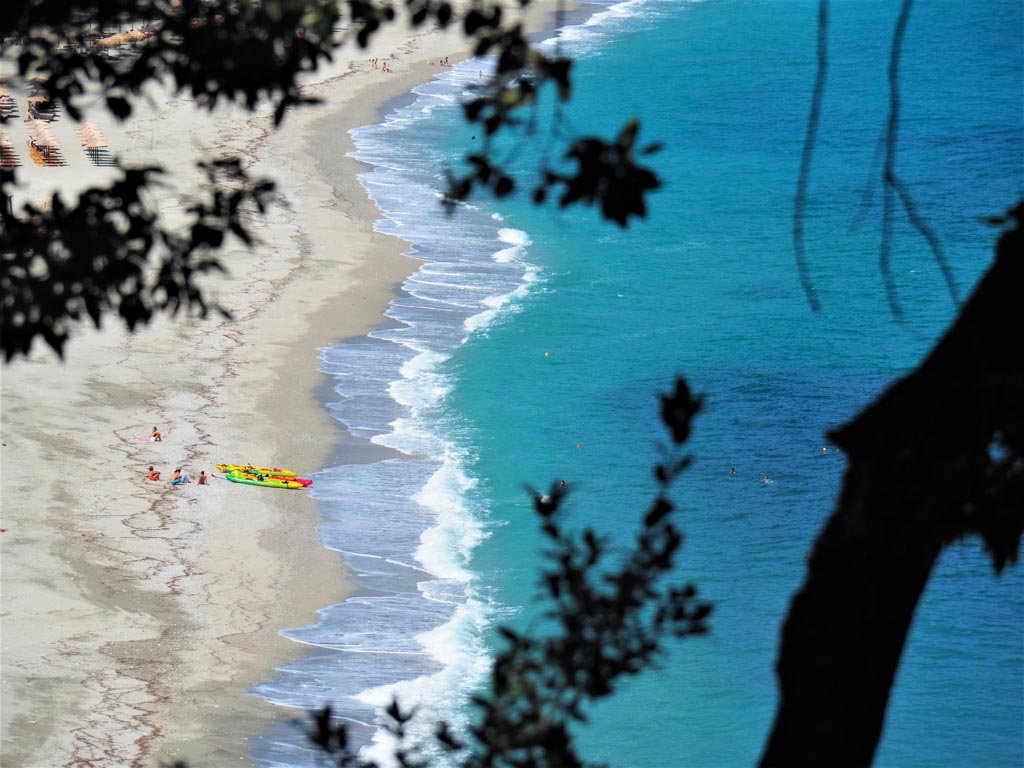 For those who prefer to swim only in the summer heat, there is always kayaking and boating – wonderful ways to explore the secret coves that dot this magical coastline.
Seaside Villages
In this peninsula of contrasts, just a few kilometers apart are traditional mountain villages and the enchanting seaside towns for which Greece is perhaps better known. Of these are Chorto – known since the times of Homer, and prosperous from 20th century trade in the region's agricultural products. Tzasteni is one of Pelion's most photographed locations – this strip of white buildings jutting out into the bay, surrounded by trees, is a little paradise best reached by boat, or otherwise via footpath – ensuring absolute serenity.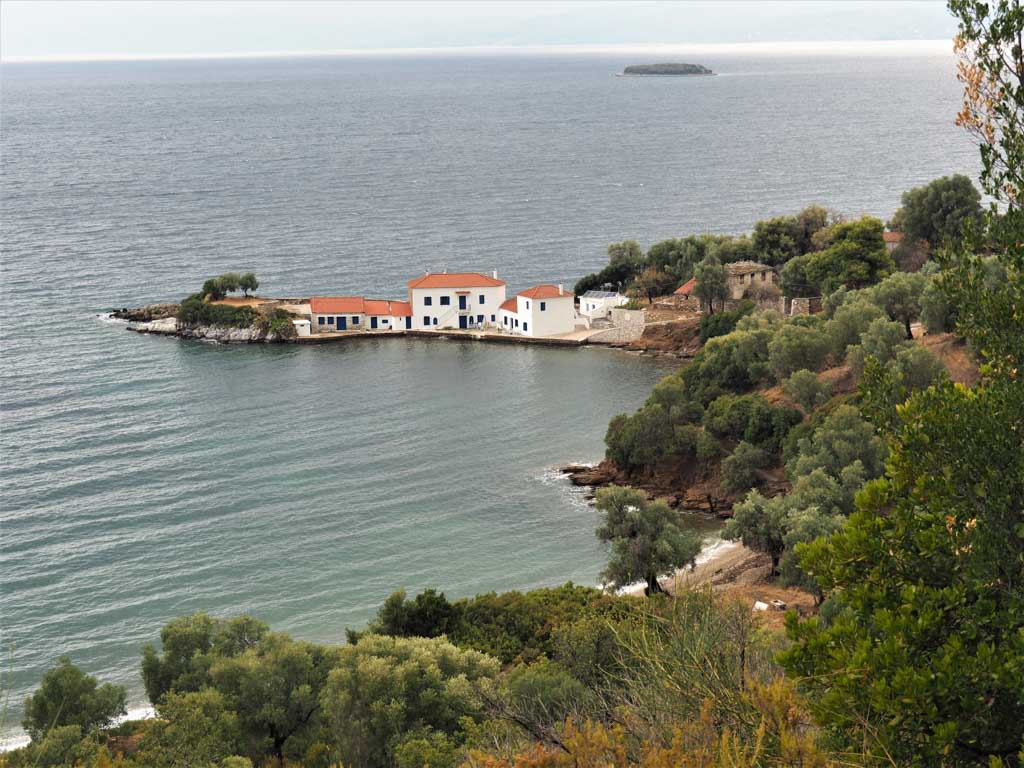 Milina has lovely architecture, and is known for its gorgeous sunsets. This is another gem in autumn, as it is extremely popular and crowded in summer. The picturesque port town of Agia Kyriaki at Pelion's southern tip is one of the more active of the seaside twins, with a harbor filled with colorful boats. Palio Trikeri is actually an enchanting island off of the coast of Pelion. Hikers in particular seek out this island for its lovely unspoiled landscape and views.
Activities in Nature Pelion – Hiking, Horseback Riding, Foraging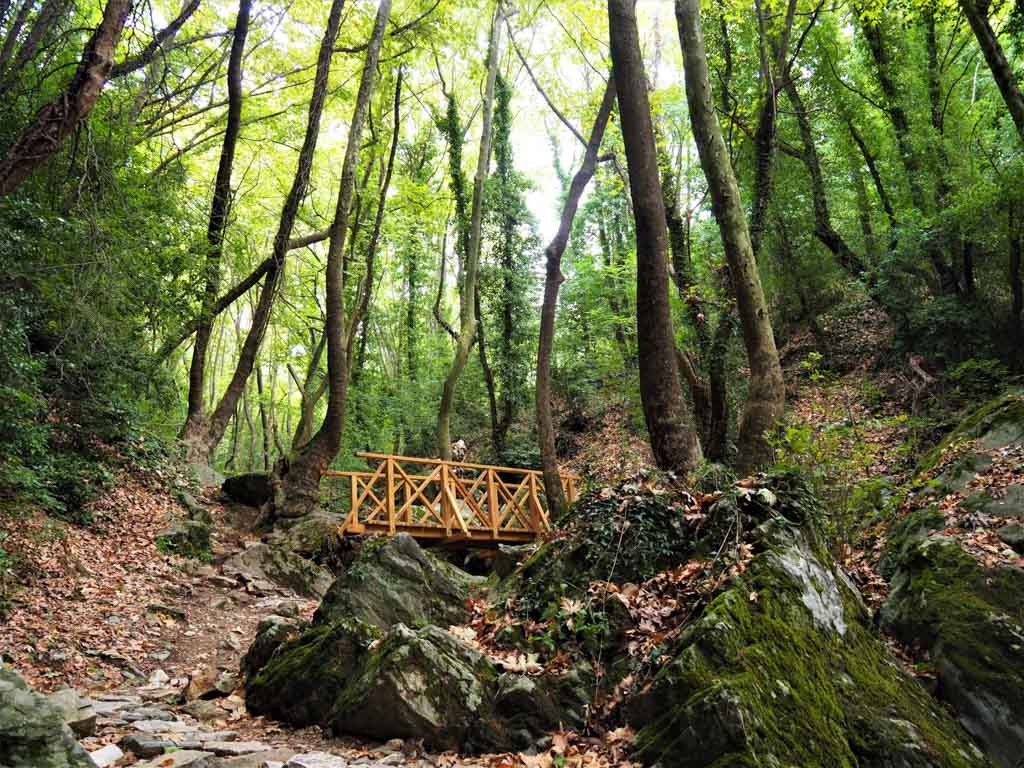 Beside the more common swimming and boating that draw visitors to Pelion, there are also other wonderful ways to enjoy the peninsula. "Kalderimi" is a word known to hikers – these stone donkey paths have connected fields and orchards to villages and villages to each other for centuries, and they are now terrific hiking routes. Pelion has many. And here in the land of the Centaurs – Pelion is the homeland of the Centaur Chiron of Greek mythology – perhaps some horseback riding is the most authentic way to get in touch with the very soul of the place. Not least is connecting with the land through foraging – wild greens abound, famous for their lively tastes and nutritious properties. And there are also delicious mushrooms of great variety. A foraging trip with a knowledgeable guide can always be arranged.
Gastronomy
… and that brings us to one of the true pleasures of Pelion – its magnificent food. This is a gastronome's destination par excellence. The wealth of local products, from the finest olive oils and local wines, meats, and fish fresh from the sea, meet here a tradition of excellence. There is a great pride in gastronomy in Pelion, and a dedication to authenticity and tradition. Here one tastes excellent handmade pies with local cheeses, dines on fragrant and hearty meat dishes after a day of hiking, and enjoys fresh grilled fish by the sea.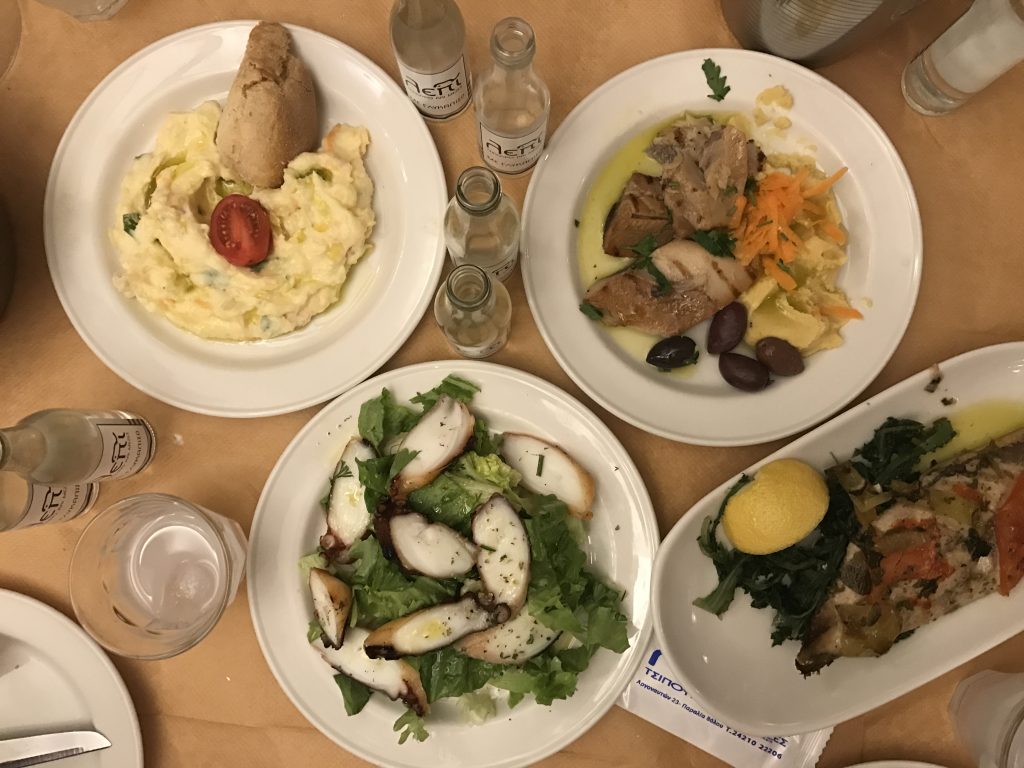 Wholesome forged greens accompany dishes, along with tsipouro – this local spirit of grapes, scented with aromatics, makes a wonderful digestif and promotes conversation and fellowship. And for a sweep to cap the meal, there is the famous tradition of spoon sweets. There is no place in Greece with a greater variety – not just fruits, but more exotic treasures like green walnuts, baby tomatoes, almonds, and even flower petals, have been preserved in glossy, fragrant syrup. 
Have you ever visited Pelion? Or planned a late season holiday in Greece?