The temptations of Summer in Greece are nothing short of legendary. Summer in Greece is also the best season for culinary travel. Here are some regional specialties we would love to share with you, plus some favorites enjoyed all over Greece. 
Summer Recipes in Greece: Which You Must Try
Corfu
Do the names "Sofrito" and "Bourdeto" have an Italian flair? It would make sense – this emerald island in the Ionian sea has close historical and cultural ties with Italy. It was ruled by the Republic of Venice from the 14th to the 18th centuries, and many Italian families lived there, making lasting contributions to the island's culinary heritage, including these two delicious dishes.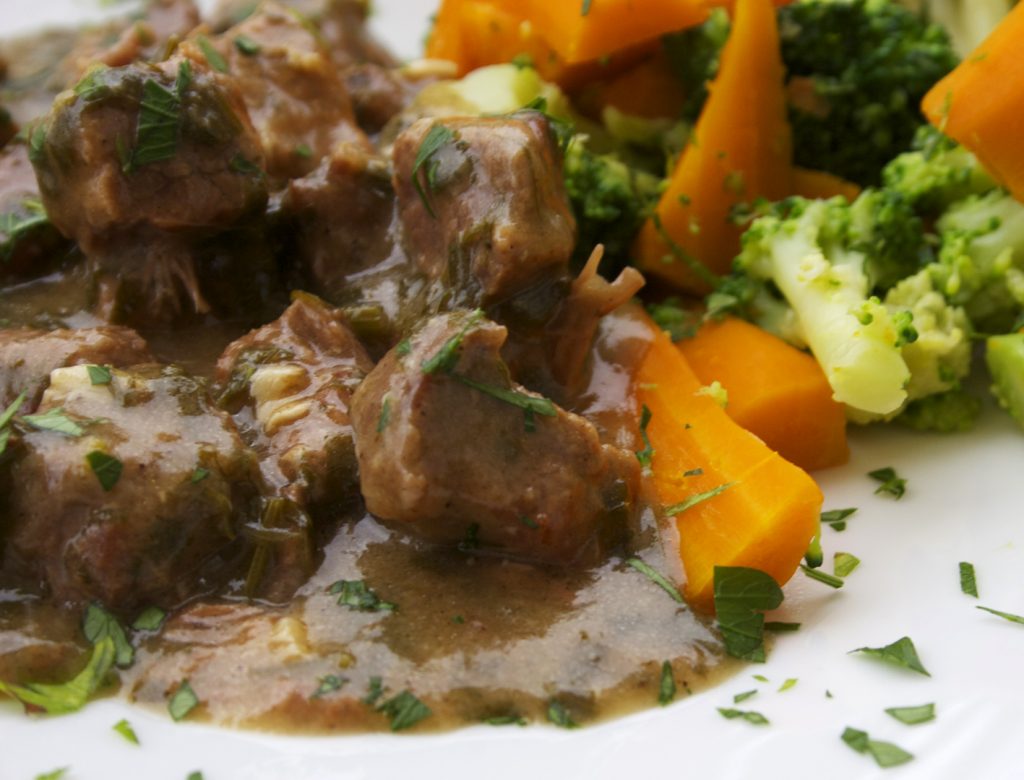 Sofrito is veal or beef braised until meltingly tender with an astonishing amount of whole garlic (don't worry – the cooking mellows and sweetens it enormously), and some vinegar for liveliness. It is of course delicious with some hand-rolled pasta
The Venetian word for broth – "Brodetto" – is the root of Bourdetto. This delicious dish of fresh fish napped in a thick ad zingy sauce of tomato, a little hot pepper, and (yes) garlic. It is a particularly nice way to prepare scorpion fish and other fishes that are suited to fish soup.
Santorini
Santorini is not a green island. That means that whatever manages to thrive in the stark beauty of the Cyclades, thrives in great style – with concentrated, elemental flavors.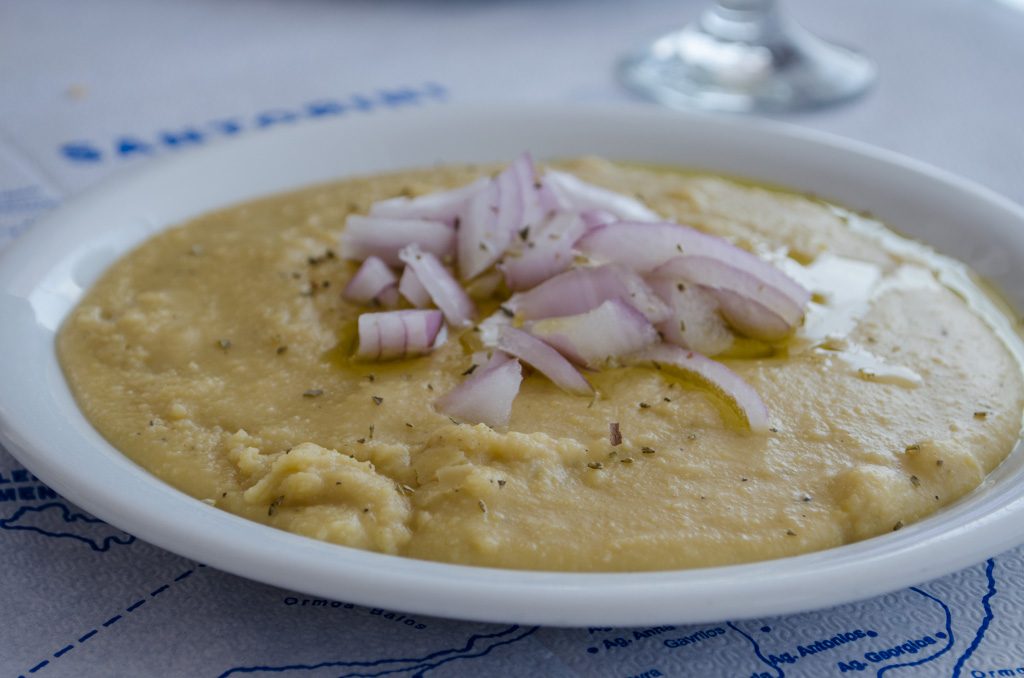 The island is known for the tastiness of the yellow split peas. For the dish Fava, these are simmered and pureed. The puree is served cool and garnished with olive oil, lemon, chopped fresh herbs, and capers. It's a refreshing side dish that lends color to the table. Another version of Fava which you can try in Santorini is Fava pantremeni which in Greek means married — this is a delightful mix of the original Fava with aubergine salad, melitzanosalata.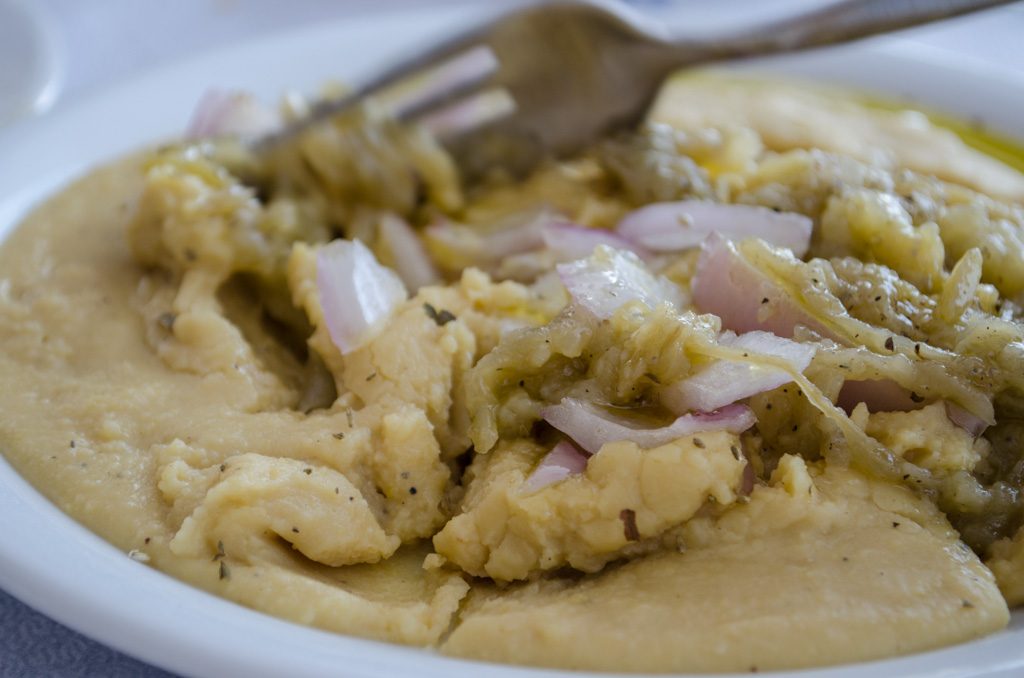 How about a sweet treat? Kopania are delicious, healthful little bites of island sweetness. These pretty treats are made from the humblest ingredients of barley rusks, sweet raisins soaked in wine, and a little coconut – with no added sugar! The mixture is formed into balls, which are rolled in toasted sesame seeds for more health and texture. In addition to being sugar-free and wholesome, these also have no dairy or eggs, and are therefore lenten. They are also vegan, and wheat free (although barley does contain a small amount of gluten) – making them appropriate for a number of diets. 
The Peloponnese
The southern Peloponnese is rich in history and natural beauty. The region of Laconia holds two particularly interesting cultural destinations: the rugged Mani peninsula, and magnificent, medieval Monemvasia. Each has a culinary specialty you will enjoy.
Siglino of Mani is a delicious "meze" – small savory bite to enjoy with a glass of wine. It is made of pork that has been salted and smoked for hours. The smoke used is fragrant with wild sage, which imparts the fragrance of Mani's landscape to the meat. It has an elemental, pure flavor that is consistent not just with the landscape of Mani but with the character of its people.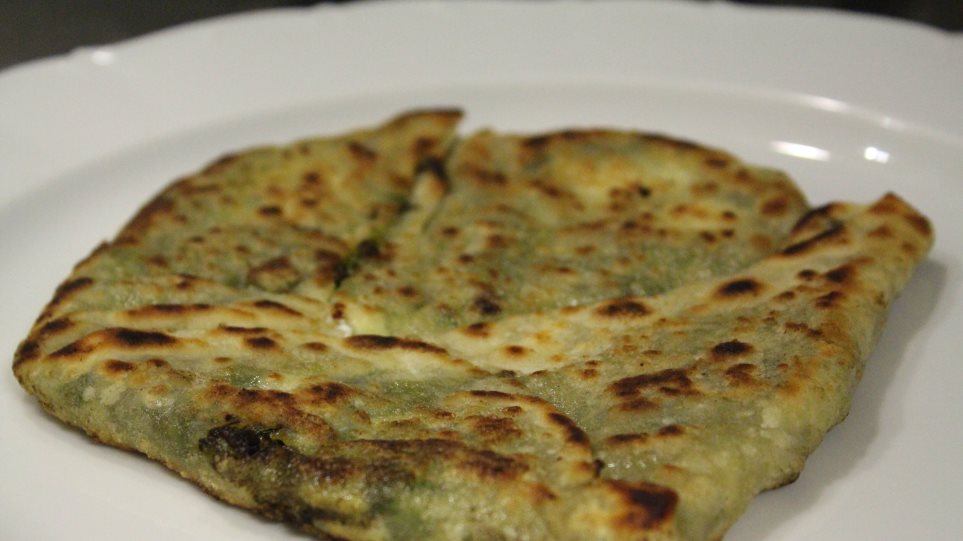 Saitia – a romantic-sounding name that is a perfect fit for the fairy-tale wonder that is Monemvasia – means "thin." Here, the word refers to delicate pies. To make them, you ideally need first to forage for wild herbs and greens (dill and greens from the grocer will do in a pinch). These are chopped and then sautéed until limp, salted delicately, and encased in hand-rolled dough. Then they are pan fried until tender and crisp. They are delicious anytime, and also make an excellent meze.
Crete
Crete is like a country unto itself. This largest of the glorious Greek Islands is defined not only by its marvelous and varied coastline and its snow-capped mountains, but by the rugged and heroic character of the Cretans themselves. Cretan cuisine is similarly honest and straightforward, an expression of the land itself.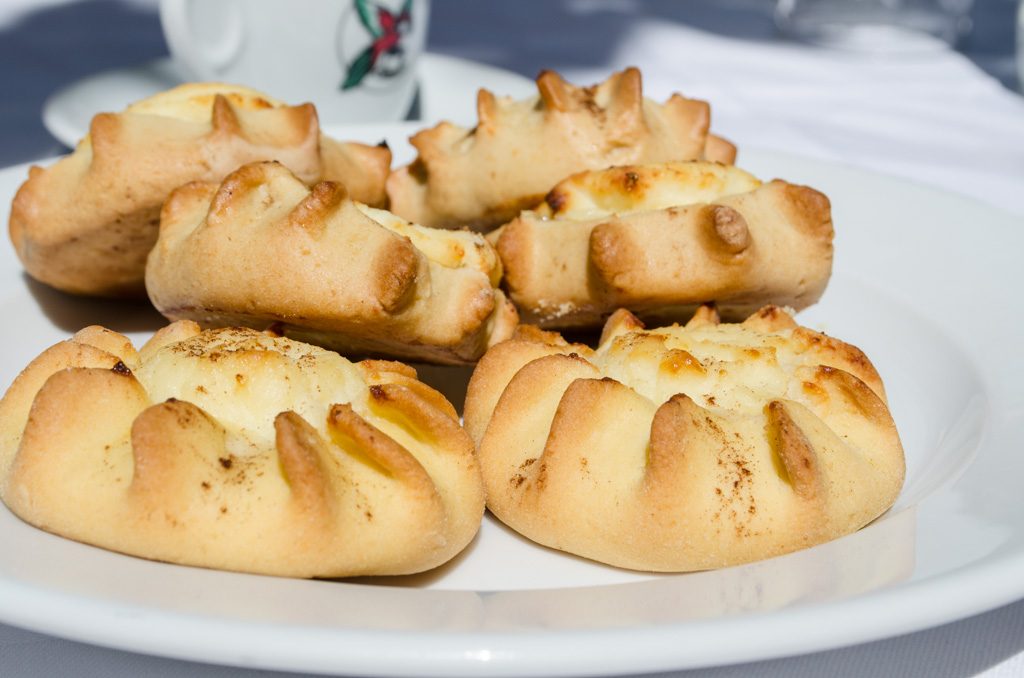 Maybe you don't know what you want: something savory? Something sweet? Something to go with a glass of wine or a shot of "raki" (Cretan grappa)? That thing is Kalitsounia. There are as many versions of these lovely little pies as there are villages in Crete and herbs and greens on the mountain slopes. Some are mixed wild herbs, and they are delicious. But our favorite are the ones filled with mizithra – the soft, fresh goat cheese of Crete. These are fried and crisp, savory and delicious when hot. But for a real treat, eat them Cretan-style – with a thick blanket of thyme honey.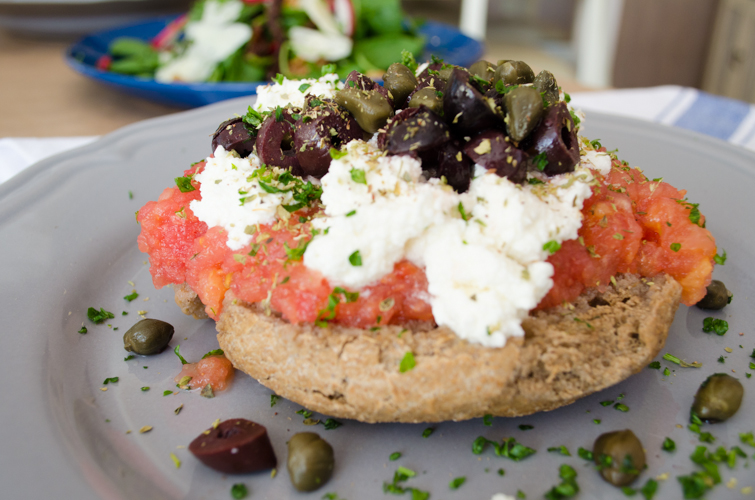 Dakos showcase mizithra too. The base of dakos is a hard barley rusk, softened with the sweetest tomatoes you can imagine, mixed with fruity olive oil and scented with mountain oregano, and topped with mizithra to make a heart and nourishing salad – kind of a Cretan "panzanella."
All Over Glorious Greece
All over Greece you can celebrate the bounty of summer. Every region has its specialties. But no matter where you go, you will taste dishes that harness the best of the season. Gemista is a national favorite: the name just means "stuffed," but gemista is actually vegetables stuffed with rice and abundant herbs. Tomatoes and peppers are the always included. But hollowed out zucchini, aubergines, and sweet whole onions show a whole lot of love. If you're really lucky, there will also be stuffed vine leaves and even zucchini blossoms.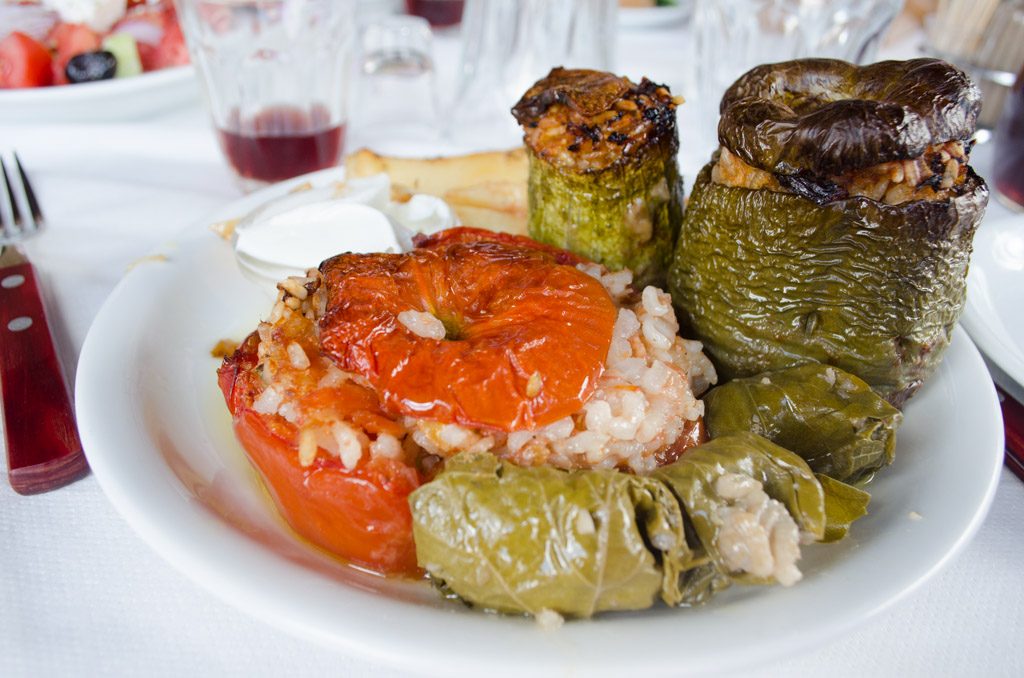 The Greek relationship with fish is extraordinarily passionate. Even Greeks of modest means are happy to occasionally spend a significant portion of their monthly salary on a large fish grilled to perfection. Greeks respect the Gods too much to toy with the perfection of nature: to select your fish and have it grilled and then have it served tableside mere meters from the sea is a summer ritual for all Greeks. By all means, you must join them. (Gourmand tip – don't even think of lemon. The true connoisseur naps grilled fresh fish with olive oil only, or – preferably – nothing at all).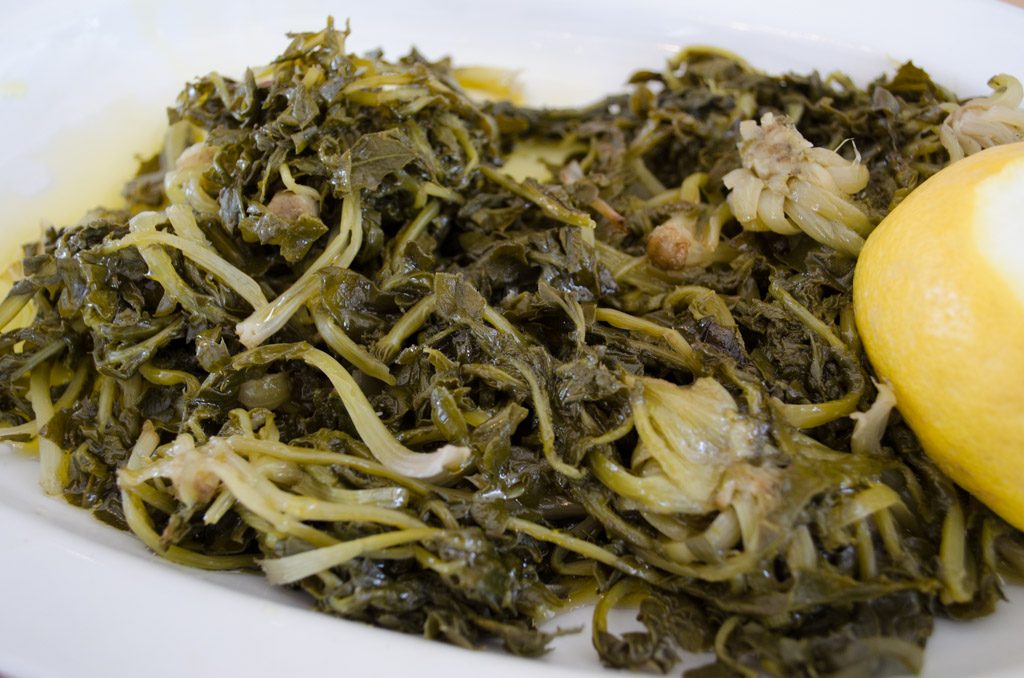 Do you need a little something on the side? Wild greens are the salad of choice. Or perhaps a some tender baby zucchini dressed with a little lemon zing and some extra virgin olive oil (incidentally, that's of course the only kind that flows in Greece).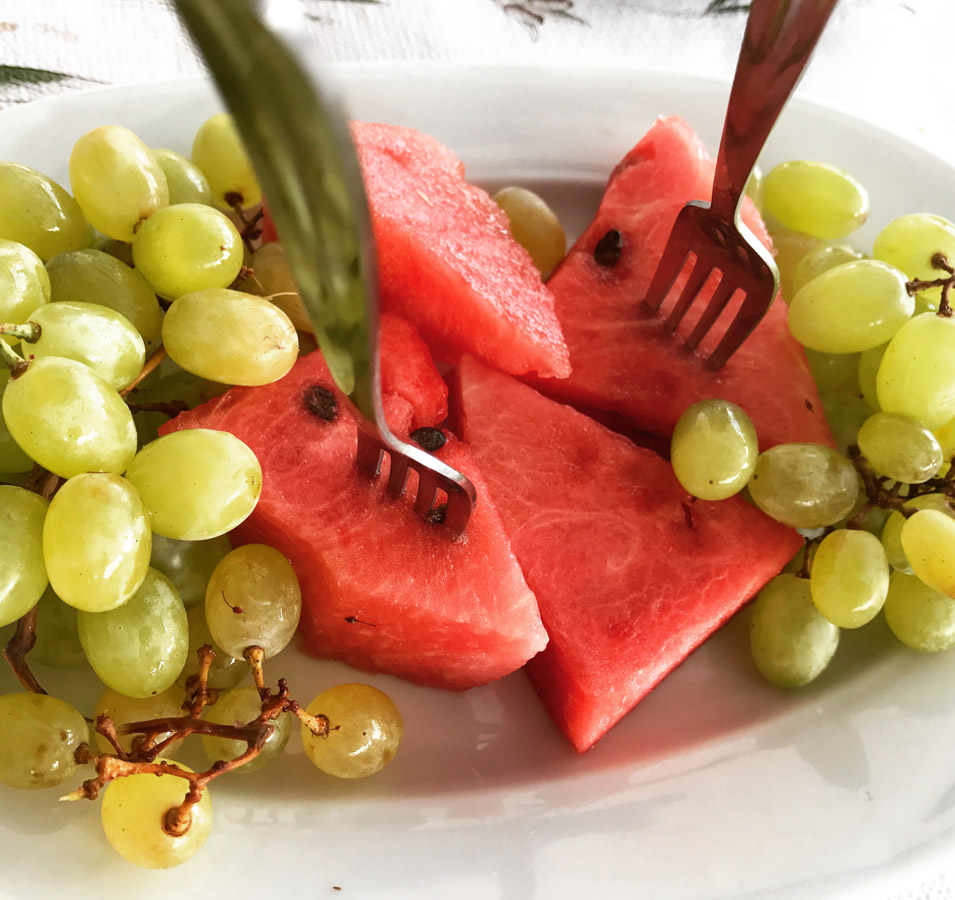 The fruits of Greece also have no peers. Figs and melons heavy with perfume, peaches, tiny white grapes, and of course crisp watermelon a vivid shade of red will cap the evening meal. 
Living in harmony with the seasons is a definitive aspect of the Greek table, and key to the honest pleasures it affords. Greece shines in every season. But summer is truly glorious. For the true epicure, a summertime visit to Greece is a culinary pilgrimage.
Is the culinary experience central to travel for you?  Have you ever experienced the bounty of the Greek summer?