One of the most wonderful things about Greece is the strength of the connection between faith and nature. Greece is perhaps unique in the sheer number of churches per area; even in the most remote, uninhabited locations, one finds a small chapel. Often they are even in the most unusual spots – a mountain peak, a cave, built into the side of a cliff. Wherever you go in Greece, you are sure to find a place of beauty, peace, and spiritual reflection. 
These small secret chapels of Greece will take you to some of Greece's loveliest corners.
Agia Sophia Cave, Kythera
Few people think of caves when they think of Greece, but serious speleologists and amateur avid cavers know that this glorious topography holds many spectacular subterranean surprises, too. A lovely cave is to be found on Kythera.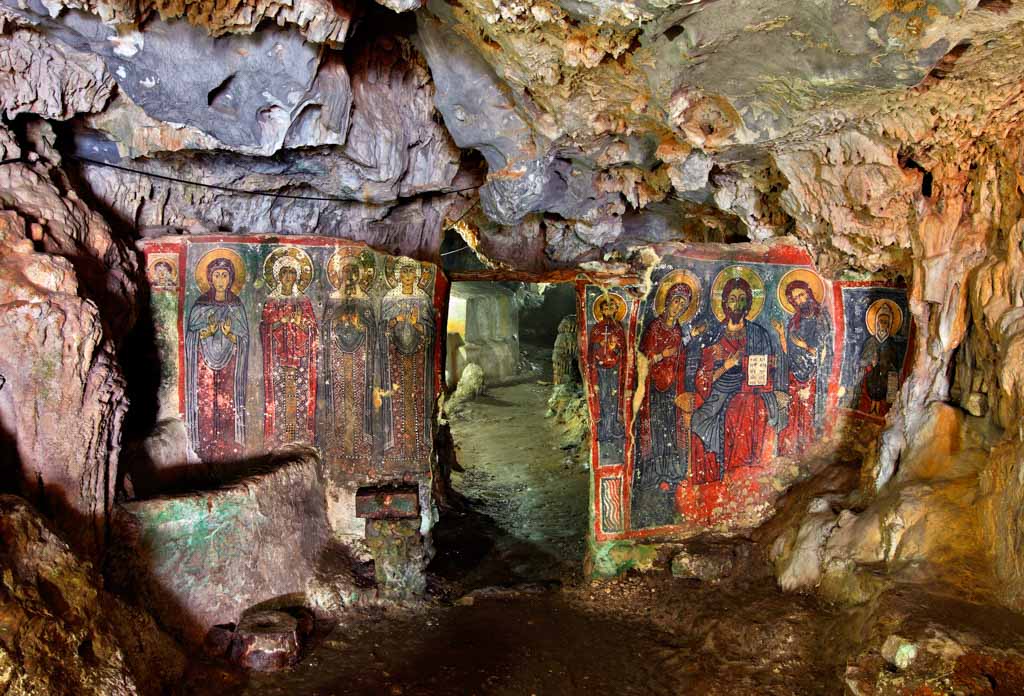 The Cave of Agia Sophia is spectacular. Located 60 meters above the sea on the west side of the island above the little cove of Kokales, this 4 million year old cave was first explored in the 1930s. It has some ten chambers, and a vast total area of about 2,200 square meters, and 500 meters long. Just around 200 square meters can be visited, which is more than enough to appreciate the unusual colors – rich in iron and magnesium, the walls of the cave have areas of deep red and bright yellow from their oxidation. Naturally, such a magnificent natural wonder is associated with legends and myths – one of the most popular being that Paris and Helen sheltered here after setting off from Gythio – the mainland port. Barbarossa, the infamous pirate, was said to use the cave to hide his loot.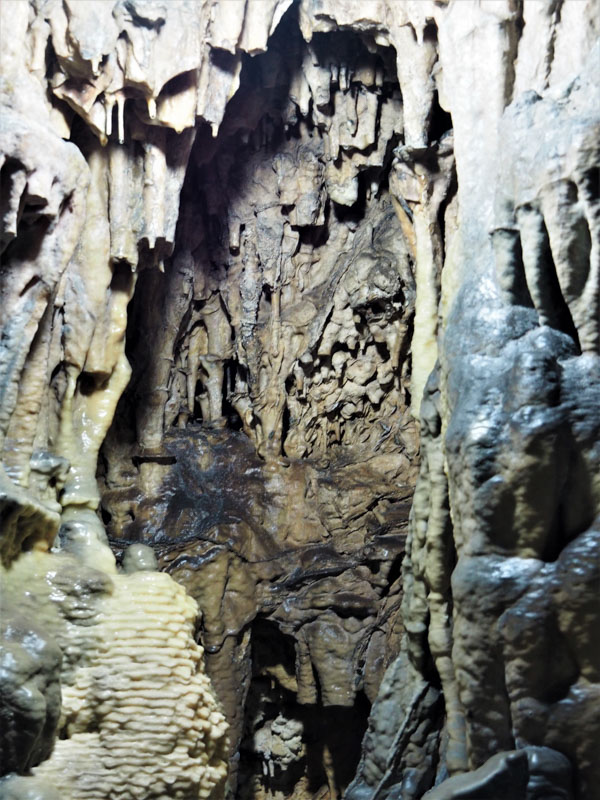 With its fabulous formations of stalactites and stalagmites, and its rich colors, it already has the feel of both a natural Gothic cathedral and a Byzantine church. And it does have a church – the small chapel of Agia Sophia (holy wisdom) and her daughters Elpida (Hope), Pisti (Faith) and Agapi (Love) – which is close to the entrance of the cave. This 13th century chapel is decorated in frescoes that are beautifully preserved.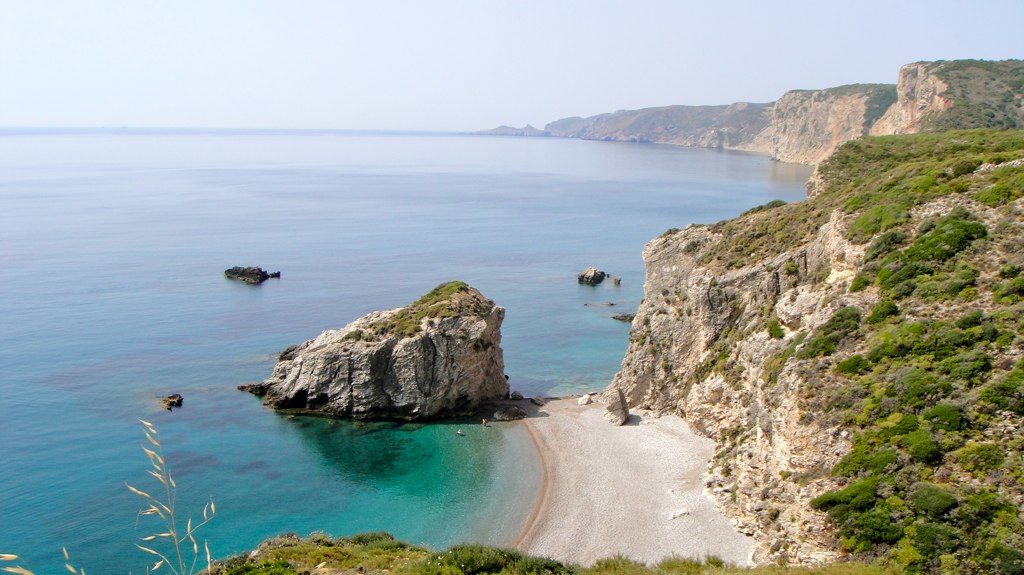 Kythera, although officially belonging to the Ionian Islands, is far away from the rest of the Ionians and has very much its own character. It is located off the coast of Cape Malea, the easternmost southern leg of the Peloponnese, and is easily reached from the charming port of Gytheio. This rugged island – with elevations reaching 500 meters – is known for its beautiful traditional villages, hiking trails, and even canyoning, in addition to unspoiled beaches. It makes a wonderful addition to a trip around the Peloponnese, one of Greece's premium destinations for culture and archaeology as well as natural wonders. 
Panagia Megalomata Fakistra – Pelion
Fakistra is one of many spectacular beaches of Pelion. Pelion's topography is simply spectacular – with lushly green mountainous areas directly beside the sea. Fakistra is such a place.  It is smaller than many beaches, and to access it, you need to hike a little. This makes the surprise all the sweeter, and it also means you will not necessarily be sharing the beauty with many crowds.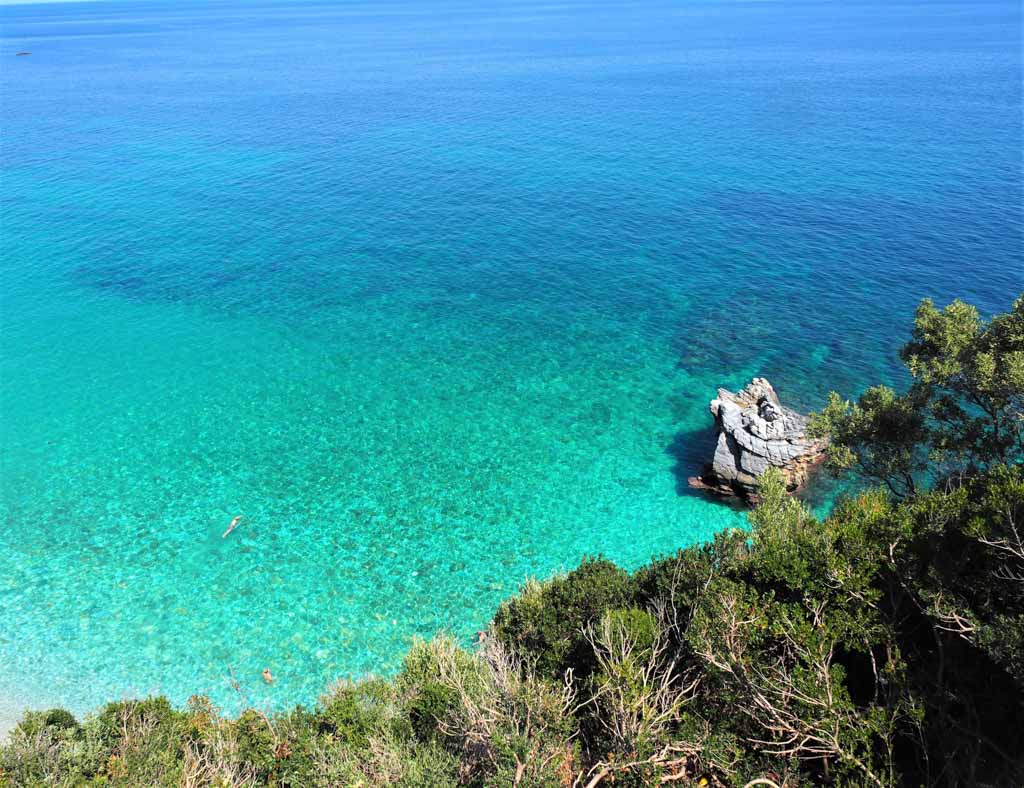 By the beach there is a fantastic sea cave with stalactites and stalagmites – Panagia Megalomata – which must be seen by boat, a lovely excursion. Above Fakistra beach there is another small cave, accessible by footpath. This leads to a cave once inhabited by a monk, whom it is said ran a secret school in the 17th century. During the Ottoman centuries, there were many such schools which kept the Greek language and the strong orthodox Christian faith of the people – the spirit of Greece – alive. A tiny chapel is next to the secret school.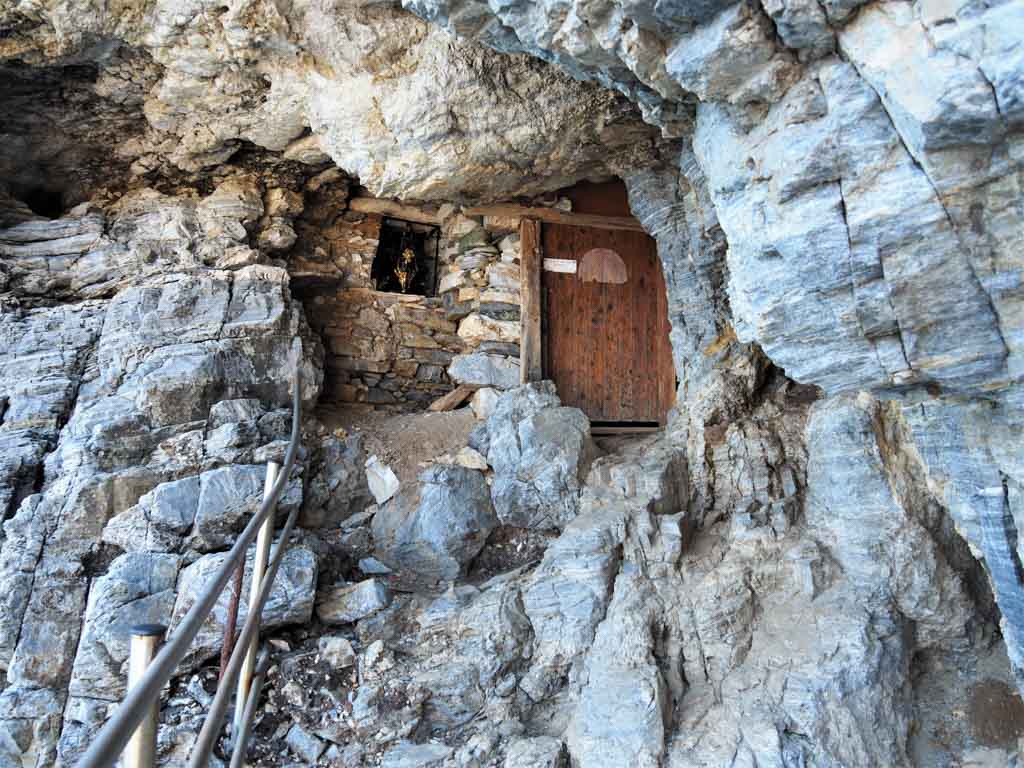 Pelion is full of magnificent places such as this. The peninsula is known for its wonderful Byzantine churches and traditional mountain villages, such as Tsagarda – below which Fakistra is located – Vizitsa, Portaria, Zagora, and many others. Pelion is a fantastic destination in any season – there is even a ski center for enter sports fans. And the cuisine is excellent – hearty yet refined, and based on the finest local ingredients. 
Agia Sofia Cave Topolia Crete
Crete, in addition to its world-famous beaches, is also famous for its mountains – Mount Ida (Psiloritis) reaches nearly 2,500 meters – and its gorges. This is a hikers' paradise, with gorges suited to every level of skill and stamina rewarding the hiker with outstanding scenery and dramatic natural beauty. Crete's dramatic topography also makes it a popular destination with cavers. Agia Topolia Cave combines both: the Topolia gorge, about 50 km southwest of Chania, and a unique cave, Agia Sophia.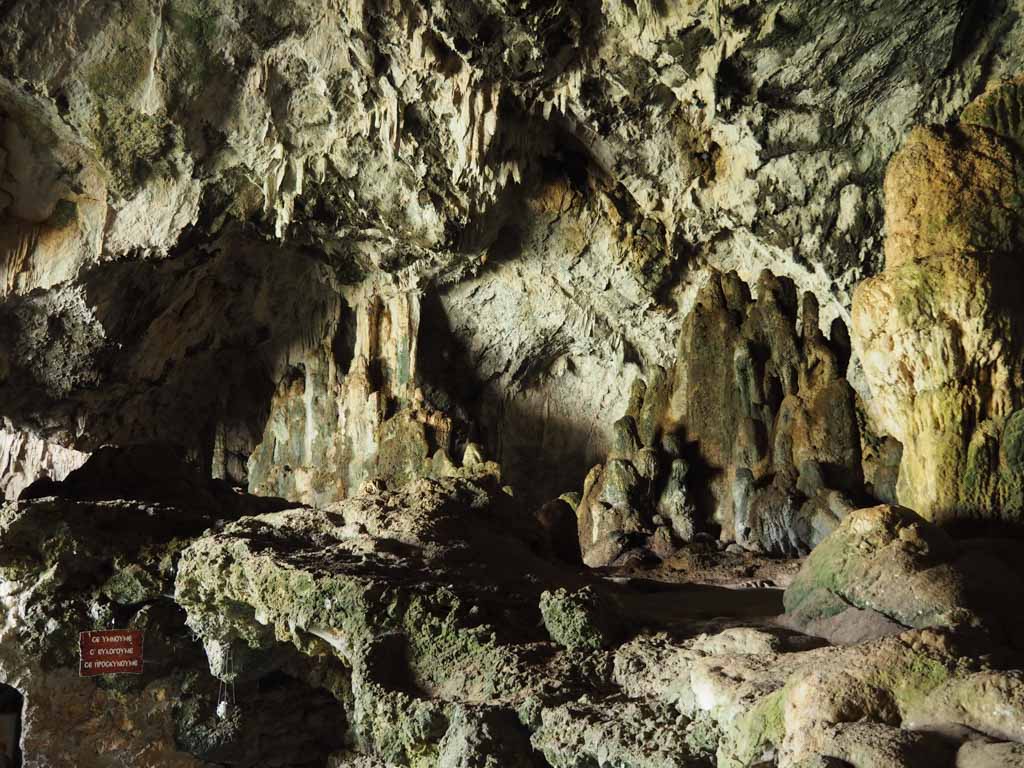 This marvelous cave is noted for its extremely large chambers – one of the two chambers is 70 meters across, and reaches heights of 20 meters. The entrance of the cave is also quite large, at 25 meters across. Stalagmites decorate the walls, and the cave itself is home to an endemic species – the Phlocis Creticus – a spider that lives only here. 
Like many places in Crete, the Cave is steeped in both history and lore. A 4th century BC figurine was discovered in the cave, and traces of life from all of Greece's era's, even prehistoric, have been found, from the Neolithic, through the early and late Minoan, the Classical, the Hellenistic, and the Roman. In mythology, this was a favorite palace of the ancient Minoan goddess Vritomartis. This was a place where the great bronze protector of Crete – Talos – could rest. He loved the gorge, and the fairies and elves of the river would sing and dance here.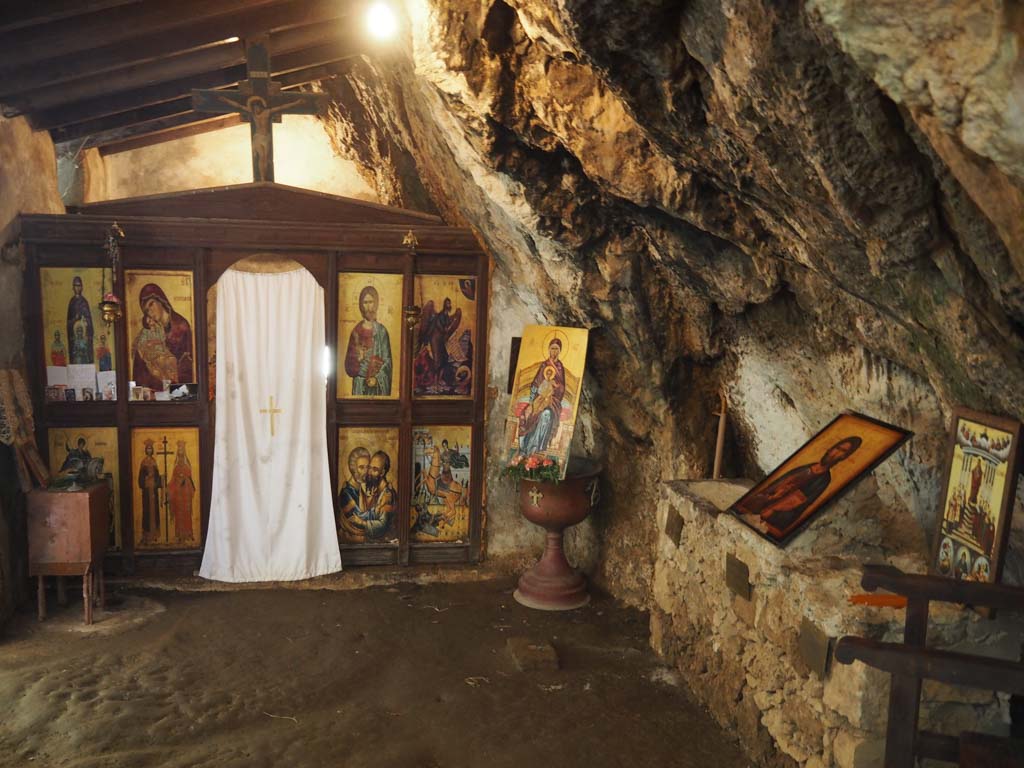 Like the Cave of Agia Sophia in Kythera, this is already like a natural cathedral, albeit with proportions even more dramatic. It is the perfect setting for a chapel, which you will find very close to the cave's wide entrance. The chapel of Agia forms one of the walls of the cave.
The splendid Topolia Gorge and the cave of Agia Sophia make a wonderful stop on an exploration of this marvelous corner of the island. The entrance to the gorge is off the road to Elafonisi, a beach famous not just in Crete but indeed the world over, for its pink sands, lagoon, and Natura 2000-protected little island, covered with sand dunes and wild flowers. This area of Crete south of Chania is also famous for the Samaria Gorge – an epic hike of some 17 kilometers that brings you to the shores of the Libyan Sea (a boat can bring you back to Sfakia and the road), and Chania itself, full of Venetian enchantment, is a marvelous destination in itself.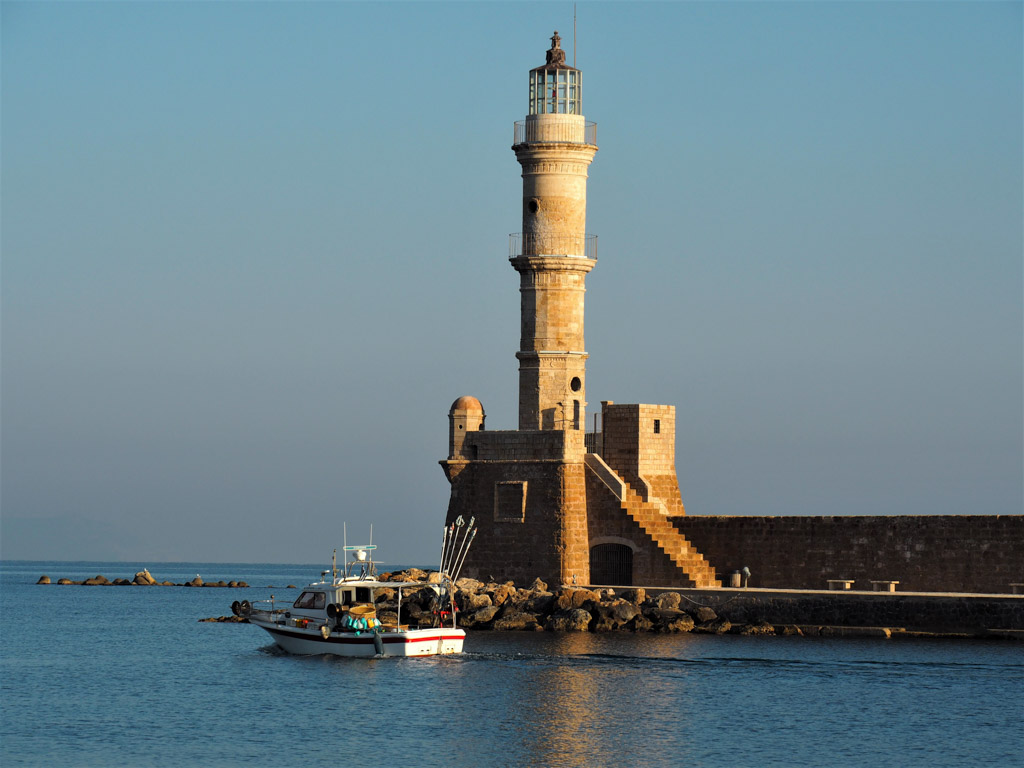 Have you ever visited one of Greece's many secret chapels?