Much of the true soul of Greece resides in its traditional villages. In traveling through Greece, we can see the tremendous diversity of personality and style reflected in villages of unique character, each reflective of a different aspect of Greece. Be they in the rugged mountains or along the pristine coastlines, these are among our favorite places to discover the many beautiful faces of Greece. 
Greece's Coastal Villages:
Greece's coastal villages are the stuff of postcards and travel fantasies. And yet they are very, very real. Cobblestone streets, sturdy houses of golden stone, a sea-tossed coastline, and a sun-washed harbor full of colorful little boats – this is a Greece untouched by time. 
Kardamyli
Mani is the gem of the Peloponnese, and Kardamyli is the gem of Mani. The medieval architecture of the little town – with the towers that characterize Mani – give it an ambiance of romance and charm.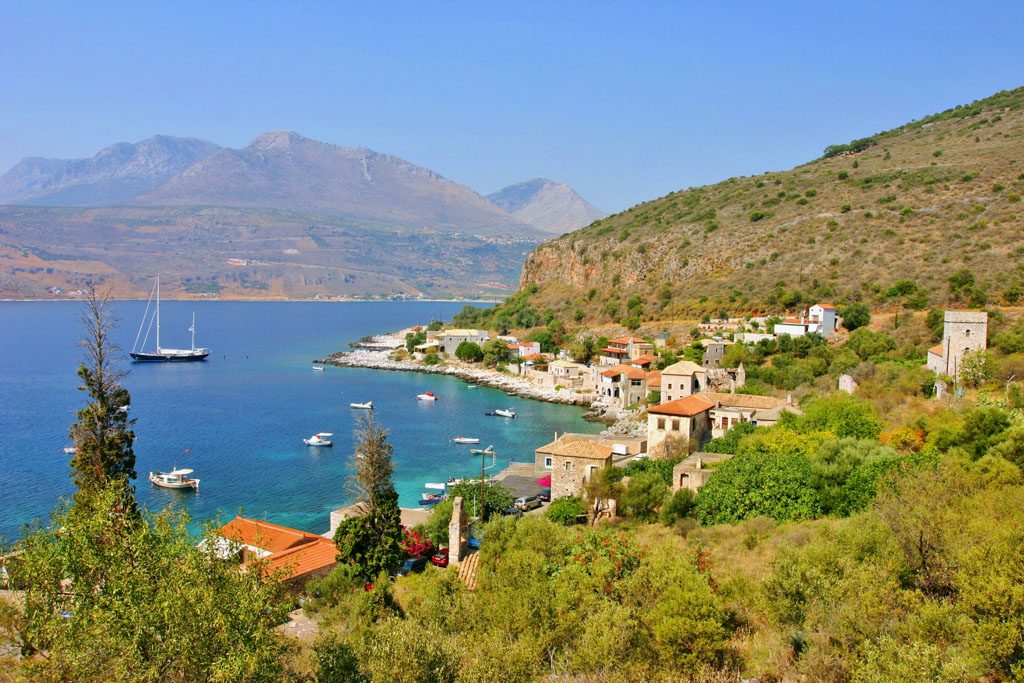 Although small, with a population of less than 500 in the winter months, this village at the base of Mt. Taygetus is also surprisingly cosmopolitan. Elegant shops and boutique hotels give it a sophisticated air, and there is also plenty of culture. The International Jazz Festival – beginning each year in the first week of May (what a fine time to be in Greece!). Having started in 2014, the festival has grown each year. Various sites throughout the lovely town host about 50 different performances. It's a wonderful occasion to visit this gorgeous coastal town. 
Loutro
Did you ever want to get away from it all? Really, truly get away to a place remote, private, pristine? That place is Loutro. On the coast of the Libyan Sea, it feels like, and is, the very edge of Europe.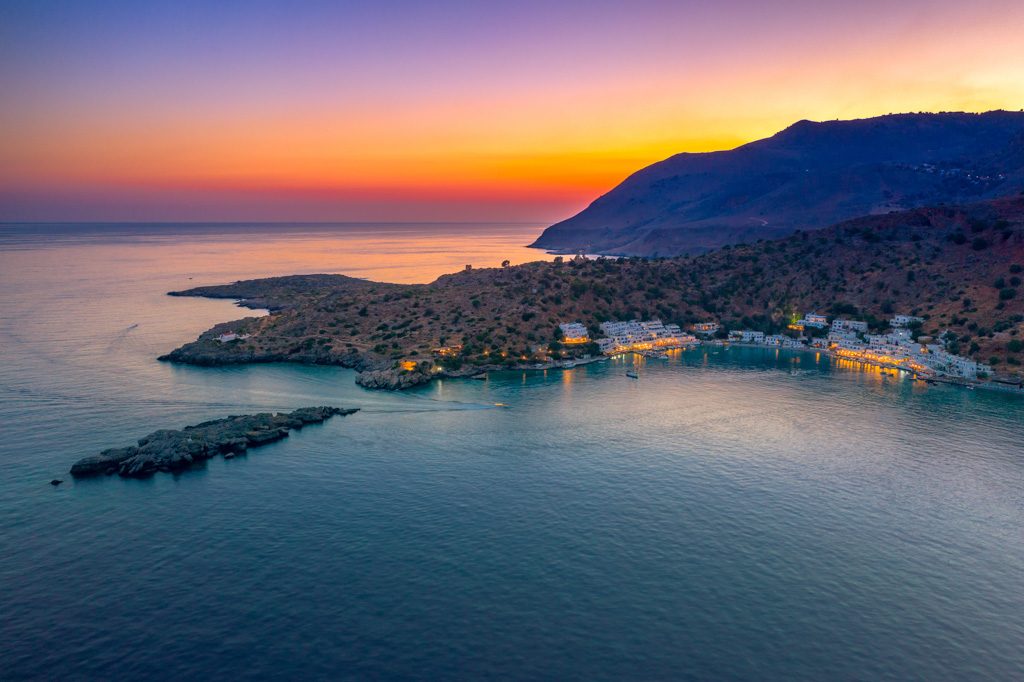 But that is not the only thing making it remote. Loutro can be reached only on foot or by boat, making this car-free hamlet a paradise of tranquility, of perfect swims and fresh-caught fish. The sight of white-washed Loutro curved around its small and crystal clear turquoise bay will take your breath away.
Galaxidi
Aristocratic Galaxidi, on the glorious Gulf of Corinth, has the feel of an island. This makes sense, as – although on the mainland – this remote, fjord-like outcropping could only be reached by sea until the completion of the Nafplion-Itea road in 1963. This was a town for sea captains, and its prosperity is evident in the wonderful "Kapitanospita" – captains' houses, in an elegant neoclassical style.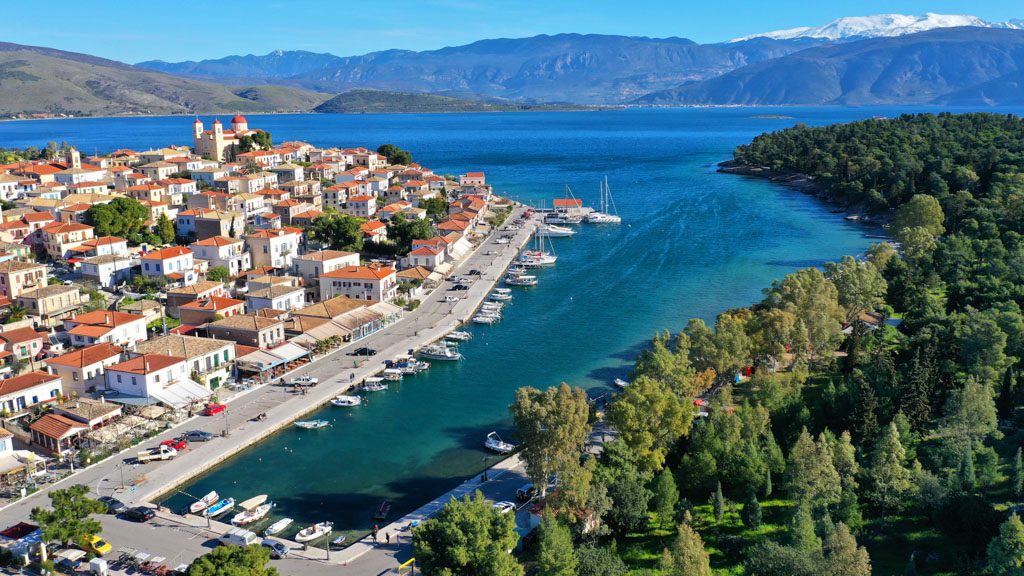 But it's not always elegant here; in fact, once a year it gets quite wild – one of Greece's most unusual customs takes place each year on Ash Monday – the "Alevromoutzourmata" (flour-smudging) – a great flour war, with bonfires and all manner of festivity ringing in the lenten season
Kyparissi
Kyparissi is often called one of the most beautiful villages in all Greece. On the southeastern coast of the Peloponnese, on the Myrtoan Sea, this is an idyllic site, full of pines and olives.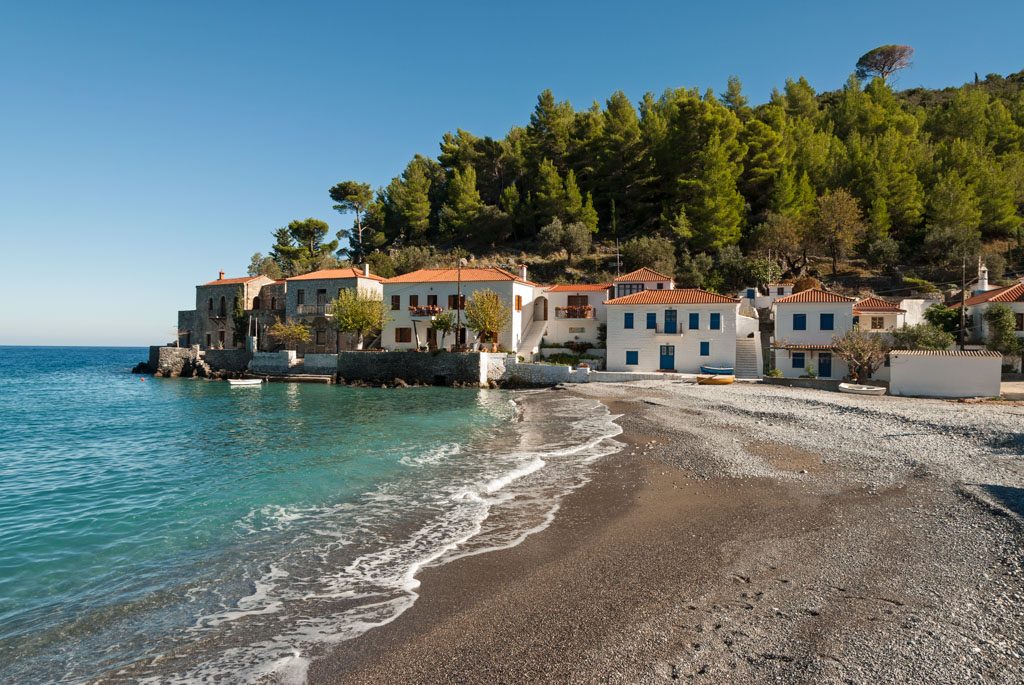 It' was so idyllic, in fact, that the site was chosen for a Sanctuary of Asclepius, and was called in that era "Kyfanta." Today, your spiritual health will be recharged here, by the pristine Blue Flag beach, the superb hiking in the foothills of Mt. Parnon and even rock climbing for the more adventurous, and of course the cultural wealth of the area, with destinations such as historic fortified Mystras and the fairy-tale Monemvasia nearby.
Afissos
Lush, green Pelion is one of the most understated and aristocratic destinations in Greece. Known for enchanting architecture, authentic charm, stunning beaches, and great mountain vistas, this is one of Greece's premium destinations, all the more charming for being somewhat out of the way of the path of many tourists.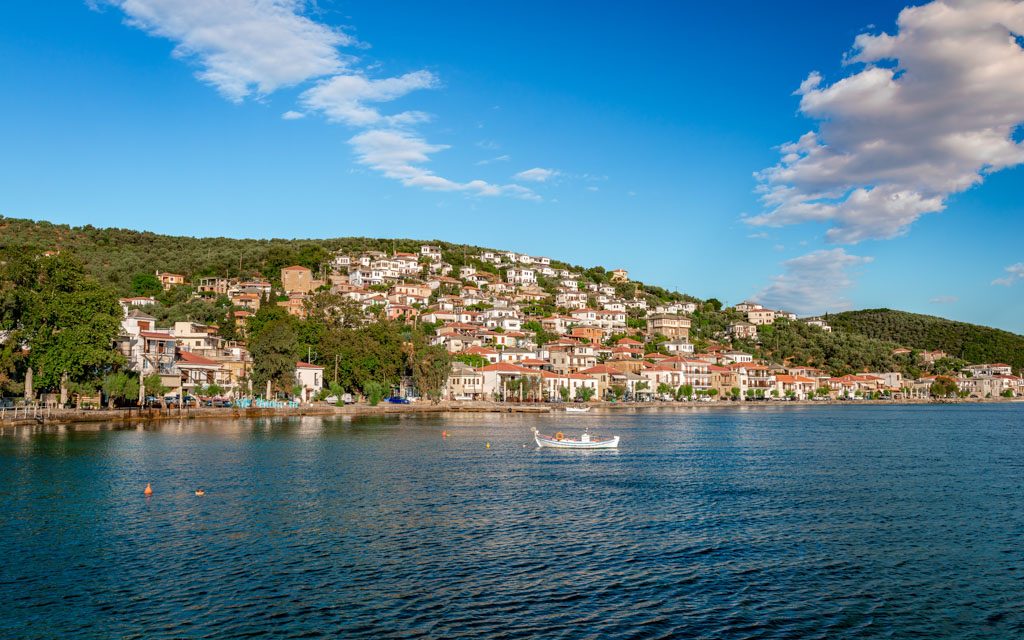 Afissos' long promenade hugs a pristine, crystalline sea. Tavernas dot the walkways, under the shade of tamarisk trees. One could happily stay here on this perfect beach each day and dine superbly on fresh fish every evening. But Afissos, centrally located on the Pagasetic gulf side of the peninsula, is the perfect home base for further explorations of Pelion, such as the other famous beaches like Mylopotamos and Damouchari, and the mountain villages such as Milies. Oh, and did you know the surrealist painter de Chirico grew up here? His father engineered the narrow gauge railway, which one can still ride high on the mountainside, overlooking the sea.
Greece's Mountain Villages:
Greece's mountains are as glorious as her coastlines. And they have the added advantage of being much lesser-known. These pristine, unspoiled locations reward the traveler with peerless beauty, authentic architectural charm, and excellent cuisine. Here are some of our favorite mountain villages.
Karytaina
One of our favorite mountain villages brings us back to the Peloponnese. Many who love Greece know that the Peloponnese played an important role in ancient Greek history and is famed for its diverse landscape. You can discover that uncompromising beauty here in Karytaina, in the heart of lush Arcadia.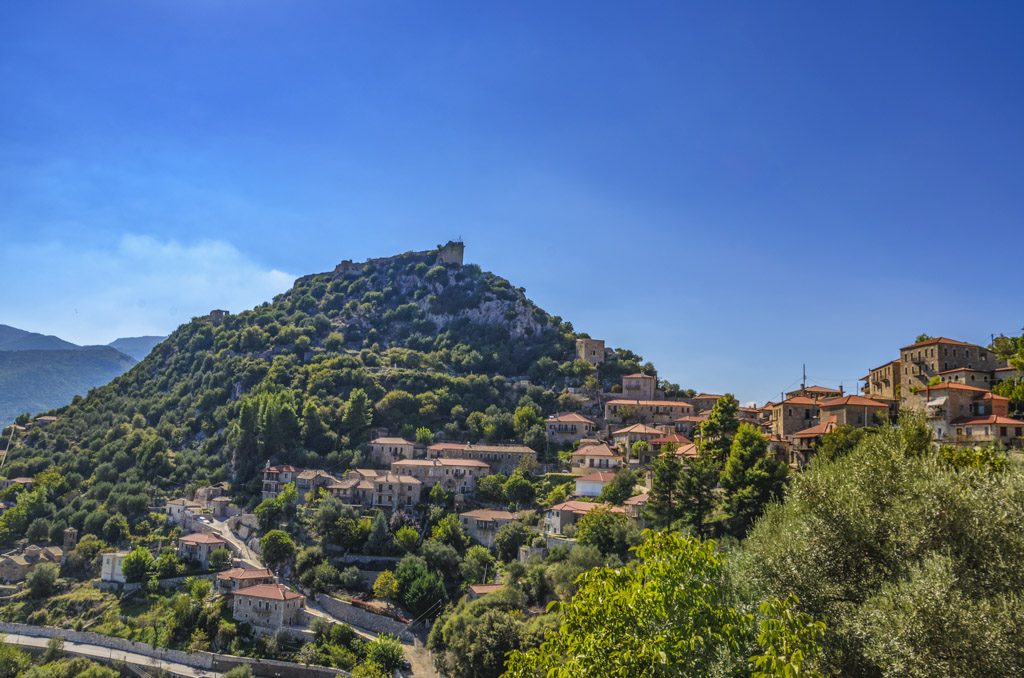 This dramatic peak commands a view of all the surrounding territory, making this a place of strategic importance. The French Knight Geoffrey de Briel, who was Baron of Karytaina during the Frankish occupation of the Peloponnese, fortified Karytaina on the site of an earlier Byzantine castle. This splendid castle plays a special role in Greek history, as it was among the first liberated in the Greek War of Independence. This is a village of great character and elegance, a perfect place to experience the Greek spirit.
Eptalofos or Agoriani
Eptalofos – "Seven Hills" – is the modern name for a village traditionally called Agoriani. Today, whichever name you call it, it is synonymous with a snow dusted mountain paradise of pines. Mount Parnassus is one of Greece's premier ski destinations.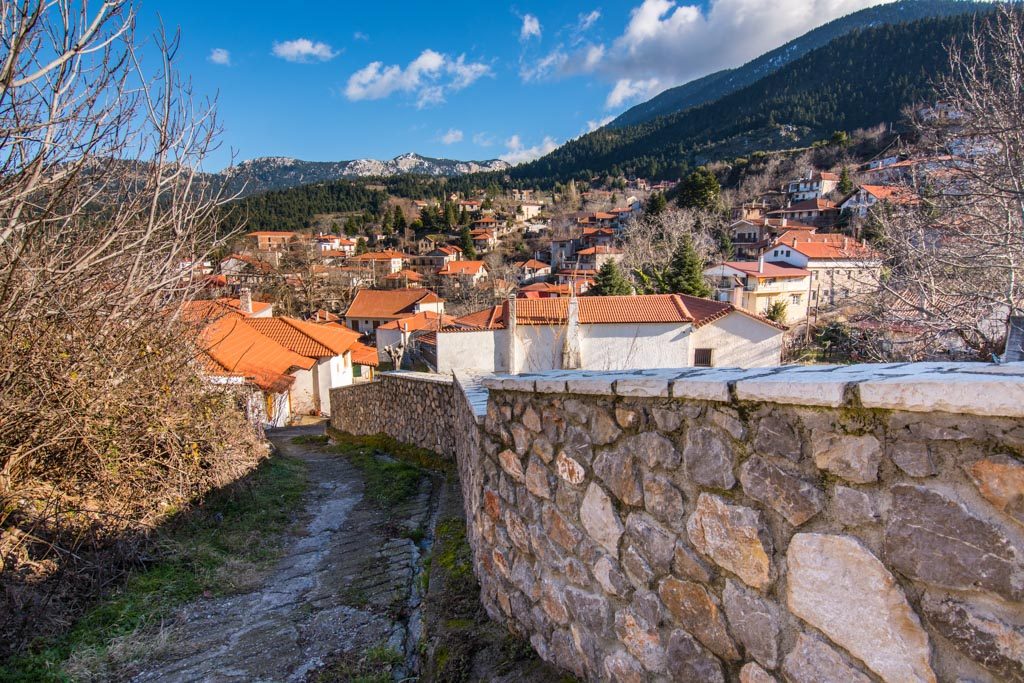 The town of Arachova is best known, leaving the traditional charms of Eptalofos untouched by many tourists. Here, one can dine on excellent cuisine – the region is known for its fine gastronomy, hike in all seasons, and enjoy the nearby slopes in winter. Have you ever had a ski vacation in Greece? Eptalofo is the perfect palace to sample Greece's winter pleasures at their best.
Portaria
Back to Pelion – as famous as it is for its beaches, Pelion is equally famous for its lush mountain settings and charming villages. Of these, Portaria is one of the very loveliest. Pelion is known for its excellent vernacular architecture – stone "Archontika" houses topped by roofs of silvery slate.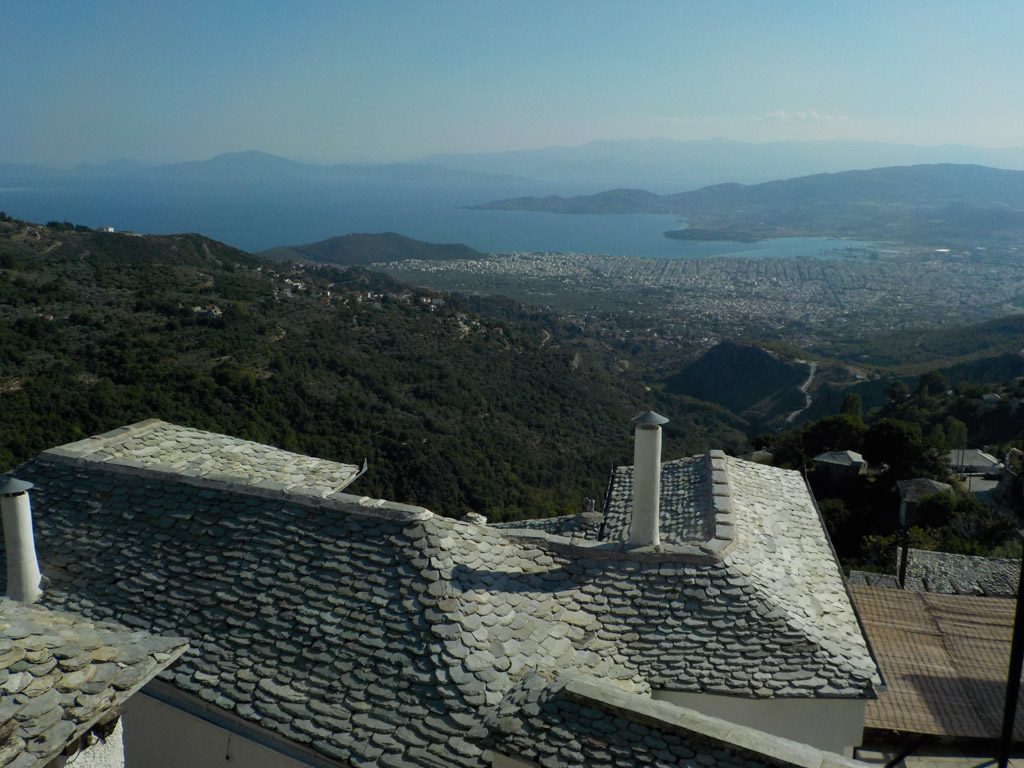 The traditional stone mansions, the cobblestone streets, and above all the grand central "Plateia" – the town square at the heart of every mountain village –  with great plane trees, define this elegant mountain town. The thick woods of Pelion were thought to be the mythical haunt of the Centaurs – indeed it is not hard to imagine these mythical beasts frolicking among the trees. Hiking about the village and woods will sharpen your appetite. Pelion is known for the excellence of its authentic mountain cuisine. Enjoy fine braises, hand-rolled pastas, rustic pies, and fine wines as you gaze at the glorious views of the Pagasetic gulf stretched out below. Exquisite boutique accommodations guarantee a splendid stay.
Nymfaio
At an elevation of 1350 meters, Nymfaio is a lofty slice of elegance. Rather than the rustic charms of many mountain villages, Nymfaio is known for its elegance, both today and in its history. Originally a Vlach village, the lovely town became one of Greece's most eminent silversmithing centers, bringing wealth to the town.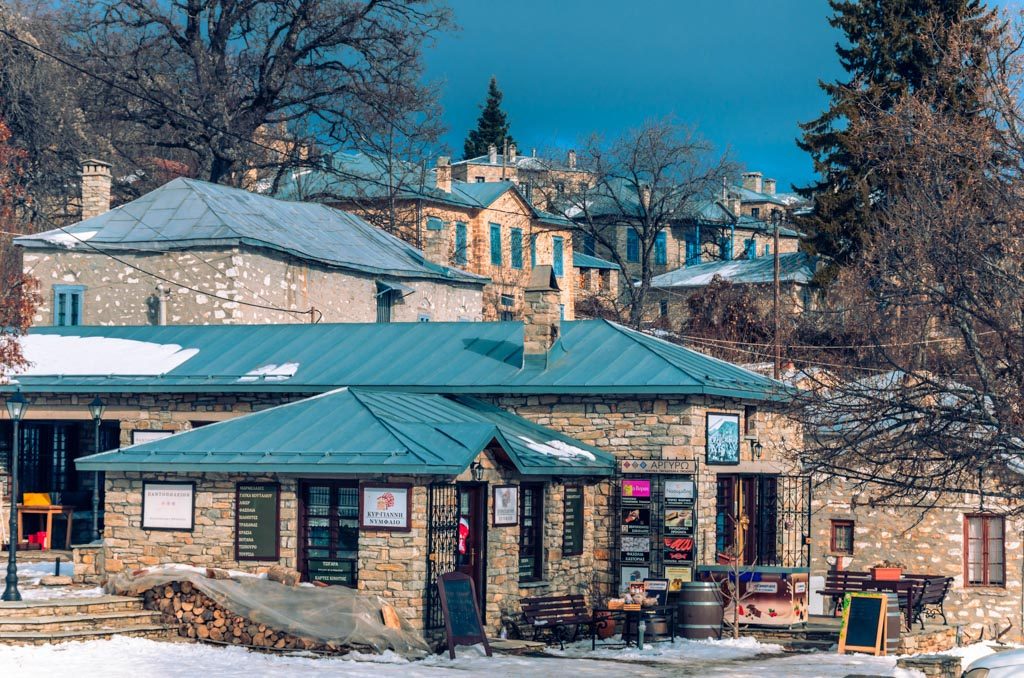 Elegant mansions line the streets of Nymfaio, some of them now cultural centers, such as the Gold and Silver-smithery Museum. Today, this is an elite weekend destination for Greeks, particularly when the cooler weather sets in. Boutique hotels provide elegant lodging with ambiance. Days are filled with all manner of refreshing activities, from horseback riding to bird-watching in this pristine landscape. Fans of wildlife and conservation will particularly appreciate the efforts of the Arcturos bear sanctuary, where the descendants of formerly imprisoned bears and wolves inhabit the majesty of their wild kingdom. 
Syrrako
Tzoumerka, the heart of the Pindus mountains – is one of Greece's finest destinations for those seeking natural splendor, unspoiled rugged landscapes, endless vistas, and rich traditional culture.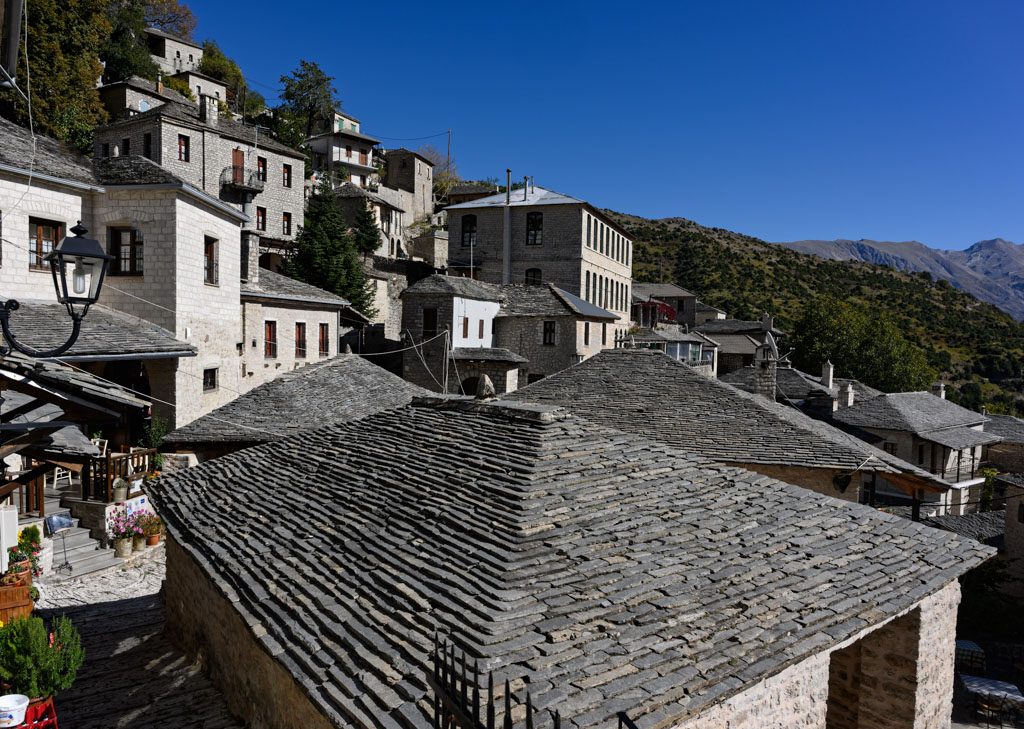 This is a destination of winding roads, secluded drives, and remote destinations that grandly reward the visitor seeking authenticity and quality. Of the many beautiful villages of Tzoumerka, Syrrako stands apart, with stunning vistas usually reserved only for eagles. This prosperous Vlach village has a long history of shepherding and also of weaving, known particularly for the Capa, the traditional cape worn by shepherds. The merchants of Syrrako exported their quality woollens abroad, bringing great prosperity to the village. Pindus is known equally for the excellence of its stone masons, and the wealth of the merchants of Syrrako therefore built mansions of elegance and craftsmanship. On a sunny day, the grey stone village catches the light and slitters like silver among the dense surrounding foliage. Syrrako contributed not just wealth to Greece but also culture and statesmanship. This was home to the first constitutional Prime Minister of Greece, Ioannis Kolletis, and also of a brave and patriotic Greek poet, Kostas Krystallis, who defied the Ottomans with his works. Syrrako makes an excellent home base for exploring the glories of Epirus, and there is plenty to do – such as hiking along famous trails and rafting on gorgeous rivers.
As you can see Greece boast a wealth of coastal and mountainous villages. Which one will you pick to see first?